I first found the idea for making stress balls here …Kids Color Activities from Quirky Momma… because Quirky Momma had a link to here …Playdough Filled Balloons… which directed me to this "original" source, here ….Wacky Sacks
These are so super simple and fun to make.  I've been kinda addicted to making them the past few days … with my kids, my cousins' kid, … and my clients.  A perfect simple project that is hard to put down once you create them. All you need is balloons and playdough.  Super cheap playdough is the way to go for this project.  I found that two of the tiny containers can fill a normal sized balloon.  Once you have the supplies, have the kids roll out the playdough into a "snake" and then hold the balloon open for them so they can stuff they playdough in the balloon.  (an older child or an adult can do this on their own, but it's still kinda tricky to stretch the balloon open and stuff the sticky playdough though).  Next, squeeze out any air and tie the balloon.  Kids can then take a permanent marker and make a face (or whatever) on it. Like I said, I used this in play therapy this week … to help relieve anxiety and give the client something to fidget with. You could also create different feeling faces to discuss emotions … or write a word/name/thought that they are struggling with so they can squish and squeeze their anger out!  Make a squishy ball family to play out family dynamics …there are probably hundreds of ways to incorporate these squishy guys into a session.  I also love that it is inexpensive, the child can create it, AND take it home with them. I also liked that I could put all the supplies in one ziploc bag and take it with us for a project to do at the beach!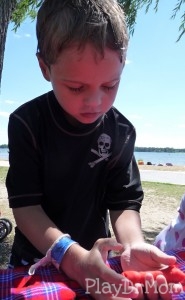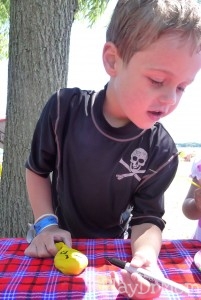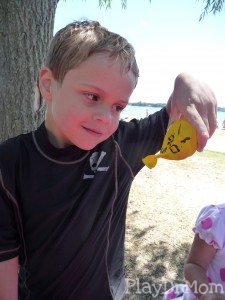 AND … they make great tablecloth weights!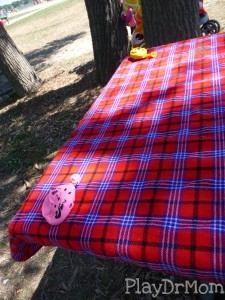 The following two tabs change content below.
Laura Hutchison
Laura Hutchison (aka PlayDrMom) is a chubby kid turned competitive figure skater tween turned high school pom pon girl turned MSU Spartan turned grad student turned Mrs. HutcH turned Dr. turned Mom. She adores living in the Mitten, is addicted to Diet Coke, and firmly believes that ice cream is a main food group.
Latest posts by Laura Hutchison (see all)