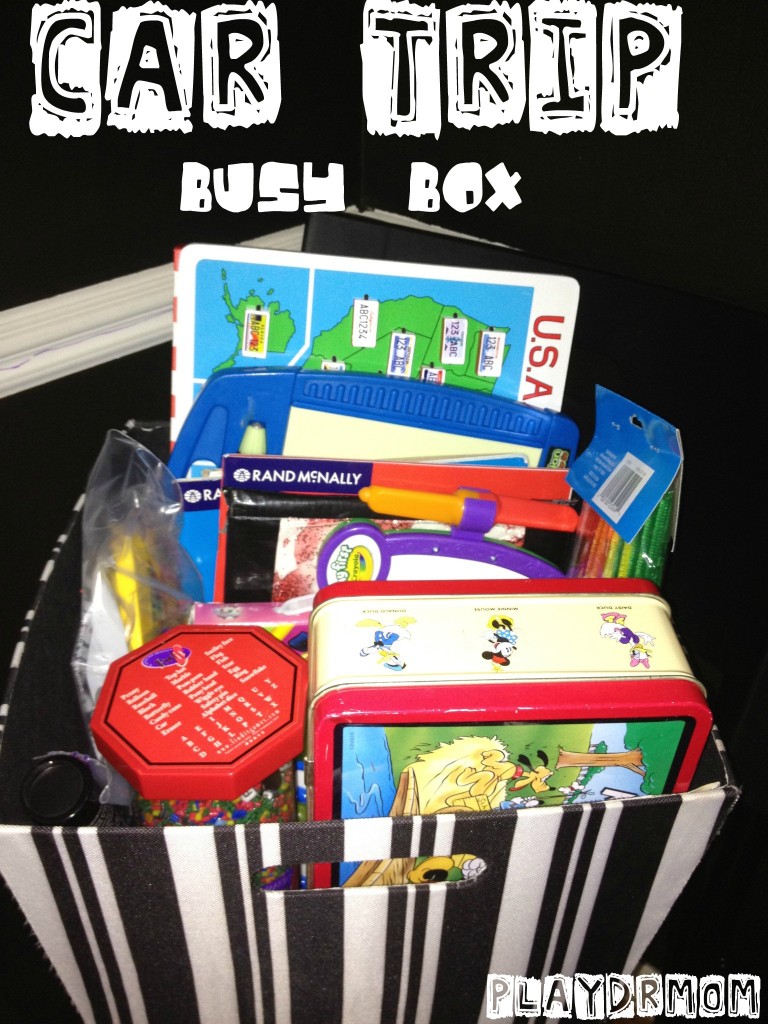 When we take vacations, we usually take road trips.  Whether it is a couple of hours up north or 20 hours to visit my husband's family in Louisiana … we take the car.  I always pack a bag or basket filled with goodies to keep the kids entertained.  Some items are new surprises … others are old favorites.  Here's what we packed for our most recent trip with Henry (who's 6) and Honor (who's 3) …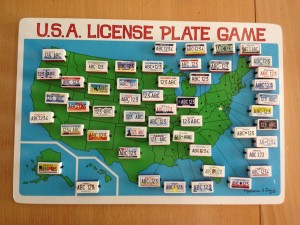 U.S.A. License Plate Game:  This was a new addition to our car trip busy box … and I'm not sure if it was me or the kids that were more excited to play with it!  It's another genius toy from Melissa & Doug.  It's the size of a large wooden board puzzle … and the pieces are attached with strong plastic bands.  The pieces/plates can be flipped … one side has the state's license plate, one side has the state's name and capital, one side is red, and the other side is blue.  So you can play the "find all the plates" game when you are on the road (without having trying to remember all the ones you found like I always had to do!). You can even play competitively by one player (or team) being red and one player (or team) being blue.  Henry also invented a game where I ask him to find the state and he has to flip it over.  This turned out to be perfect for him since he's just starting to read and learn about geography.  It is also a helpful tool to help the kids understand where and how far we are traveling!  I have a feeling we are going come up with a ton of ways to play with this both in and out of the car!!!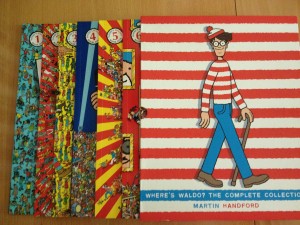 Where's Waldo book collection:  Henry can spend hours looking for Waldo and the rest of Waldo's friends in Martin Handford's collection of books.  Perfect quiet activity for the car!
I Spy Books:  Just the same with the Waldo books, both Henry and Honor enjoy searching for the objects in the "I Spy" books by Marzollo and Wick.  This particular collection is great for Henry who is just beginning to read.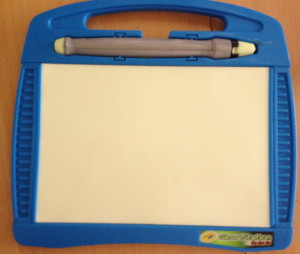 Crayola Glow Station: On-the-Go:  Both kids LOVE this one.  It's actually a standard in the car at all times.  It's a lapboard that comes with a light pen that kids can use to create drawings that fade out … only to create more pictures!  This one definitely works best in the dark.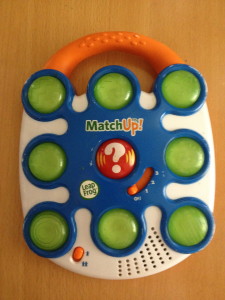 Match Up!:  This game has been a standing favorite for years.  It's made by Leap Frog and it quite enjoyable for all ages.  It's an electronic matching game.  It has a one player and two player option, as well as 3 different difficulty levels.  The players push the red button to hear the "target" word and then try to find the match in the green buttons.  You win when you get 3 green buttons in a row.  Examples of the types of matches are animal sounds, opposites, and words that begin with the same sound.  Even very young kids have fun just pushing the buttons and making the lights go on.
I make sure to bring a notebook for each of them and some washable markers and crayons.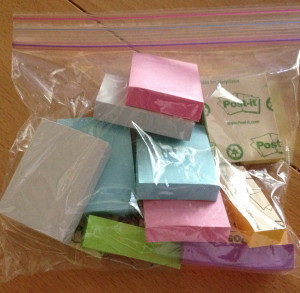 I've seen a ton of different ideas of play with Post-It notes on blogs and Pinterest, so I added in a sealable bag of different small Post-It notes.  Honor used them to make a collage picture on her window.  Henry wrote names of different Mario characters and turned them into representational play!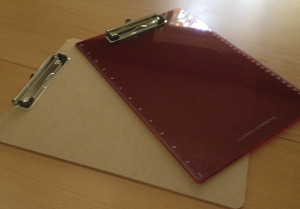 I had the kids each pick out a clipboard for the trip.  Henry chose the plain masonite board, which he called the "decorate your own" board!  Honor chose a red tinted plastic one … which I think she used more to look through and see things as all pink than as a writing board!
Mad Libs Junior is another great activity to have on hand.  Henry really enjoys these because he can pick and copy the words from the page above (GREAT reading and writing practice!) … and then I read them when he is done.  They are always good for some giggles!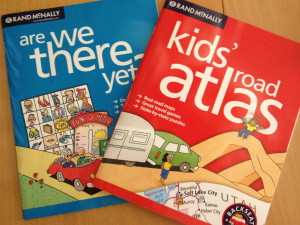 I got these 2 books from the Rand McNally backseat book series.  They are FILLED with great facts about traveling and the U.S., and have a ton of fun activities to do while riding in the car.  The books are recommended for kids aged 6 and up.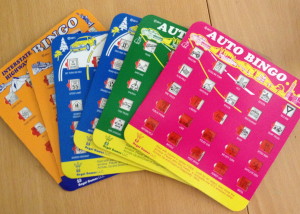 Auto Bingo:  I remember always having these games for car rides when I was growing up.  I bought these (2 Interstate Highway, 2 Traffic Safety, & 2 Auto Bingo) at Michael's, but I've seen them at toy stores too.  Henry and I had quite a challenge going with the Interstate board … thankfully it ended in a tie!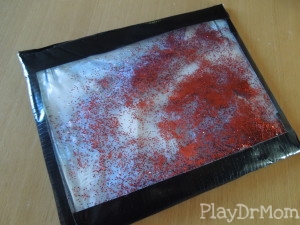 Gel Board: This gel board has been another item that always stays in our car.  I have been happily pleased how much both kids have played with it since we made them (see DIY gel board).  It's a great on-the-go sensory experience!!!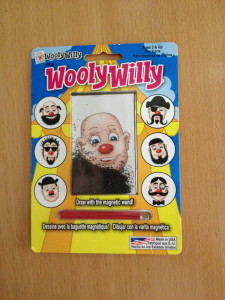 WoolyWilly:  I found him at Michael's too!  Simple and fun … but can be a little frustrating in a moving car.  (If you aren't familiar with this classic toy, all it is is little chips of magnets that you drag with the magnet pen to decorate Willy's face.)
Travel Scavenger Hunt:  This was another new one for our trip.  It's just like Auto Bingo, but with cards.  Each player starts with 5 cards (each with one item) to find.  The first to find 10 wins!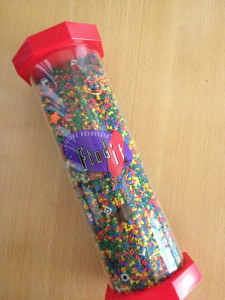 Find It!:  I actually borrowed this from my office for the trip.  I've had it for years … and it's got a TON of use.  Not only is a great quiet, calming activity that you can do in the car … it can increase attention and observation skills.  If you haven't seen these, it's like "I Spy" in a jar.  The container DOES NOT open, so one must only turn and shake the contain to uncover new objects.  On the top of the container there is a list of all the things to find amongst the colorful plastic bits … such as each letter in the alphabet, a balloon, and a rubber band.  The game also comes with a pad of paper that has the same checklist, so you can check off items as you play.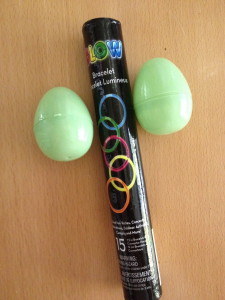 Glow-in-the-dark items:  Since we usually plan to do a leg of the trip overnight, I packed some glow sticks and glow-in-the-dark silly putty.  Henry ended up playing with the silly putty a lot throughout the trip.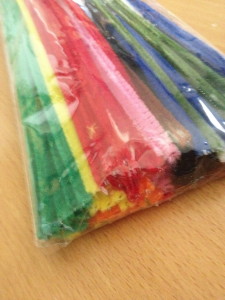 I also packed a package of pipe cleaners, which I somewhat regret.  They were very quickly strewn across the car by Honor.  But Henry did make some super cool creations.  Next time I think I will only pack a few … not 50!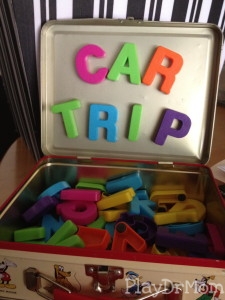 Another great activity to keep the kids busy in the car is a bunch of letter magnets in a metal lunch box.  This way you can contain the magnets and also use the container to play with them.  However, the magnets can (and probably will) spill at some point … so be willing for you and the kids to go on a magnet hunt once the drive is over!
I sure did cram a lot into the box!  And, I'm glad I did.  The kids traveled great … and even just sat in silent thought looking out the window at times!  Another great thing of having such a full box was that the kids could also use the items during our stay away from home (not just in the car).
I hope you found some new ideas here.  
I'd love to hear some of yours, please leave me a comment!  
Happy Trails!
The following two tabs change content below.
Laura Hutchison
Laura Hutchison (aka PlayDrMom) is a chubby kid turned competitive figure skater tween turned high school pom pon girl turned MSU Spartan turned grad student turned Mrs. HutcH turned Dr. turned Mom. She adores living in the Mitten, is addicted to Diet Coke, and firmly believes that ice cream is a main food group.
Latest posts by Laura Hutchison (see all)