The ABCs of Mommy with Selective Memory … and this week's Kids Co-Op Linky
This week I am featuring an insanely busy mom of two young children who balances being the wife of a doctor in residency, working a full-time business job, blogging, AND she just co-authored a new eBook, The Happy Mommy Handbook:  The Ultimate How-to Guide on Keeping Your  Toddlers and Preschoolers Busy.  (honestly, I'm tired just writing all of that!)  So, give Kate Norris and her beautiful, creative blog some props!
The ABCS of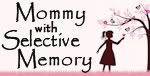 | | |
| --- | --- |
| Age | 32 |
| Bed (size) | King (Hubby snores…a lot) |
| Chore you Hate | Grocery shopping! That's why my darling Hubby does it for me |
| Dogs? | Yes, 1 loveable Golden retriever |
| Essential start of the day | Cup of English breakfast tea |
| Favorite Color | Turquoise |
| Gold or Silver? | Silver…although gold is growing on me |
| Height | 5 foot 5 |
| Instrument | I wish! Music is not my talent |
| Job | My day job is selling medical equipment.  My night job is blogging and writing and I'm hoping that eventually will be my day job too! (Not to mention being a Mom, which is my real job!) |
| Kids | Munchkin Girl (almost 4) and Little Buddy (2) |
| Where do you Live? | In the Midwest |
| Favorite Movie | French Kiss (With Meg Ryan) |
| Nickname | Mom!!!! |
| Overnight hospital stay | Only with my kiddos |
| Pet Peeve | People who are mean |
| favorite Quote | No one can make you feel inferior without your permission ~ Eleanor Roosevelt |
| Right or left-handed? | Right |
| Siblings? | Two brothers…that's why I'm so tough! |
| Time it takes to get ready | Literally 15 minutes. I'm still a tomboy at heart |
| Underwear | Yes, I do prefer wearing underwear |
| Vegetable you hate | Brussel sprouts (Although I'm not sure I've ever tried them. I think it's just the name) |
| What makes you late? | When the kids won't get their shoes on |
| Xrays you've had | Lots! I got hurt a lot growing up in sports |
| Yummy food that you make | I'm not the best cook, but my hubby does like my veggie lasagna |
| favorite Zoo animal | Zebra |
PLEASE be sure to check out Kate and Susan's (last week's ABCs feature) brand new eBook … The Happy Mommy Handbook:  The Ultimate How-to Guide on Keeping Your  Toddlers and Preschoolers Busy!
And now, this week's Kids Co-Op linky …
The following two tabs change content below.
Laura Hutchison
Laura Hutchison (aka PlayDrMom) is a chubby kid turned competitive figure skater tween turned high school pom pon girl turned MSU Spartan turned grad student turned Mrs. HutcH turned Dr. turned Mom. She adores living in the Mitten, is addicted to Diet Coke, and firmly believes that ice cream is a main food group.
Latest posts by Laura Hutchison (see all)