Do you Zentangle? create a zentangle in therapy
I'm not trained in art therapy, but I definitely use a lot of art and crafts in my work with my clients.  Art and play therapy go so easily together; art can easily be playful and therapeutic.  I also love it because I can use the same art activities for a variety of ages.  It is a wonderful medium to help an adolescent or adult branch out from traditional talk therapy … and explore more expressive avenues.  Avenues that might help them look on their lives and problems in a new way.
One simple way I introduce clients to utilizing art in session … is also an easy one for them to do at home.  It's especially helpful in lessening anxiety, refocusing, and coming back to center.  I personally also find it very beneficial and was very excited when I discovered this technique out a year ago from one of the therapists that I supervised (thanks, Vanessa!).
The technique is called Zentangle.  It is somewhat the art of doodling.  A Zentangle is an art project that one can complete in a short amount of time.  The premise is "anything is possible … one stroke at a time."    The company sells amazing kits and products to get you started … you can buy everything from a full kit with all the supplies and an instructional DVD to packs of blank or "pre-strung" cards. (I strongly encourage you to check out their website for more information and examples)
To create a basic Zentangle you start with one small blank square card and make one continuous line/scribble (or string in "zentangle" lingo).  From there you fill in each space with a repetitive pattern.
Here's a pre-strung Zentangle card and a blank one … both purchased from the Zentangle company:
Now I have "strung" the blank tile and completed the first pattern:
Here's the completed Zentangle: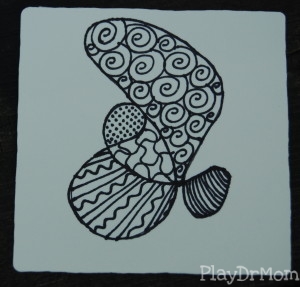 The process of creating a Zentangle can also be very telling … just like with most expressive arts the process during the journey of creating can lead to much self-talk and doubt. ("Am I doing it right?"  "It's gonna turn out terrible." etc.)  This alone can be very therapeutic.  After, or sometimes during, my client makes a Zentangle I ask them questions like, "What is your inner voice telling you?" "Who does your inner voice sound like?" "Are there other instances when you hear the same messages?"  I help them explore how this very simple art activity can trigger feelings with their relationship with time, space, others, and self.
You can also create a Zentangle ensemble.  Which is a series/collection of 9 cards that when laid out together create a larger Zentangle.  You can create your own or purchase a "pre-strung" pack from Zentangle (like pictured above). A Zentangle ensemble can be created by a single person or a group.  I shared this technique with a women's group that my office partner, Dr. Betz King runs.  During the session it was interesting to hear the women share their desire to "not mess up" or distress on "how it's not turning out how I expected".  Sharing these thoughts in a group session was a wonderful way to discuss similarities.  Here are the individual Zentangles the women created …
Once completed, I assembled the pieces together to look at the "larger picture" … a piece of art that equals something greater than the sum of it's parts.
The art now hangs in our office waiting room.
 Want to know more about Zentangle?
The following two tabs change content below.
Laura Hutchison
Laura Hutchison (aka PlayDrMom) is a chubby kid turned competitive figure skater tween turned high school pom pon girl turned MSU Spartan turned grad student turned Mrs. HutcH turned Dr. turned Mom. She adores living in the Mitten, is addicted to Diet Coke, and firmly believes that ice cream is a main food group.
Latest posts by Laura Hutchison (see all)