Booking Across the USA – M is for MICHIGAN!
Booking Across the USA is a collaborative blogging project created by Growing Book By Book.  Participating bloggers are showcasing a book and activity related to their state.  All 50 states are represented!!!  Being a lifelong Michigan resident, I'm proud to represent the Mitten State!  M is for MICHIGAN!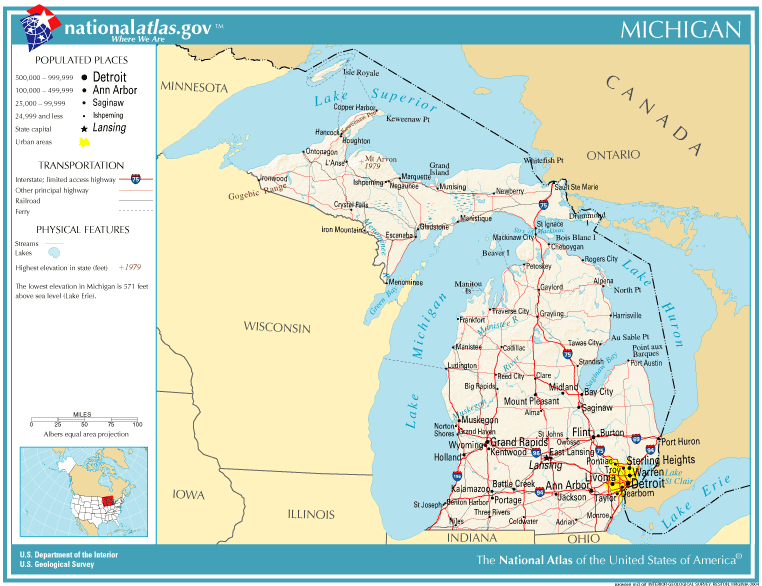 The Mitten State, you say?  Yup, the mitten state.  If you look at the map of Michigan you can see the the Lower Peninsula is shaped like a mitten. Because of this most people from Michigan will hold up their right hand and point with the left hand where they are from or where they are going! The Upper Peninsula looks less like a mitten, but with a little stretch of imagination you could see how it could be a mitten tipped sideways above the Lower Peninsula.

So, what would be more perfect than featuring a wonderful book called, "M is for Mitten: A Michigan Alphabet," written by Annie Appleford, poems by Kathy-Jo Wargin, and illustrations by Michael G. Monroe.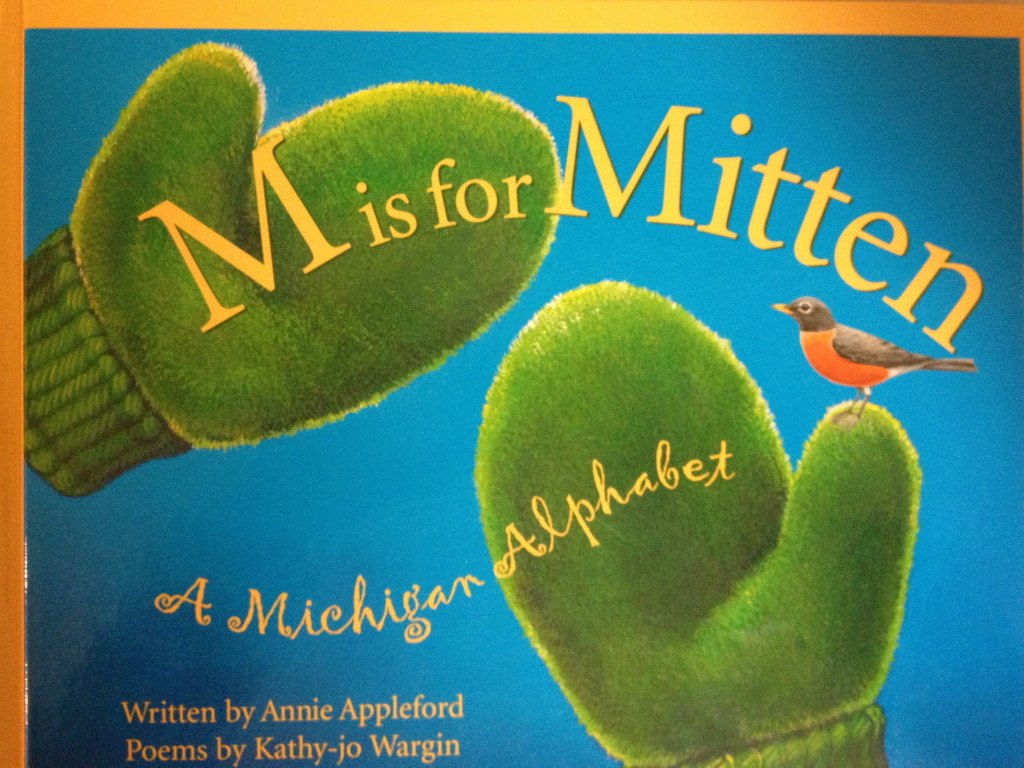 Each page of this book is filled with beautiful illustrations, a poem, and facts about Michigan for each letter in the alphabet.  It's a wonderful way for kids anyone to learn about the state that is surrounded by 4 out of the 5 Great Lakes!  My kids (almost 7 and 3 1/2) already have memorized many state facts and I know it's because of this book and how much they enjoy us reading it (again and again)!
I came up with 2 projects to go along with the book … both are similar and focus on the Lower Peninsula of Michigan (because that's where we live!)  The first is a felt geography activity.  I traced by hand on green felt and cut it out.  Then I cut a blue piece of felt for the background/lakes.  I also wrote out on white card stock the 3 Great Lakes that touch the Lower Peninsula, as well as 3 of the major cities. (I might end up embroidering these place markers on some white felt when I get the chance so they hold up longer!)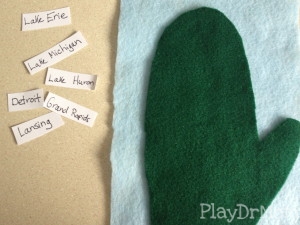 Once ready, I challenged my son to placing the cards in the right locations!  He did GREAT with the lakes, but needed a bit of help with the cities.  I think it's going to be a nice activity to have around to continue to talk about Michigan geography.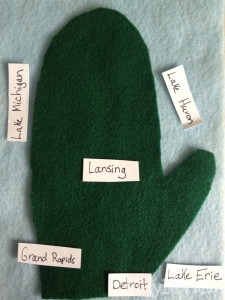 The other project we did was a Mitten State craft project.  I traced their hands on green paper and had them paste their "mitten" onto blue paper.  I then gave them a small foam heart sticker to place on the "mitten" where we live.
I think they turned out super cute!  Henry wrote Michigan on his mitten … Honor liked the idea and wrote a version of her name!
But Henry wasn't finished there … he liked what we did with the felt project so he wanted to do the same on his paper.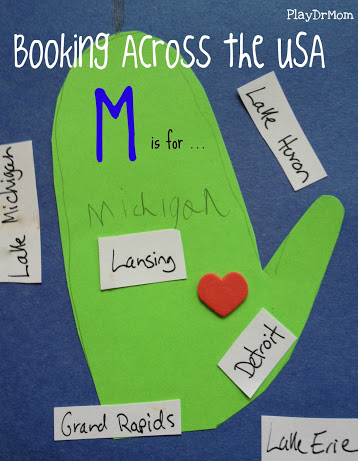 I hope you enjoyed this post and encourage you to read the book "M is for Mitten"!  Michigan is truly a wonderful place to live and visit.  If you would like to learn more fun facts about Michigan, check out my guest post on Mama Smiles' series, Exploring Geography.
  I also hope you will check out all the other great posts in this amazing event … 
Alabama:
Everyday Snapshots
 * Alaska:
Little Wonders' Days
 * Arizona:
Simply Kinder
and
Think, Wonder, & Teach
 * Arkansas:
Homeschooling in Arkansas
 * California:
Juggling with Kids
and
The Outlaw Mom
 * Colorado:
Learners in Bloom
and
Living Montessori Now
 * Connecticut:
The Teacher Park
 * Delaware:
Mama Miss
 * Florida:
Teaching Stars
 * Georgia:
Fabulously First
 * Hawaii:
Teaching With Style
 * Idaho:
True Aim Education
 * Illinois:
Growing Book by Book
 * Indiana:
Teach Preschool
 * Iowa:
Surviving a Teacher's Salary
 * Kansas:
KCEdventures
 * Kentucky:
Chicken Babies
 * Louisiana:
New Orleans Moms Blog
 * Maine:
Maine Adventure Mom
and
Country Fun Child Care
 * Maryland:
Picture Books and Piourettes
 * Massachusetts:
Mama Smiles
 * Michigan:
Play DrMom
 * Minnesota:
The Wise Owl Factory
 * Mississippi:
Hey Mommy, Chocolate Milk
 * Missouri-
Ready. Set. Read!
 * Montana:
The Honey Bunch
 * Nebraska:
The Good Long Road
 * Nevada:
Boy Oh Boy Crafts
 * New Hampshire:
Whoopsidaisy
 * New Jersey:
The Pleasantest Thing
 * New Mexico:
Enchanted Homeschooling Mom
 * New York:
What Do We Do All Day
 * North Carolina:
Realistic Teacher Blog
 * North Dakota:
ND HealthWorks
 * Ohio:
Smart Chick Teacher's Blog
 * Oklahoma:
Herding Kats in Kindergarten
 * Oregon:
Journey of a Substitute Teacher
 * Pennsylvania:
Land of Once Upon a Time
 * Rhode Island:
Smiling in Second Grade
 * South Carolina:
Cookies and Kiddos
and
JDaniel4's Mom
 * South Dakota:
The Wise Owl Factory
 * Tennessee:
No Monkey Business
 * Texas:
Curls and a Smile
and
Kid World Citizen
 * Utah:
Teach Beside Me
 * Vermont:
Burlington Vt Moms Blog
 * Virgina:
Once Upon a Story
, and
The Freckled Homeschooler
 * Washington:
Home Learning Journey
and
Boy Mama Teacher Mama
 * West Virginia:
This Week @ Great Peace Academy
and
Mamas Like Me
 * Wisconsin:
Reading Confetti
 * Wyoming:
No Twiddle Twaddle
 * USA:
The Corner on Character
The following two tabs change content below.
Laura Hutchison
Laura Hutchison (aka PlayDrMom) is a chubby kid turned competitive figure skater tween turned high school pom pon girl turned MSU Spartan turned grad student turned Mrs. HutcH turned Dr. turned Mom. She adores living in the Mitten, is addicted to Diet Coke, and firmly believes that ice cream is a main food group.
Latest posts by Laura Hutchison (see all)