We had a themed playdate yesterday!  IT WAS DINOTASTIC!  6 kids 6 & under enjoyed dino crafts, dino food, dino books, dino excavation, & dino imaginary play.
Before our friends came, I set up my crazy flowered craft tablecloth and got out all our washable paint, markers, brushes, tape, glue, & clean-up supplies.  Additionally, I had the projects planned for the day ready with their individual supplies and instructions.  And, I had the kids gather all the dinosaur books and their dino friends, too!  (Also during this time I kept on telling myself to remember that it is about the PROCESS, not the product!  And not to get my OWN expectations in the way of the kids having a good time!)
We attempted to do one project at a time … but that quickly went to the wayside as the younger kids and older kids were interested in different things.  Here are the projects we ATTEMPTED (I WAY overplanned!) for the day:
1.  Make-Your-Own-Dino Feet …  Idea from familyfun.com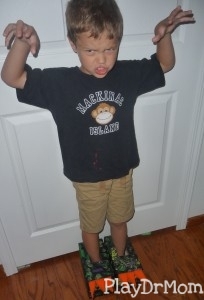 2.  "Dino Dan's" Dino Diorama (printed out color & project sheets from nickjr.com)
3.  Paper Plate Dinos (I found many versions of this craft from different sources, I picked and choose different aspects I liked to create our own version)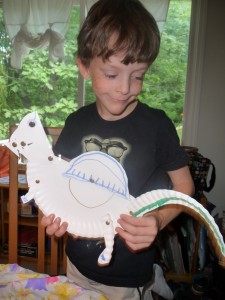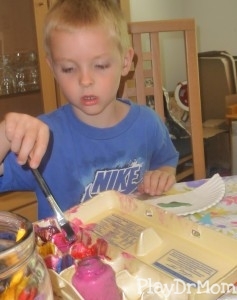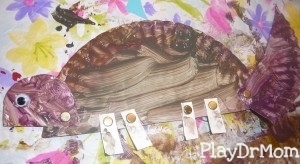 4.  Make-Your-Own Dino Pin (I had a bunch of "make-your-own pins" from Oriental Trading Company and lots of Dino stickers!)
5.  Giant Dino coloring pages … from a coloring book of Henry's
6.  Dino chalk drawings … just sidewalk chalk and imagination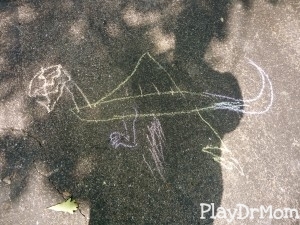 7.  Dino Dot Art Painting (I made copies of different dinosaurs from a "Dot-to-Dot" book for the kids to paint.)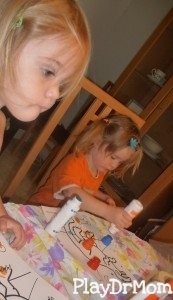 In addition to the crafts, I also had an "Excavation Site" set up outside.  It was a kit that Henry received from his grandparents … that was taking us forever to do.  So giving 6 kids a literal "whack" at it, the TRex was recovered very quickly.  After all the bones were "excavated" … or found after slamming the brick of hardened dust on our front porch … the kids assembled the bones together to make the full skeleton.  This launched some great imaginary play!
I also applied Dino temporary tattoos on the kids.  They loved picking out the dino by name and telling me where they wanted it place (moms put a ruling on forehead tats though!).  I even applied a stegosaurus above my ankle!
For lunch we had Dino (chicken) Nuggets and Dinosaur blood (ketchup).  We were going to make and decorate Dino sugar cookies, but we never got around to it.
We didn't get around to READING any of the books, but they were used at times for inspiration on the crafts.  Here's a list of some our favorites:
Barner, B. (2001)  Dinosaur Bones

Broach, E. (2007)  When Dinosaurs Came With Everything

Foreman, M. (2008) The Littlest Dinosaur

Gurney, J. (2002) Dinosaur Train

Mayer, M. (2007) The Lost Dinosaur Bone

Modern Publishing (2000) Colossal Book of Dinosaurs

Taplin, S. (2004) First Encyclopedia of Dinosaurs and Prehistoric Life

Yolen, J. & Teague, M. (2000) How Do Dinosaurs Say Goodnight?

Yolen, J. & Teague, M. (2009) How Do Dinosaurs Say I Love You?

Yolen, J. & Teague, M. (2006) How Do Dinosaurs Learn Their Colors?

Worth, B. (1999) Oh Say Can You Can, Di-no-saur?
I had more ideas before, during, and since … here are some to add to YOUR Dino Day…
–  Dino Dancing … to Walk the Dinosaur (Was Not Was), We Are the Dinosaurs (Laurie Berkner's), and I am a Paleontologist (They Might Be Giants)
– Ice Age Excavation … freeze mini play dinosaurs in a bowl of water and have kids use toy hammers to chip the dinos free
I'd love to hear about your own dinosaur crafts and activities!  I am sure they are DINO-MITE!
The following two tabs change content below.
Laura Hutchison
Laura Hutchison (aka PlayDrMom) is a chubby kid turned competitive figure skater tween turned high school pom pon girl turned MSU Spartan turned grad student turned Mrs. HutcH turned Dr. turned Mom. She adores living in the Mitten, is addicted to Diet Coke, and firmly believes that ice cream is a main food group.
Latest posts by Laura Hutchison (see all)