St. Patrick's Day Fun 2012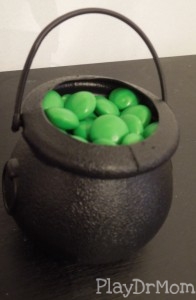 (I know this is too late for me to share these ideas for THIS year, but just think of it for extremely early preparation for next year's celebration of the Irish!)
The fun (and overwhelmingness) of being in the blogging world is the VAST amount of wonderful ways to celebrate and play.  This seems doubly so for holidays!  Here are some of the ways we prepared for and enjoyed St. Patrick's Day this year. As I mentioned before, Henry has an amazing Kindergarten teacher, Mrs. Walch.  (We are SO lucky!!!)  A good deal of our St. Patrick's Day fun was "instigated" by her! One project she had the kids do she have them grow GREEN hair for some leprechauns they colored.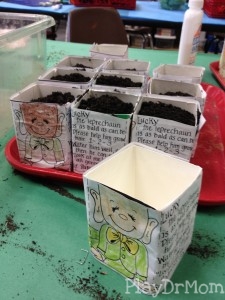 The paper the kids had colored was wrapped and glued on a washed out small milk carton.  The kids then filled the carton 3/4s of the way full with dirt, sprinkled on the magic hair grow seeds (aka grass seed), and then put another light sprinkle of dirt over the seeds.  The class was pretty split on whether or not this magic hair would really grow …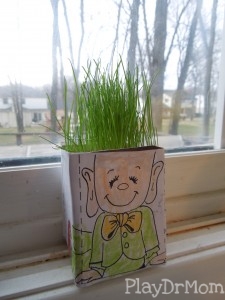 … but it did!  And sure looked cute!!!
 An important tip Mrs. Walch gave the class was that you should try NEVER say  "l-e-p-r-e-c-h-a-u-n" during March because this lets on to "those magical green creatures" that you are trying to trap them.  When I visited the class on Wednesday to help out if was fun to hear & see the kids be so mindful of this and correct each other … and, more often, the adults messing up!
Mrs. Walch also gave a family homework assignment for the kids to each make a leprechaun trap!  We just had to make sure that the trap included a simple machine, such as a lever, pulley, or wedge.  Henry and I did some "research" on Pinterest, but he and his dad came up with the design.  Here's a glimpse of our process …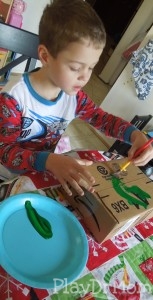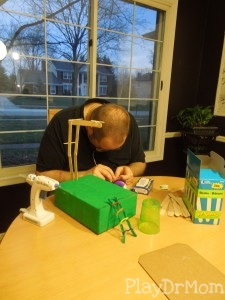 Henry started by painting a cardboard box green.  The next day Henry & Dad got busy hot gluing craft sticks and toothpicks to create a lever system.  And I helped by making a small ladder out of pipe cleaners.  We used a pot of gold (both the "pot" and the "gold" can be purchased at Oriental Trading Company), shiny gold star confetti, and Lucky Charm cereal to hopefully lure the leprechaun to the trap.  Once the leprechaun tries to take the pot of gold coins the lever will move and a green cup will come down to trap him. (we'll have to keep you updated because the traps stayed at school over the weekend to see if they could catch any … just imagine one classroom with about 50 of these from both the am and pm class!)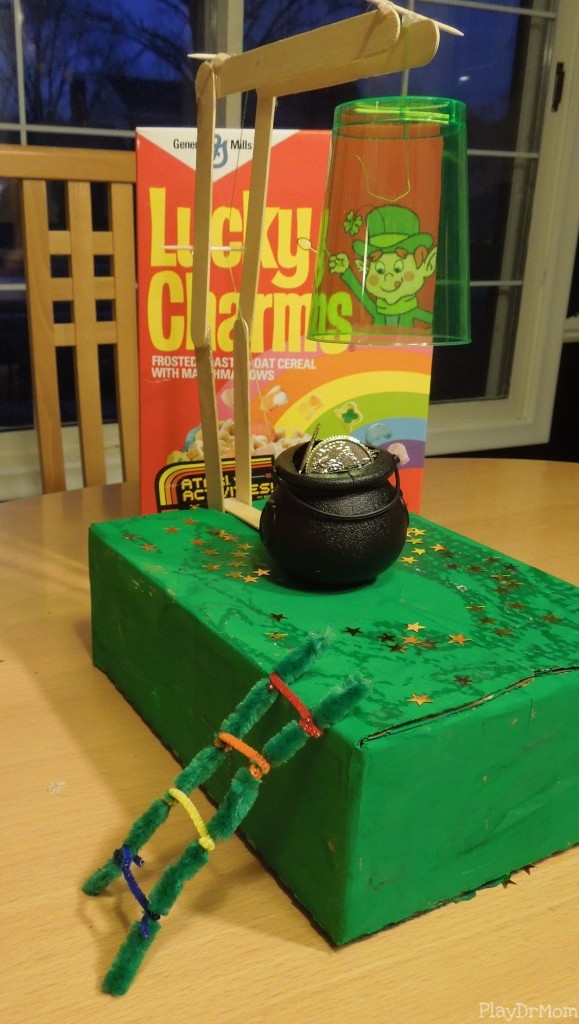 We also had some fun at home on St. Patrick's Day.  Upon our return from Basketball Saturday morning, the kids found a message on the door … the start of a St. Patrick's Day Treasure Hunt!!!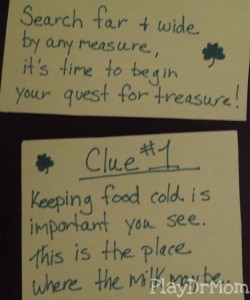 I got this GREAT idea from Jesse Kate Designs (she has printables of the clues).  Because I was doing this last minute I had to handwrite them, but I only made some minor changes.  Here are all the clues …
The photo cut off the last line of the last clue … it read, "You'll find your treasure under your …"  When they got to this last clue, both kids went racing to their bedrooms to find …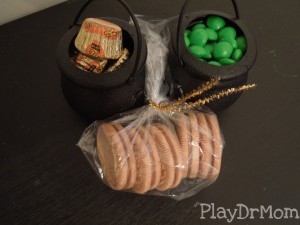 A pot of gold (Reese's Peanut Butter Cups), a pot of green (m&m's), and some GOLDen Oreo cookies!! YUM! To help wash down the yummy treasure I surprised the kids with some GREEN milk!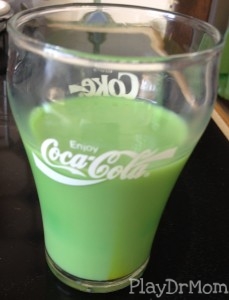 Made from … milk and yellow and blue food coloring (I was out of green, but heck it added a color mixing lesson in!). We also had fun playing in our St. Patrick's water bead sensory tray!  I just used green water beads, one of those small pots, and the gold coins.  My daughter (almost 3) REALLY enjoyed this for the whole week!  (more posts on water beads coming soon!)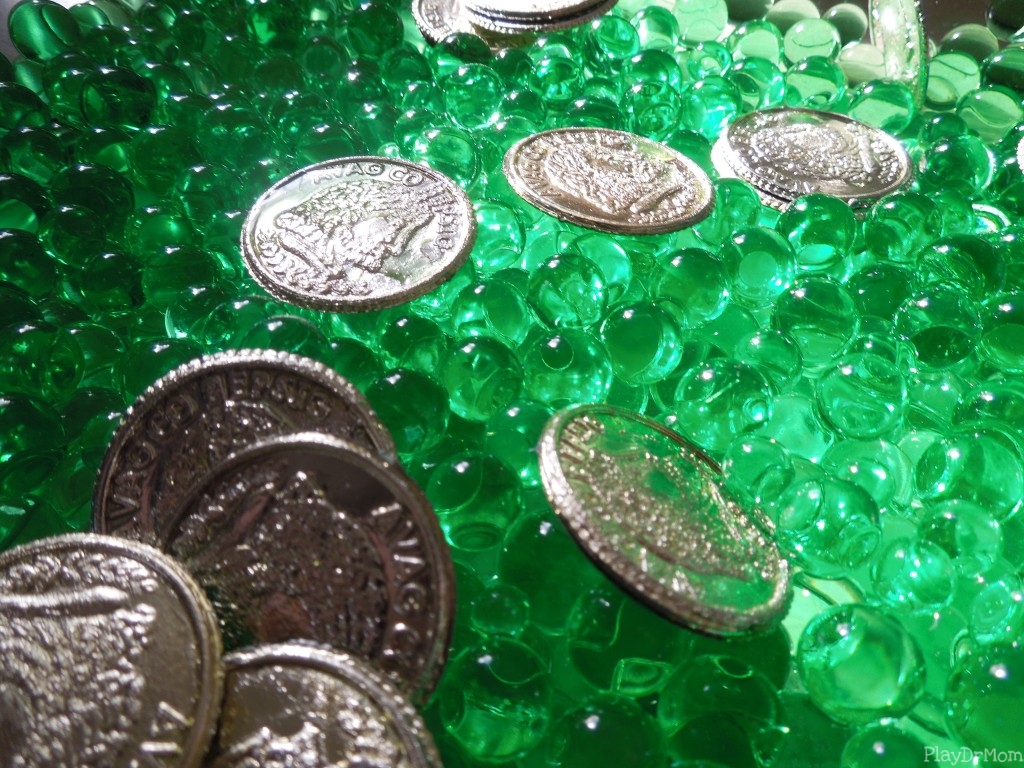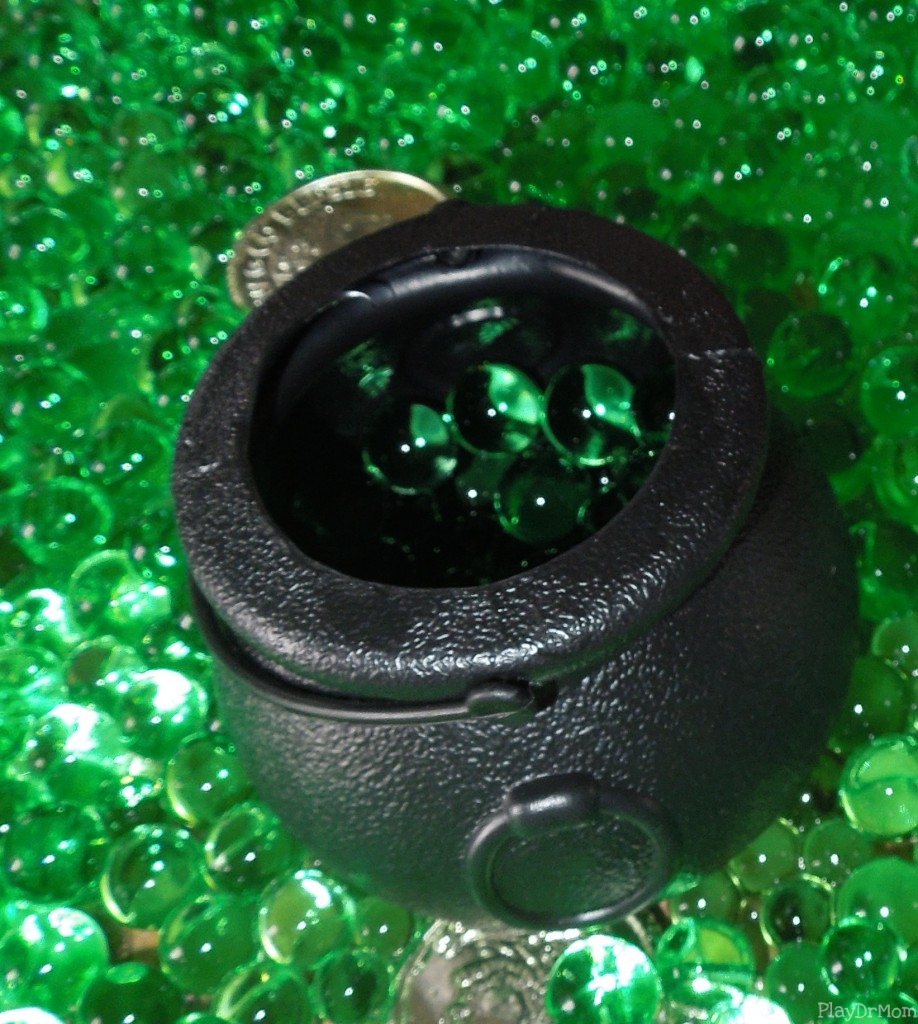 After dinner (I didn't even bother with the corned beef and cabbage because I knew no one would eat it at my house!), I snuck in 2 more activities.  The first one was a timed scavenger hunt for GREEN things …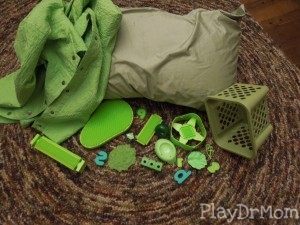 I gave Henry 5 minutes to find as many things as he could that were green!  I got this idea from Parents Connect.
We then tried out a little science experiment to see if we could turn WHITE carnations GREEN …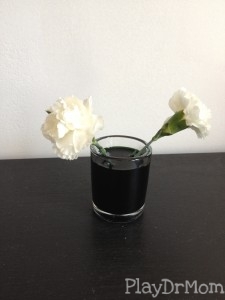 It took overnight, but …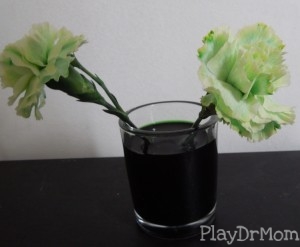 (thanks to the Mom to 2 Posh 'Lil Divas for this great idea!)
What did you do to celebrate St. Patrick's Day???
The following two tabs change content below.
Laura Hutchison
Laura Hutchison (aka PlayDrMom) is a chubby kid turned competitive figure skater tween turned high school pom pon girl turned MSU Spartan turned grad student turned Mrs. HutcH turned Dr. turned Mom. She adores living in the Mitten, is addicted to Diet Coke, and firmly believes that ice cream is a main food group.
Latest posts by Laura Hutchison (see all)