This week I am SO excited to feature Growing a Jeweled Rose.  If you haven't checked out her blog yet … GO, do it!  She has wonderful posts about all kinds of fun, messy play with her two little girls, Rosie and Jewel.  Her sensory play posts are some of my personal favorites.  So, without further ado, the ABCs of Growing a Jeweled Rose …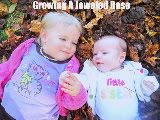 Age – Mommy 28/ Rosie 2/ Jewel 8 months
Bed Size -Mommy King/ Rosie Toddler/ Jewel Crib
Chore that you hate -Mommy All chores/ Rosie all chores/ Jewel What are chores? lol
Dogs - Mommy no dogs/ Rosie " Please mommy, I want a dog!"/ Jewel "What's a dog?" lol
Essential start to the day - Mommy coffee/ Rosie- cereal and Dora/ Jewel cuddles and mama milk
Favorite color - Mommy blue/ Rosie yellow/ Jewel has not decided yet
Gold or silver Silver - always silver
Height - Mommy 5'5"/ Rosie just shy of 3'/ I swear Jewel grows taller everyday
Instrument you play – Mommy none/ Rosie and Jewel play a variety. The drum is their favorite
Job – Stay at home mom
ages and names of Kids - see above!
Where do you Live? - In the United States
Favorite Movie - I love sappy movies. A Walk to Remember and The Notebook are two of my favorites. I am a hopeless romantic
Nickname
Overnight hospital stay – yes
Pet Peeve - arrogance
Quote - "Each morning when I open my eyes I say to myself: I, not events, have the power to make me happy or unhappy today. I can choose which it shall be. Yesterday is dead, tomorrow hasn't arrived yet. I have just one day, today, and I'm going to be happy in it" – Groucho Marx
Right or left handed - left handed
Siblings – two brothers
Time it takes you to get ready ~ 45 minutes
Underwear - Mommy- sometimes
/ Rosie Dora the Explorer/ Jewel Luvs
Vegetable you hate - Mommy asparagus/ Rosie loves vegetables/ Jewel hates them all so far
What makes you run late - everything! lol
Xrays you've had - Mommy- dental/ Rosie and Jewel= none
Yummy food that you make - In my opinion, it's all yummy!
Zoo animal - Mommy- giraffe/ Rosie- alligator/ Jewel- Do teddy bears count? lol
Don't you just LOVE how she included the girls' answers!!!  How fun!!!
And, for some MORE fun, here's this week's Kids Co-Op linky!!!!
<a href="http://www.rainydaymum.co.uk/" target="_blank"><img src="http://rainydaymum.co.uk/wp-content/uploads/2012/02/comeplayatkidsco-op.jpg" alt="Kids Co-op" width="125″ height="125″ /></a>