Virtual Book Club: The Carrot Seed
For this, our second month doing the Virtual Book Club hosted by Toddler Approved, we read The Carrot Seed, by Ruth Krauss.
If you haven't read this one (at all, or lately) I highly recommend it.  We have been enjoying it frequently over the month by watching/listening to it on YouTube.  This version is actually read by Ruth Krauss, the author.  We also enjoyed this version from an old record, where the story is put along to some music.
I love the message of this book.  The kids and I talked a lot about the importance of believing in yourself and going after your goals while thinking about an activity to go along with it.  And, then, I realized that THIS could be the activity.  So, we began a research project.
I first began by asking them if anyone, including myself, had told them there was something that they couldn't do or wouldn't work out.  They couldn't think of any! (YAY!  I'm doing something right!!!)  We talked about how in our family we never say "you can't", instead, "we say let's give it a try and see what happens."  (unless it's going hurt someone!).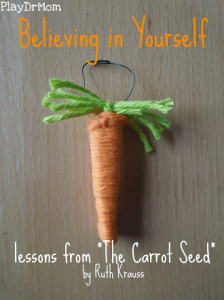 Since they didn't have any of their own personal examples, I shared a couple of my own.  (I am also blessed that I couldn't think of ANY from my parents) …
but I did have an elementary school gym teacher that told me that I'd never be athletic and I became a competitive figure skater in middle and high school.
and a high school guidance counselor that told me I could "try" to get into college, but that with my standardized test scores I probably wouldn't get in.  Luckily that didn't stop me, because not only did I get accepted into a major university … I graduated with Honors in just 4 years and went on to get my Master's and Doctorate degrees.
And, we also found other examples in books and movies …
It's the Easter Beagle, Charlie Brown … Linus stands firm that the Easter Beagle WILL come and deliver decorated Easter Eggs to all the good children
Beauty & the Beast: Enchanted Christmas – Belle and the characters in the enchanted castle believe if they work together they can have Christmas.
Cinderella … she's told she'll never be able to make it to the ball, but not only did she make it to the ball, she and the prince fell in love.
Disney's Aladdin … Aladdin knew he was "more than just a street rat" and Jasmine wanted more in life than just being told what to do.  They believed in themselves, telling the truth, and working together.
Tangled … Rapunzel just knew that there was more to her life than just living in the tower and she followed her dream.
"Ten Apples Up on Top", book by Dr Seuss … the characters work hard to keep those apples up on their heads!
I think my kids (definitely my almost 3 year old) were a bit too young for this activity, but they definitely got the message.  I do, however, plan to use the book and it's message in my practice as a therapist.  I frequently use bibliotherapy and I know that this activity will be a wonderful addition.  I look forward to the discussions (and hopefully turning points) that will come of discussing the book and my client's examples of being told they would never accomplish something … and then helping them find out that they really can accomplish whatever they choose to work hard at, nurture, and believe in.  Just like the little boy growing the carrot seed!

The following two tabs change content below.
Laura Hutchison
Laura Hutchison (aka PlayDrMom) is a chubby kid turned competitive figure skater tween turned high school pom pon girl turned MSU Spartan turned grad student turned Mrs. HutcH turned Dr. turned Mom. She adores living in the Mitten, is addicted to Diet Coke, and firmly believes that ice cream is a main food group.
Latest posts by Laura Hutchison (see all)