What We Did During Screen-Free Week
Wow!  That week was NOT at all what I expected.  I thought it was going to be hard … for the kids and for me, most especially for me when I needed to get things done and didn't have a screen to "put them in front of".
But … it wasn't hard at all.  It was wonderful.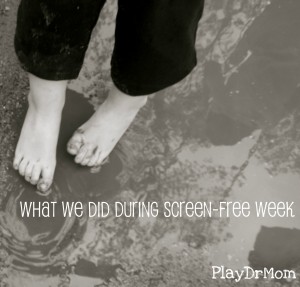 We cuddled * I let Honor paint her own nails * I played Qwirkle with Henry * Honor made lots of spin art creations * We got a goldfish * We made peeps s'mores * Honor and I made funny faces with playdoh and google eyes * The kids pretended to be doctors for dolls and animals * We played Monopoly Crazy Cash * We played U Build it Monopoly * Honor played with Crayola colored bubbles outside * We made chalk drawings in the driveway * We splashed in puddles * Henry picked bouquets of dandelions * We went on a walk * We played on the swings (A LOT) * We had a sleepover with my cousin * The kids had a glow bath with glow sticks * We made Nature Bracelets with the neighbors * We wrote out and sent Michigan postcards to our blogger friends * Honor made an orange picture for her pen pal, Nico * Henry and the neighbor boys battled bubbles (in full armor!) * I raced Matchbox cars with Henry * Honor helped me in the garden * Henry rode is bike * Henry drew pictures * We read LOTS of books * Played that the swings could magically transport you to anywhere you wanted * Henry created an activity where he would add to the picture he was drawing and we would have to guess what he added * We played with Model Magic * We made GreatGram a Mother's Day Gift * I went to the farm with Henry's class * We did some glue/salt/watercolor paintings * I played Thin Ice with Henry * Henry and I played Uno Attack * Henry played "slap the sight work" and sight word baseball * Henry started t-ball.
Now that the week is over, I'm having a hard time figuring out how (and if) I want to transition back into screen time.  For the kids, it will be easy.  My husband and I saw how much easier it was to deal with daily routines during the time of being screen free … and we realized how out of control screen time use had gotten.  We came up with plan that includes limited and restricted use for the kids that started being enforced today.
As for me … I'm torn.  I love writing and taking/editing photos.  I love sharing the fun things I do with the kids.  I love the community of bloggers that I know.  BUT, I also really loved all the extra time not looking at a screen … and just being in the moment instead.
So, moms … how do YOU do it?  How do you strike the balance between your family and your interests?

The following two tabs change content below.
Laura Hutchison
Laura Hutchison (aka PlayDrMom) is a chubby kid turned competitive figure skater tween turned high school pom pon girl turned MSU Spartan turned grad student turned Mrs. HutcH turned Dr. turned Mom. She adores living in the Mitten, is addicted to Diet Coke, and firmly believes that ice cream is a main food group.
Latest posts by Laura Hutchison (see all)