Creating a Cuckoo Clock (and Bird) Costume
Thanks to an episode of Mickey Mouse Clubhouse (Mickey's Adventures in Wonderland … where Mickey & Donald chase after a runaway cuckoo bird), Honor has been quite interested in cuckoo clocks.  Also, one of her favorite songs is "Tick tock tick tock. I'm a little cuckoo clock. Tick tock tick tock. Now I'm striking one o'clock."  So, when asked what she wanted to be for Halloween … she said "a cuckoo clock".
I first searched for the easy way out … but couldn't find any pre-made cuckoo clock costumes for kids (oddly enough I did find a couple for adults!).  However, I did come across a tutorial that a father made about making a cuckoo clock costume for his young son (also with a cuckoo clock obsession) … and KNEW this was it!
So, here's my version.  The cuckoo clock costume I made for my daughter, Honor.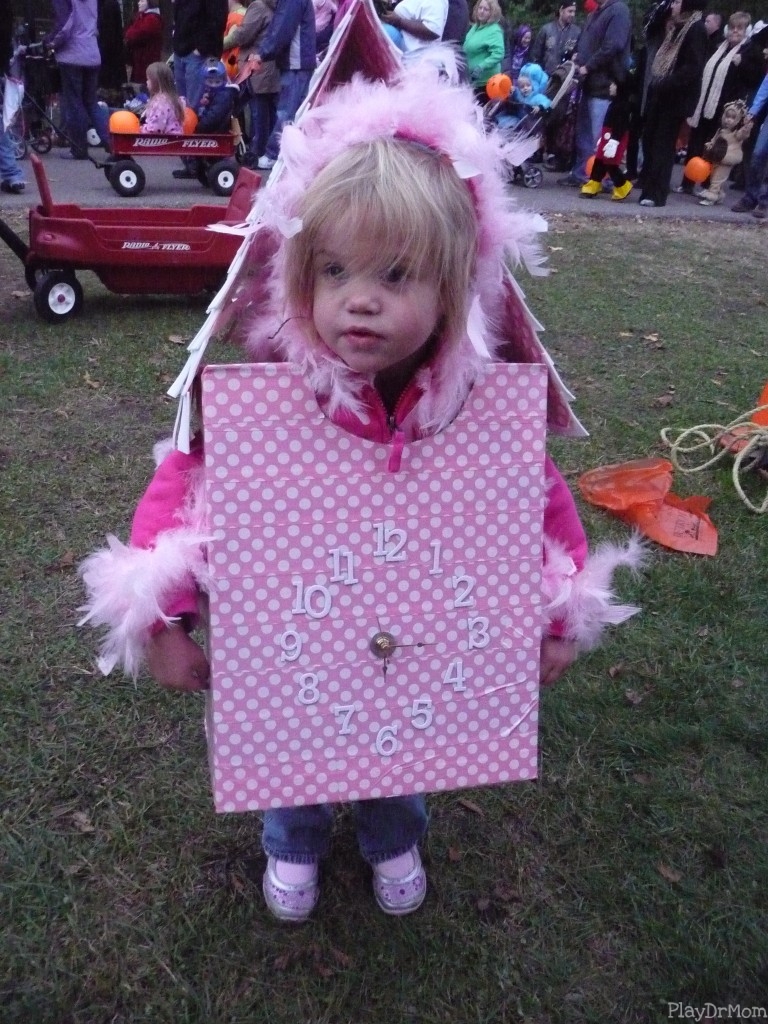 I used…
a medium size cardboard moving box (Home Depot)
two cardboard pallets from cases of pop (Costco)
a utility knife
3 rolls of pink polka dot duct tape (Michael's)
several sheets of white craft foam (Michael's)
scissors
a clock kit (Michael's)
number stickers (Michael's)
hot glue gun
pink hooded sweatshirt
2 pink feather boas (Michael's)
needle and thread
First, I completely covered the box in the duct tape.  This not only made it incredibly cute and girly, but also reinforced the box (and made it stain & water resistant!!!).  I then used a utility knife to cut what what I determined to be the bottom (ended up using the box sideways).  Next, I cut the hole for the head.  I made the cut on both the top and the front of the box. (I've gone back and forth on whether or not I like this decision because it makes the clock sit somewhat back on her … but then I also forces to look like she is popping out of it more … which is pretty stinkin' cute.)  After I put the box on my daughter to test out the best place for the arm holes, I cut those out too.
To create the face of the clock, I used cardboard number stickers and installed an actual battery operated clock.

For the roof, I took the two large pieces of cardboard from the bottom of a case of pop and cut them to fit over her head (allowing for lots of clearance, because I didn't want her to feel trapped or too confined … because then she wouldn't wear to and what would be the point!!!).  I then covered the pieces of the roof with duct tape and adhered them (with duct tape) the the box/clock.  I then cut a bunch of foam rectangles out of a large sheet of white craft foam to make the shingles for the roof.  This is a time when my lack of ability to cut a straight line came in handy, because it gave the shingles uneven shapes and sizes … actually looking more like wood shingles.  I glued each shingle individually on the roof with a hot glue gun, starting at the bottom and working to the top.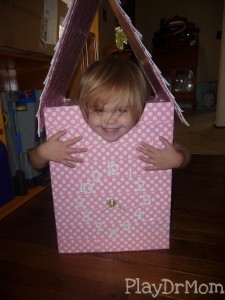 For the "bird" part of the costume, I bought a pink hooded sweatshirt and sewed a pink feather boa around the rim of the hood, neck, and wrists.  I also sewed the boa onto the top of the hood and allowed the rest of it to loosely fall down past the bottom of the jacket … to look like a tail.

The following two tabs change content below.
Laura Hutchison
Laura Hutchison (aka PlayDrMom) is a chubby kid turned competitive figure skater tween turned high school pom pon girl turned MSU Spartan turned grad student turned Mrs. HutcH turned Dr. turned Mom. She adores living in the Mitten, is addicted to Diet Coke, and firmly believes that ice cream is a main food group.
Latest posts by Laura Hutchison (see all)