"But nothing happened. Not a sound." – a Very Quiet Cricket activity
This month the Virtual Book Club for Kids is featuring one of our favorite books by one of our favorite authors … The Very Quiet Cricket, by Eric Carle.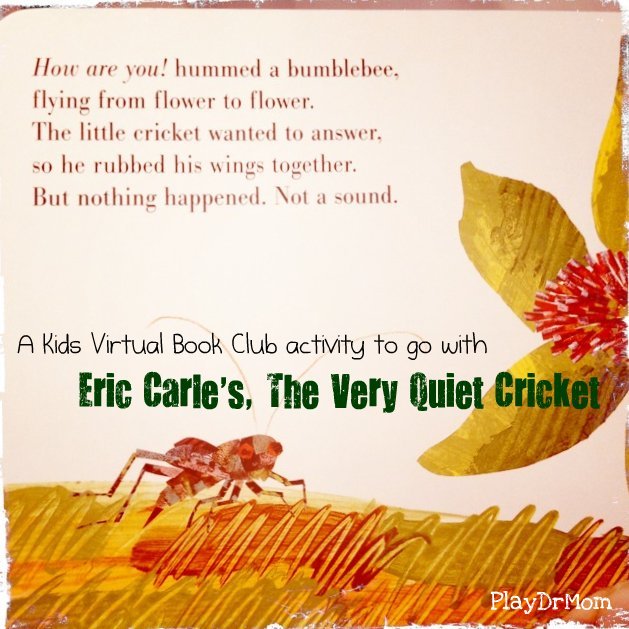 Two of our very close friends recently moved to a house on the Rouge River.  For those that aren't familiar with the Rouge, it is a major watershed area in southeastern Michigan.
The Rouge River has four main branches- the Main, Upper, Middle and Lower
These branches total 126 miles of river.
The watershed drains 467 square miles of land.
Forty-seven units of government are located within the watershed.
The watershed communities are home to nearly 2.7 million people. (cited from Friends of the Rouge: Media Info)
With living right on the Rouge, our friends became members of the organization Friends of the Rouge.   Part of what the Friends of the Rouge do is study the wildlife along the river to help determine the health of the river.  Listening to frogs and toads calling is a big part of research (noisy frogs = happy, reproducing frogs).  Interested members can sign up to study the different calls, listen for them, and report the findings.
This sounded like the perfect activity to go along with the book, The Very Quiet Cricket.
We've read this book many times, but we reviewed it on the day we did the activity.  We also listened and "studied" the many different types of frogs and toads that we may hear on the river.  The Friends of the Rouge website has WONDERFUL recordings of the frogs and toads that you can download for free, as well as see photos of the frogs and toads.
Then, that night at dusk, when the frogs and toads are supposed to be the noisiest … we went to listen!
We listened and listened … "But nothing happened.  Not a sound."  We listened some more … and we DID hear lots of crickets!  But no frogs.  We read the book one more time as we sat outside, on the deck near the Rouge River, with the sound of crickets all around.
It was late and time to go, we said our good byes and headed to our car.  That's when I saw …
 A TOAD-ally cool ending to our evening!
Don't FROG-et to check out all the other great ideas to go along with "The Very Quiet Cricket" from the Virtual Book Club for Kids!


The following two tabs change content below.
Laura Hutchison
Laura Hutchison (aka PlayDrMom) is a chubby kid turned competitive figure skater tween turned high school pom pon girl turned MSU Spartan turned grad student turned Mrs. HutcH turned Dr. turned Mom. She adores living in the Mitten, is addicted to Diet Coke, and firmly believes that ice cream is a main food group.
Latest posts by Laura Hutchison (see all)