PlayDrMom's Favorite Books about Feelings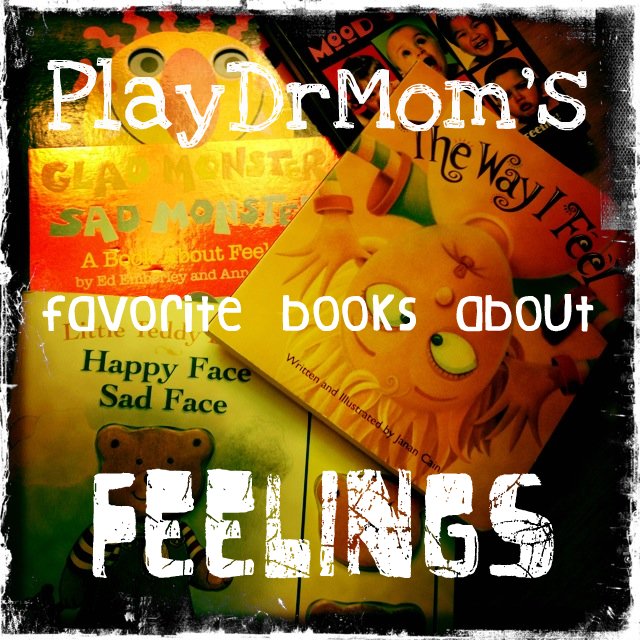 One of the most important social skills is the ability recognize, distinguish and label one's own emotions and the emotions of others.  A great way to help develop this skill is to begin reading books that describe and picture feelings to young children.
Here's a list of my favorite books about feelings that I use in play therapy, recommend to parents to read  at home with their kids, and (of course) read with my own kiddos!:
Little Teddy Bear's Happy Face, Sad Face, by Linda Offerman (My absolute favorite for very young children!  Introduces feelings by matching puzzle piece faces on each page of the story.)
The Way I Feel, by Janan Carr (Playfully introduces many different feelings with wonderful illustrations.  There is a board book version available too!)
Today I Feel Silly, by Jamie Lee Curtis (I feel like this is now the classic feelings book for kids)
A to Z: Do You Ever Feel Like Me?, by Bonnie Hausman (Colorful photographs and fun rhymes to have the readers guess the feeling)
Glad Monster, Sad Monster, by Ed Emberley and Anne Miranda (cute illustrations of monsters, plus punch-out masks to wear as you read along!)
Baby Mood Swings, by David Mager, (super adorable photos of babies arranged in a flip book)
Double-Dip Feelings, by Barbara Cain (Talks about how we can feel TWO feelings at once)
The Hurt, by Teddi Doleski (Great for encouraging kids to share their feelings in therapy. Discusses the importance of sharing and letting out one's feelings – rather than letting the "hurt" grow and take over.)
 

Other ways you can develop children's skills of identifying, understanding, expressing, and coping with emotions is to discuss feelings they witness while watching tv, movies … and MOST IMPORTANTLY the emotions expressed at home.  Label and discuss your own emotions!  Help children understand that ALL emotions are ok … and that it is how we handle our emotions that can sometimes be good or bad.  For example, getting angry and frustrated because the kids just pulled all the books down from the shelves when you just cleaned that room is normal … you can say, "Wow! I am really angry about this. I'm frustrated that I just picked up all these books and now they are on the floor again."  Later (after they help clean up!) and you are calm again … you can discuss how you felt and what you DIDN'T do … you didn't yell or throw the books.  You stated your emotions.  NOW, if you DID yell … that's ok too (you are human … and learning).  Talking about how you did NOT handle your feelings well is also very important.  The same goes with saddness and grief … don't be afraid to let your children see you FEEL.  We teach them SO much from modeling our reactions … teaching them about emotions shouldn't be any different!
Stay tuned for future posts!  I plan to share play therapy activities that I use to help children identify, express, and cope with emotions … as well as more books and activities on specific emotions, such as anxiety, grief, anger, jealous, and fear.
This summer I participated in  the  Love Books Exchange coordinated by Educator's Spin On It.  Since I AM PlayDrMom I figured I just HAD TO send a book about feelings!  Check out what Krissy's kids over at B. Inspired Mama did with the book and project we sent!  And come back tomorrow to see what Krissy sent us!!!

The following two tabs change content below.
Laura Hutchison
Laura Hutchison (aka PlayDrMom) is a chubby kid turned competitive figure skater tween turned high school pom pon girl turned MSU Spartan turned grad student turned Mrs. HutcH turned Dr. turned Mom. She adores living in the Mitten, is addicted to Diet Coke, and firmly believes that ice cream is a main food group.
Latest posts by Laura Hutchison (see all)