Make Your Own Worry Dolls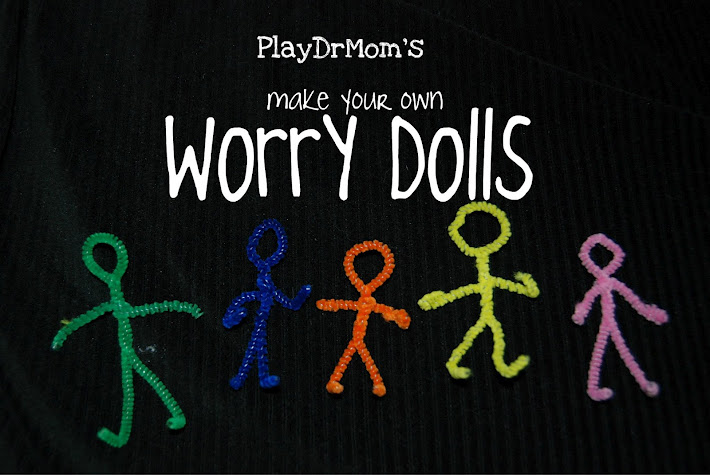 My troubles with worry and anxiety started early in life.  I would worry about everything … especially at bedtime.  One of the ways my wonderful mom helped me cope was by getting me a set of "worry dolls" (like these).  They were a set of tiny dolls in a small wooden box.  She explained to me that at bedtime I could tell each doll one worry and they would work on the problem why I slept.  That way I could let go of my worry and get some rest.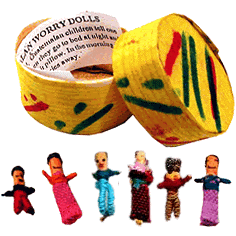 I have always loved this idea of having little helpers.  And to this day I still use the technique of letting go my worries one by one to give my brain and body a break from anxiety.  I have also given my clients sets of worry dolls since I began working as a play therapist.  But one day recently I had a client come in that was in need of a set … but I didn't have any left.  So, we made some for her during session.

It's super simple … take a pipe cleaner and cut it in half.
Take one of the halves, fold it in half, and twist it leaving a loop at the top for the head.  The twist creates the midsection of the body.  The remainder of the pipe cleaner makes the legs.  Bend up the ends to create the feet.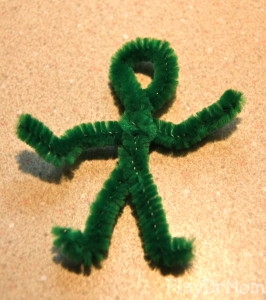 Take the leftover half of the pipe cleaner and twist around the body just below the head to create the arms.  If the length of the arms or legs are off, either twist it around another time or cut to the desired length.
One pipe cleaner = one worry doll!
Of course, these little friends could be fun to make and play with anytime!
I'd love to hear from you if you make these worry dolls … or use worry dolls with your own children or clients!
The following two tabs change content below.
Laura Hutchison
Laura Hutchison (aka PlayDrMom) is a chubby kid turned competitive figure skater tween turned high school pom pon girl turned MSU Spartan turned grad student turned Mrs. HutcH turned Dr. turned Mom. She adores living in the Mitten, is addicted to Diet Coke, and firmly believes that ice cream is a main food group.
Latest posts by Laura Hutchison (see all)