Make Stretch Putty … having fun with ALEX Toys
Last week I shared the fun the kids and I had Creating Tape Town from a super cool kit that ALEX Toys sent us to review.  This week I have another great kit to share "Make Stretch Putty" …
Everything you need is including right in the container!  You get …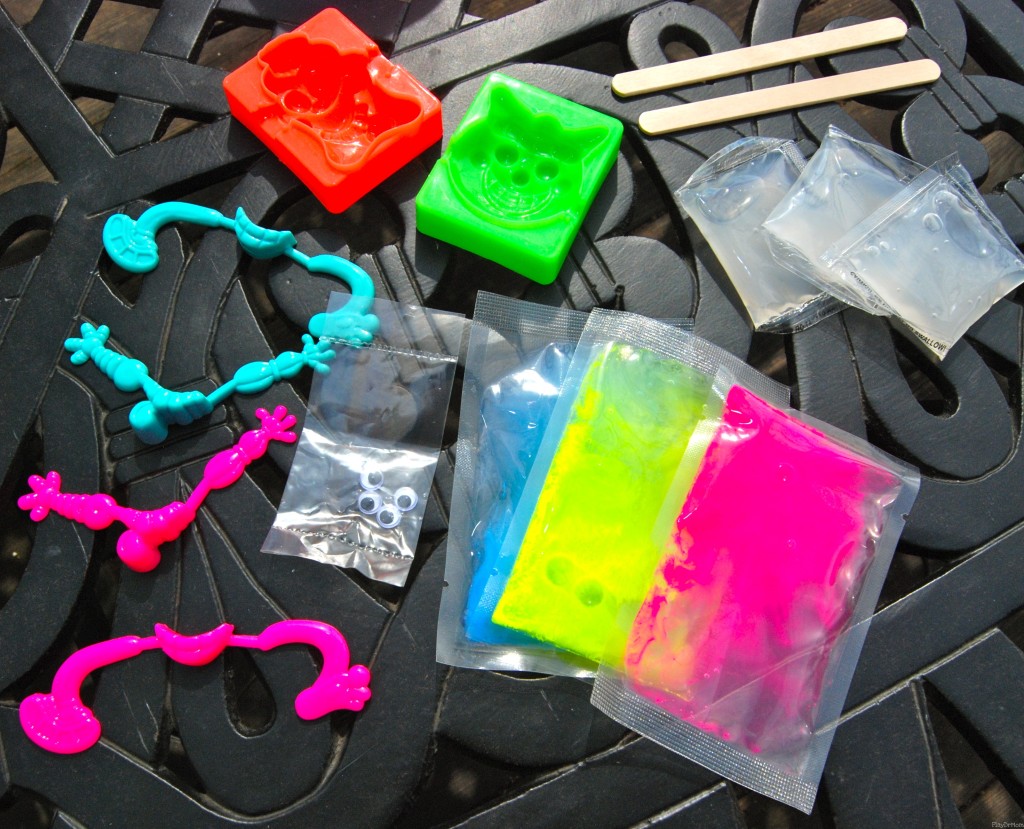 … 3 colored glue packets, 3 liquid starch packets, 2 monster molds, 2 sets of small google eyes, 4 monster accessory pieces, and 2 stirring sticks.
To make the putty, first you need to empty one colored glue packet into the container (yup, you get to make it right in the packaging it comes in!) …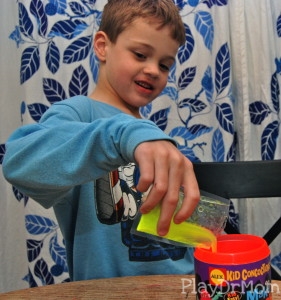 And then, add the starch packet …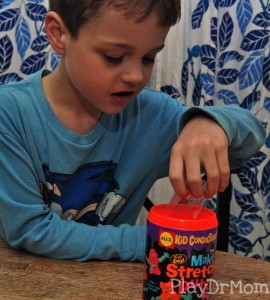 Next, STIR!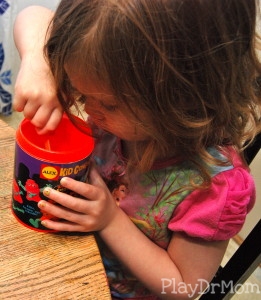 The concoction begins to gel together … but it's still pretty slimy and runny!
So the next step is to remove the mixture from the container and mix it up in your hands.
Before ….
After you are done mixing it in your hands for about 2 minutes, the putty is no longer sticky-slimy … it's a stretchy, very pliable substance!
Now that the Stretchy Putty is made there still ALL kinds of FUN to be had!
You can use the molds and accessories that come in the kit to create your own putty monsters!
These monsters are fun to make and kids can enjoy to make them over and over again.  The putty is still a liquid so that after a few minutes the monster loses its shape.  You can also create your own faces with the putty …
And don't forget there's always just the pure stretching, pulling, breaking, tearing sensory play fun that you can have!
When playtime is over all you have to do is put the putty and the accessories back into the container to store it! (I decided to store each different color putty in a separate snack size sealable bag, and then put them back into the container so that we would still have 3 separate colors … but who knows how many times that will last before the kids decide to mix them together!)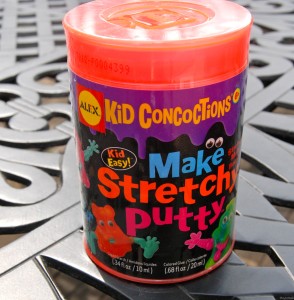 I highly recommend this kit from ALEX Toys … it was fun to create the putty together and a great learning experience too.  My 7 year old was able to read and follow the directions giving him the sense of mastering in creating something new.  He made a comment while he was stirring the liquid packets together that combining the two was making a solid.  He's learning about different states of matter in school so it served as a great experiment to go along with his knowledge.  My daughter, who's almost 4, enjoyed helping out in the process of creating the putty … but really loved playing with it after the putty was complete.
I also can see myself using this kit in my work as a play therapist.  It would be great for kids who need help with self-esteem (mastering a simple creation), kids who have trouble following directions (step-by-step directions), kids with sensory needs, and also in talking about emotions because the putty can easily be created into a variety of feeling faces.  It would be a great addition to my play room!

The following two tabs change content below.
Laura Hutchison
Laura Hutchison (aka PlayDrMom) is a chubby kid turned competitive figure skater tween turned high school pom pon girl turned MSU Spartan turned grad student turned Mrs. HutcH turned Dr. turned Mom. She adores living in the Mitten, is addicted to Diet Coke, and firmly believes that ice cream is a main food group.
Latest posts by Laura Hutchison (see all)