The ABCs of JDaniel 4's Mom … and this week's Kids Co-Op Linky!
Today's feature is JDaniel 4's Mom … she's called that because she married JDaniel the 3rd and together they had JDaniel 4.  Her blog is a special place to find loads of fun and educational activities and crafts to do with kids.  Here are …
The ABCs of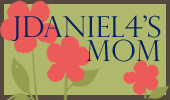 Age
48
Beverage of Choice
I love to drink water or sweet tea.
something you'd like to Change in your Life
I would love to have more hours in the day
favorite Diversion
I love to read legal thrillers.
Essential start of the day
Every morning I start the day with hug from my son and his teddy bear.
Favorite Color
I love

fushia

.
Favorite Game
I Spy
Height
5 feet 3 inches
favorite Ice Cream flavor
strawberry
Beloved piece of Jewelry
my wedding ring
Kids (names & ages)
JDaniel age 5
Where do you Live
South Carolina
Favorite Movie(s)
Chariots of Fire
Nickname
Dee
Occupation
Mom/ Blogger
a weird thing in your Purse/bag
a crayon
favorite Quote
He is no fool who gives what he cannot keep to gain what he cannot lose.
Right or left-handed
Left- handed
Siblings
2 sisters
Time it takes to get ready
20 minutes
Unusual Fact
I love pretzels dipped in canned frosting.
Best Vacation
My honeymoon to Asheville, NC. We stayed at the Grove Park Inn.
What makes you late
Thinking I can do one more thing before I leave home.
Xrays you've had
Mammograms and dental x-rays.
Yummy food that you make
My guys love my chicken divan.
favorite Zoo animal
I love to watch the new baby giraffe at our zoo.
And now for …
The following two tabs change content below.
Laura Hutchison
Laura Hutchison (aka PlayDrMom) is a chubby kid turned competitive figure skater tween turned high school pom pon girl turned MSU Spartan turned grad student turned Mrs. HutcH turned Dr. turned Mom. She adores living in the Mitten, is addicted to Diet Coke, and firmly believes that ice cream is a main food group.
Latest posts by Laura Hutchison (see all)