Utilizing the Books of Mem Fox in Play Therapy and as Parenting Resources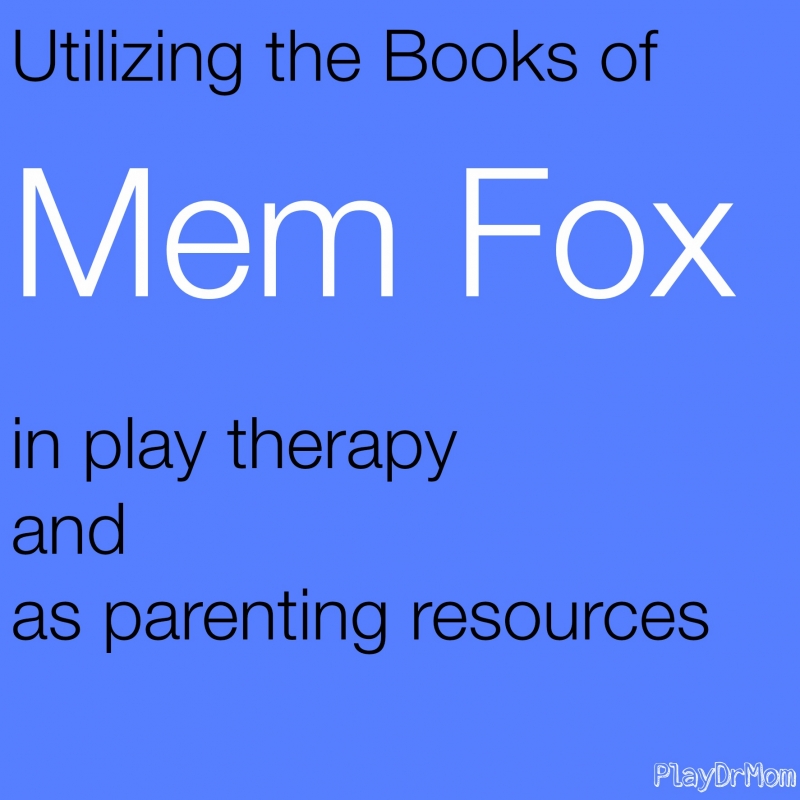 I've said this time again, one of the reasons we love participating in the Virtual Book Club for Kids is because it exposes myself and my kids to children's authors that we might not otherwise explore.  This month's featured author, Mem Fox, was not familiar to us (although I came to find out that we have read a couple of her books).  Here are some of our favorites with short descriptions on how utilizing the books of Mem Fox can be helpful to parents, teachers, and child therapists.
Wilfrid Gordon McDonald Partridge – a heartwarming story about a young boy who helps out a elderly woman that is losing her memory.  This book would be great to help discuss dementia and Alzheimer's in the elderly with young children, as well as discussing the concept of long term memory in general.
Whoever You Are – beautiful book about even though people throughout the world have many differences there are many ways in which we are all alike.  This book would be a wonderful resource to discuss diversity with children.  Check out this post by Growing Book By Book that includes a terrific activity to go along with the book.
The Straight Line Wonder – a fun book about being true to your inner self to be who you are – even if it makes you stand out.  This book would be great to discuss self-acceptance with children. 
Night Noises – in this book the main character and her dog rest at home during a stormy evening – hearing many strange noises.  This book would be great for children who are fearful of loud or strange noises.  Check out this post by Liz's Early Learning Spot that includes a great activity to go along with the book.
Tell Me About Your Day Today – a creative story about a child's relationship with his play.  This book is a great example of how children process things through play (as in play therapy), as well as a great way to help children discuss their own day.
Make sure to check out some other great activities featuring Mem Fox's books. 
Toddler Approved– The Educators' Spin On It– Rainy Day Mum– 3 Dinosaurs–Learn~Play~Imagine– Crafty Moms Share– Reading Confetti– Inspiration Laboratories– Mom to 2 Posh Lil Divas– Kids Yoga Stories– Enchanted Homeschooling Mom– Ready-Set-Read– Boy Mama Teacher Mama– PlayDrMom– Fantastic Fun and Learning– Growing Book by Book–Royal Baloo– The Outlaw Mom® Blog– Kitchen Counter Chronicles– Teach Preschool
The following two tabs change content below.
Laura Hutchison
Laura Hutchison (aka PlayDrMom) is a chubby kid turned competitive figure skater tween turned high school pom pon girl turned MSU Spartan turned grad student turned Mrs. HutcH turned Dr. turned Mom. She adores living in the Mitten, is addicted to Diet Coke, and firmly believes that ice cream is a main food group.
Latest posts by Laura Hutchison (see all)