iPhone Apps: For Moms to Love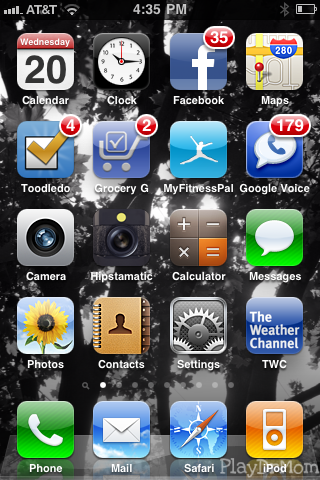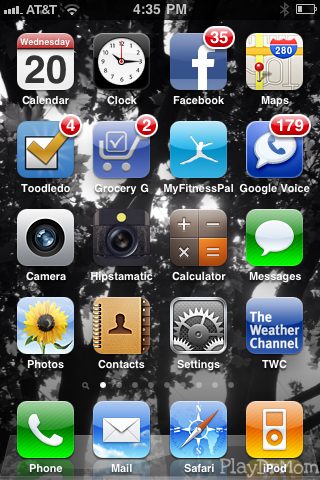 I … am an iPhone lover.  My husband gave me one for Christmas 2010 … and I've been attached to it ever since.  I have found it to be extremely helpful tool in keeping many things in my life organized and handy.  Other than the basic functions of the phone and calendar, there are many that I use several times a day.  Here are some of my favorite apps …
– Clock/Alarm (free) … wonderful for setting "potty" reminders, or warning me that I have to go pick up a kid or leave for work.
–  Maps/GPS (free) … helps me get from play place to play place … except once when we intended on going to a WATER park and ended up at a TRAILER park.
–  Facebook (free) … for the ability to instantly update all on the funny things my kids say and do
– Camera (free) … great for when I forgot my camera … or just can't wait to upload it to FB from my computer! And there's, Hipstamatic ($1.99), for taking funky photos on the go!
–  Toodledo ($2.99) … this is an AWESOME task managing app.  It's a "To Do" list … which I always have several of … this way I can keep them all in one place and handy, instead of on a million sticky notes.  You can make different categories for different areas of your life (work, school, house, kids) and you can also set priorities and due date/times.
–  Grocery Gadget (full version, $3.99) … This one is a shopping list app!  The full version is well worth the price.  You can organize lists by stores you shop at, scan bar codes, and share with others (this is great because either me or my husband always have the updated shopping list with us!).
– The Weather Channel (free) – I like this app better than the one that comes on the iPhone.  It gives more info and is much more detailed.  I frequently use it when planning activities for the day … or simply getting all of us dressed appropriately!
–My Fitness Pal (free) – This is my attempt at being more healthy and losing weight.  It's a great (free) way to track calories, exercise, and weight.  You can also invite friends to join to keep each other motivated.  When I use it … I do lose weight.
And then there's the games … perfect for little momma time outs or when I'm waiting for a client (playdrmom needs.  Some of my favorites are Shape Shift, SkyBurger, Up With A Fish, Fruit Ninja, Tiny Wings, Booooly!, Bejeweled 2, and … of course, Angry Birds.
As for my kids and the iPhone … well, that's for another post!
The following two tabs change content below.
Laura Hutchison
Laura Hutchison (aka PlayDrMom) is a chubby kid turned competitive figure skater tween turned high school pom pon girl turned MSU Spartan turned grad student turned Mrs. HutcH turned Dr. turned Mom. She adores living in the Mitten, is addicted to Diet Coke, and firmly believes that ice cream is a main food group.
Latest posts by Laura Hutchison (see all)