The GAMES we PLAY … and WHY (part 3)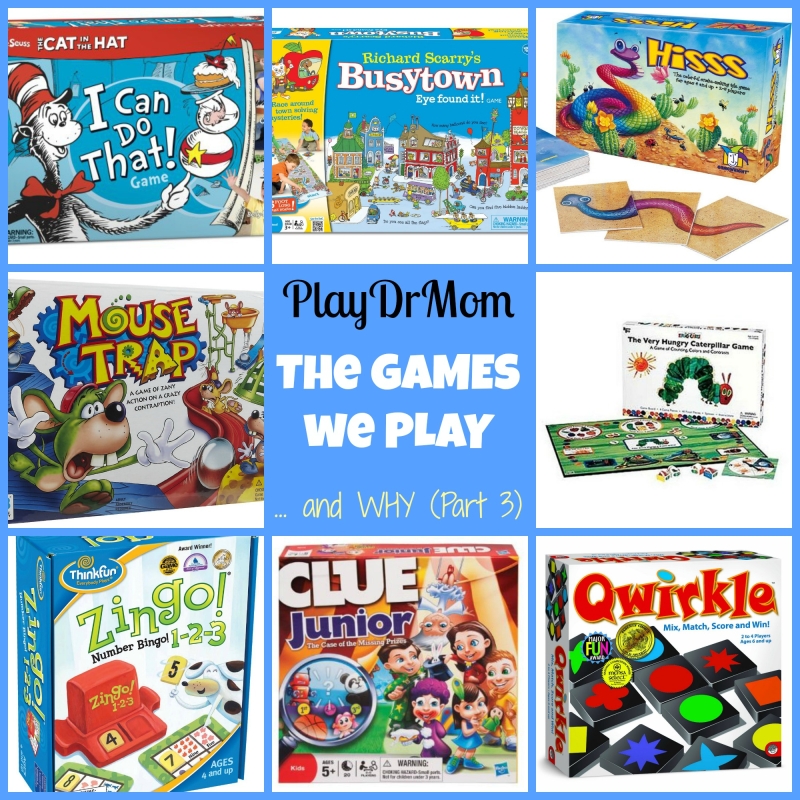 Here's some MORE of our favorite games (and their benefits of playing them).  As opposed to parts 1 and 2, these games are a bit more educational and therefore I'm less likely to use them in a play therapy session.  However, they are excellent to play at home.  Here are The GAMES we PLAY … and WHY (part 3):
I Can Do That! – A Cat in The Hat themed game where kids (even very young kids, like 2 and up) and parents can play together.  This is a fun family game or for a small group of young kids (preschool, kindergarten) to play together with adult assistance.  Players must complete the challenge they pick from the cards … most of them are super silly and require just a bit of thinking and skill to successfully complete.  Great game to increase positive relationships, confidence, and self esteem.
Busytown – A Richard Scarry themed game which has fun elements of "I Spy" and a cooperative nature to all players getting to the end of the game together.  I like the that it takes the emphasis off of "winning" and puts it on playing a game together!  Great for young kids (3 to 6 years).
The Very Hungry Caterpillar Game – Obviously designed after the classic Eric Carle book.  Players make their way around the board by eating the correct amount of food to get to the end and turn into a butterfly.  It's a simple, fun game for young children aged 2.5 to 6.
Mousetrap – My 5 year old son LOVES this classic game … mostly because we get to BUILD a CONTRAPTION while we play.  He loves marble runs and Rube Goldbrick machines … so this is right up that alley.  Players move around the board and build the contraption as they go … to ultimately trap their opponents and win the game.  I would recommend for kids 5 years and older. Great game to discuss cause-and-effect and basic physics.  Also, very often problem solving comes into play because they contraption doesn't work and needs to be fixed!  (so, some frustration tolerance too!)
Hisss – this is another one of our favorites.  Players use cards with different parts and colors of snakes to build complete (head, middle, & tail) snake.  Longer snakes are more cards and worth more points (1 card=1 point).  Great color matching game and good for discussion of what makes a "whole".  I like it because it's simple and fun.  Good for ages 3 and up.
Zingo 1-2-3 – This is a great version of math bingo that has different levels of difficulty, matching amount to the correct number.  Good game to build math skills; appropriate for kids 3 to 8 (depending on their ability).
Clue Jr. – We originally got this game after my sister and best friend attempted to play Clue with my game crazy 5 year old son.  It wasn't that he didn't get the concept, it was that it brought up TOO MANY questions … "What is murder?" "How would you kill someone with a lead pipe?".  Yeah … so we got Clue Jr.  It's a more kid friendly version … they find who ate the cake instead. :0)  Good for learning the process of elimination, maintaining attention, and problem solving skills.  Good for kids aged 4 to 8.
Qwirkle – This game is definitely a harder game for kids and adults.  Players have to create sets of tiles that either match in shape and/or color or have each piece (set of 6) have all different colors or shape.  Great for increasing critical thinking and strategical skills.

(make sure you didn't miss Part One and Part Two of The GAMES we Play … and WHY)
The following two tabs change content below.
Laura Hutchison
Laura Hutchison (aka PlayDrMom) is a chubby kid turned competitive figure skater tween turned high school pom pon girl turned MSU Spartan turned grad student turned Mrs. HutcH turned Dr. turned Mom. She adores living in the Mitten, is addicted to Diet Coke, and firmly believes that ice cream is a main food group.
Latest posts by Laura Hutchison (see all)