Marvelous Mario Kart Party
For Christmas 2010 we got the family a Wii.  And created a monster.  Well, kinda … Henry, my NOW 6-year-old son, LOVES playing and it is usually a struggle to limit his time on it.  However, I have seen a a tremendous improvement in his hand-eye coordination and gross motor skills.  So, when he asked (and batted his beautiful long, dark eyelashes) for a Mario Kart party … I said, "Of course."  (although I did have a really cool Angry Birds party planned in my head and Pinterest!)
The Boy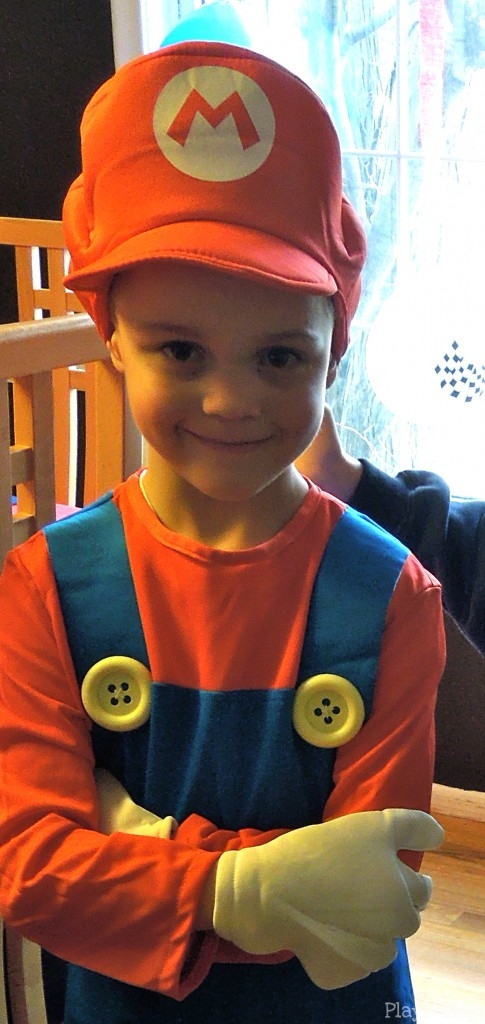 When planning the party, Henry said he wanted a Mario costume for his party.  At first I said no, but then he "reminded" me that, "Honor [his sister] has TONS of princess dresses just because."  So, the Mario costume got added to the online shopping cart!  Before the first guest arrived he hid in the basement and made his entrance with costume on, we said that we didn't know where Henry was, but that Mario had come to the party!
The Invitation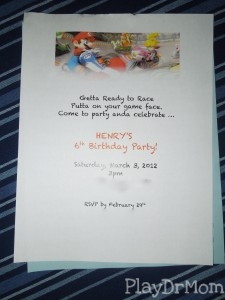 I made the invitation in a regular word program on a plain sheet of paper.  The Mario Kart graphic (licensed by Nintendo) was found on Google Images.  I got the copied text for the invite from The Purple Pug's post, Mario Kart Mustache Mania.
The Decorations 
I purchased the wall decals, streamers, and balloons from Birthday Express.  (Please excuse the nasty orange carpet and non-painted walls … we moved in a few months ago and haven't gotten around to all the home improvements yet.  But, what's more important … celebrating my son or a "perfect house".)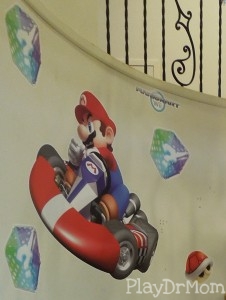 The wall decals were a bit pricey, but very high quality and definitely a fun improvement to our blank walls.  Plus, they will look great in Henry's room after the party!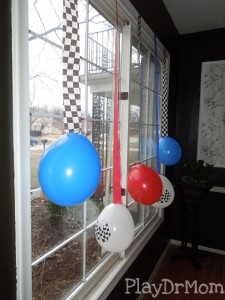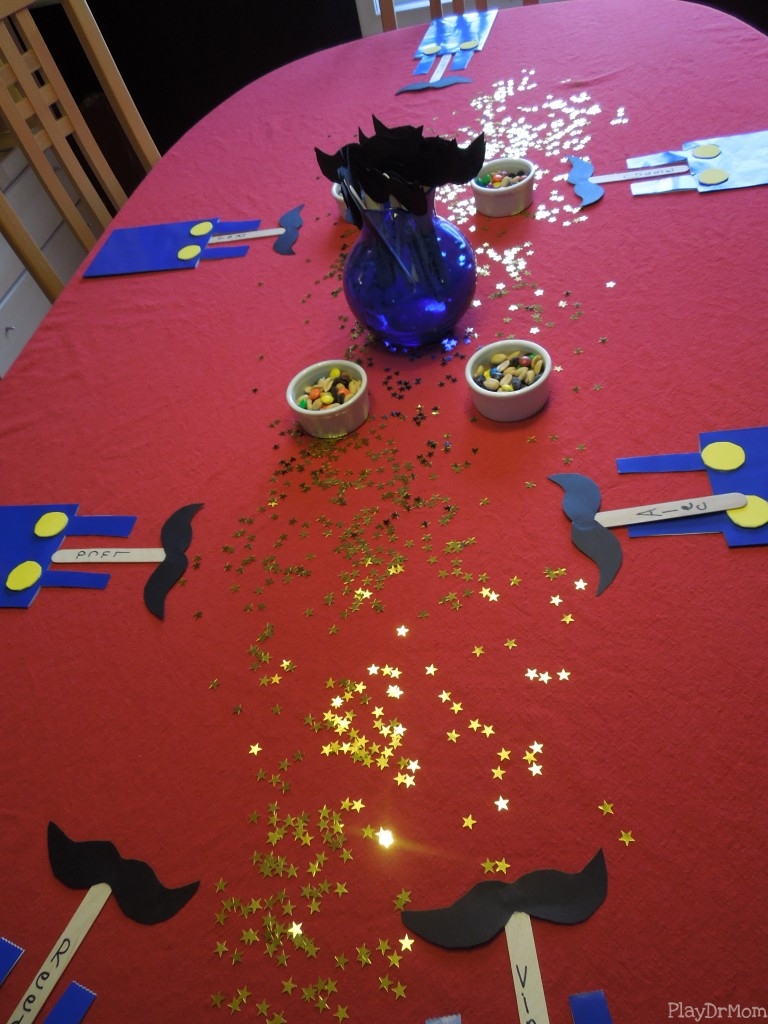 For the table decor I used a red table cloth and sprinkled with gold star confetti.  The treat bags were blue bags that I cut to look like Mario's overalls and added yellow "buttons" (circles that I cut out of yellow craft foam) to complete the Mario effect.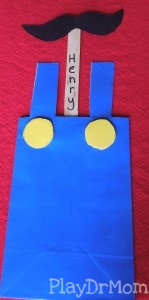 For the place cards I made each guest their own "mustache".  I just used craft sticks and black cardstock.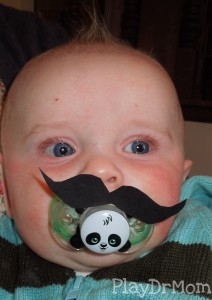 And, of course, our littlest guest needed a mustache too!  I got this idea from Create Studios (this is from an incredibly awesome first birthday party that you should check out!)
The Food
I provided a collection of kid-friendly snacks with a Mario Kart racing theme.  We had RPMs (aka … Raisins, Peanuts, & M&Ms), Banana Peel Power (bananas), Mario & Luigi kart …  and, of course, homemade (from the box!) cupcakes … frosted in red (for Mario), green (for Luigi), and pink (for Peach)!  We also had Rainbow (Road) Sherbet!
The Games
I purchased a Mario Kart pull-string pinata from Birthday Express.  I especially like this type of pinata because it takes away the "young kids blindfolded with a stick to hit each other something with" aspect!  I filled it with chocolate gold coins and Jolly Ranchers.  To decide the order of who would go next, I had Henry pull one of the place card mustache sticks for each turn.  It was really funny how much the anticipation built (for kids and adults alike!) as the kids took turns pulling one string at a time.
We also played Musical Mario, a version of "hot potato" where instead of a potato, we used a Mario plush to pass around.  For the music I found a collection of Mario Kart music put to a video on YouTube.  It was funny when the boys could recall what "race" the music was from in the Wii game.  I used the same music when we played Musical Chairs (sorry, didn't get any photos of that … but we just used the set-up in the dining room with the chairs turned out from the table.  As the game went on we turned around each chair one-by-one).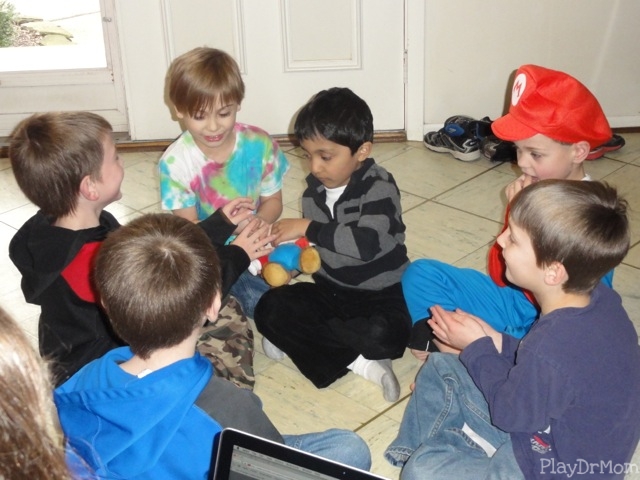 I purchased these "balloon racers" from Oriental Trading Company knowing from the reviews that they weren't great quality and definitely not predictable … but I also knew that they would be a great hit with the boys.  I had them race two at a time … with the "spectators" sit on the "bleachers" (aka stairs).
The last game we played was Video Game Character Charades.  My husband came up with this one last minute when we found we needed a something more to harness all the boys energy before parents arrived.  This one was simple, and just how it sounds, we had the boys act out a video game character and whoever guessed first got to go next.  I wished we would have gotten some of it on video, because they were super cute and funny!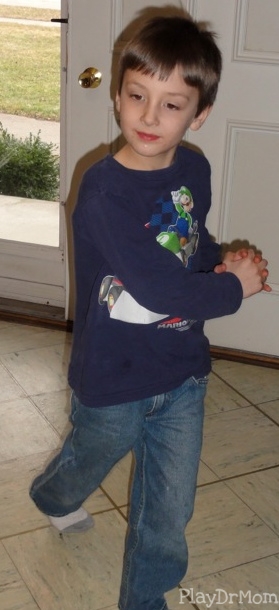 The Favors
Before starting the games I told the kids that EVERYONE was going to go home with a prize and a small present, so the games were ONLY about having fun.  I think this helped out a lot for easing "performance anxiety" and competitiveness.  Each boy went home with a "Star Power" squishy …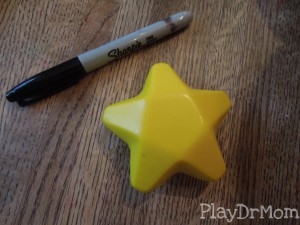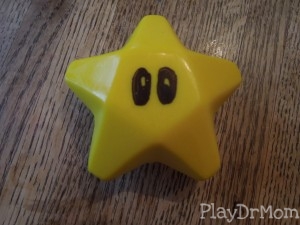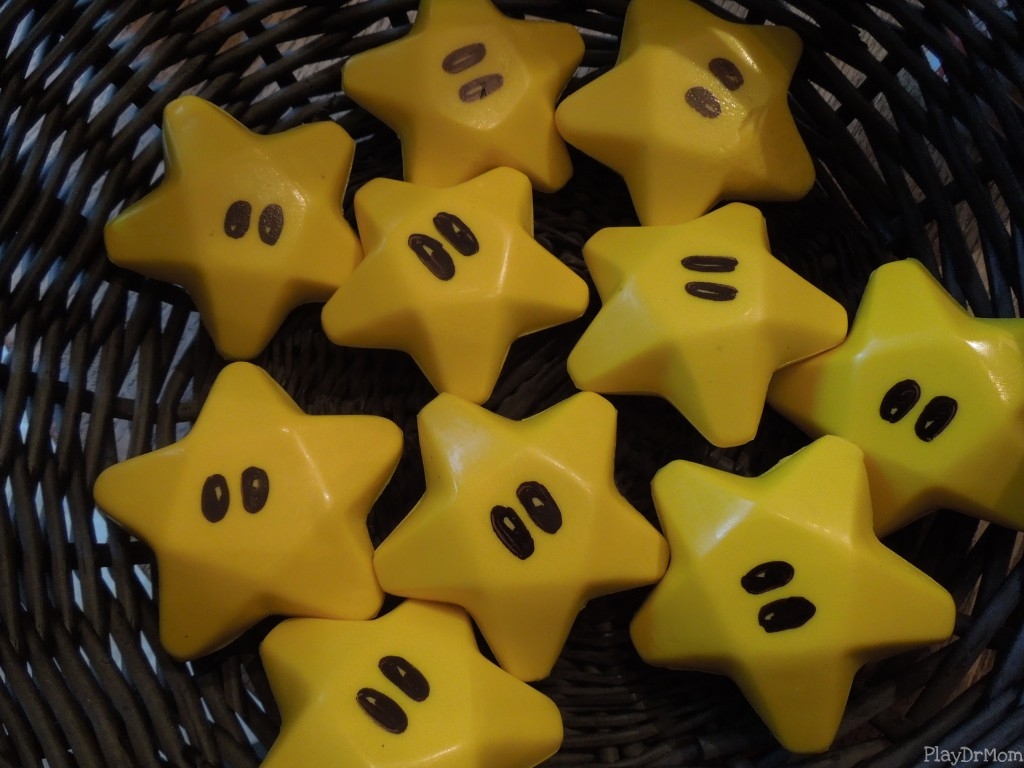 I purchased these from Rhode Island Novelty and used a Sharpie marker to draw on the eyes.
And, each guest also left with this thank-you favor …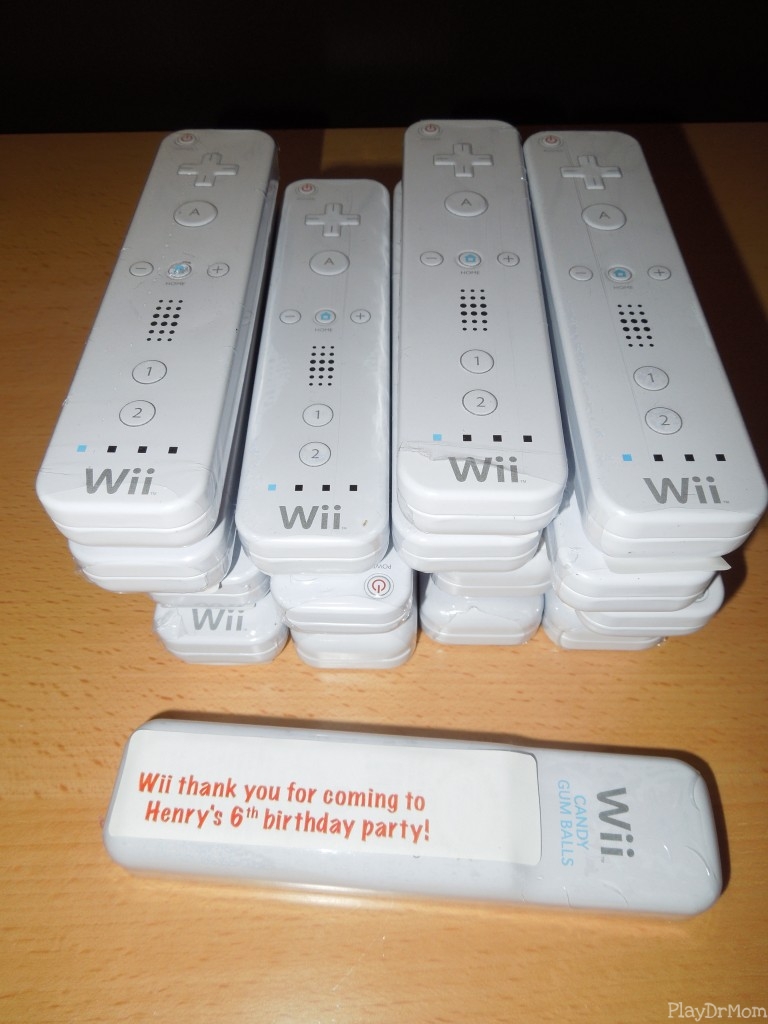 It's a metal tin shaped just like a Wii control and filled with gumballs!!  I purchased these through Birthday Express as well, but custom made the special message on labels for the back.
Wii thank you for stopping by the blog and seeing what fun we had for Henry's 6th birthday party!!!
This post was shared on …
The following two tabs change content below.
Laura Hutchison
Laura Hutchison (aka PlayDrMom) is a chubby kid turned competitive figure skater tween turned high school pom pon girl turned MSU Spartan turned grad student turned Mrs. HutcH turned Dr. turned Mom. She adores living in the Mitten, is addicted to Diet Coke, and firmly believes that ice cream is a main food group.
Latest posts by Laura Hutchison (see all)