"What does it mean to be a friend?" – MeMe Tales Readathon 2012, week 2
I'm over a week late to the MeMeTales Readathon 2012 party … but I didn't want to miss out.  It's another great opportunity to get kids READING this summer.  I have already enrolled my kids in the local library's summer reading program and No Time For Flash Cards' Summer Reading Challenge, and the MeMe Tales Readathon 2012 also fits perfect with our summer reading goals.  Not only will it encourage our family to read this summer … but we also get FREE ebooks from MeMe Tales AND with each child that registers for the readathon MeMe Tales donates a meal to hungry kids!
Each week of the Readathon has a theme … this week is FRIENDSHIP.  So, I asked some kids … What does it mean to be a friend?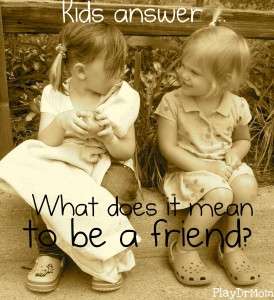 Henry, age 6,  "To respect them and make them like you." (PlayDrMom)
Honor, age 3, "You like to play." (PlayDrMom)
Milly, age 3, "A friend means someone you love and you love them and that means a friend."  (www.learnwithplay.blogspot.com.au)
Nico, age 2.5,  "Nice." Mom prompts, "Nice when you play together?" "Yes," Nico answered. (Glittering Muffins)
Johnny, age 4, "Share?  Doing something that someone else very likes." (Mama Smiles)
Lily, age 2, "Playgroup." (Mama Smiles)
Emma, age 6, "Sharing and playing with someone." (Mama Smiles)
Putti, age 4.5, "play with them, share toys and food, read books and do coloring." (Putti Prapancha)
age 3, "I love you." (One Perfect Day)
Evie, age 3, "Nice and play together." (Loudness of the Lambs)
Sloan, age 7, "Friends are nice and help each other." (Loudness of the Lambs)
Ella, age 5, "It means you really love someone and you become a friend." (CraftyDrMom)
Ask your kids … "What does it mean to be a friend?  Who are your friends?  Why?  How can YOU be a good friend?"  Asking questions, talking about friendship, modeling being a good friend, and READING ABOUT FRIENDSHIP are all excellent ways to help increase your child's social skills and ability to be a friend … one of life's most important skills!
The following two tabs change content below.
Laura Hutchison
Laura Hutchison (aka PlayDrMom) is a chubby kid turned competitive figure skater tween turned high school pom pon girl turned MSU Spartan turned grad student turned Mrs. HutcH turned Dr. turned Mom. She adores living in the Mitten, is addicted to Diet Coke, and firmly believes that ice cream is a main food group.
Latest posts by Laura Hutchison (see all)