"You are My Work of Art" – Love Books Summer Exchange
When I heard about The Educator's Spin on It's Love Books Exchange I just KNEW we had to be a part of it.
The gals over at The Educator's Spin on It organized and matched up 20 different bloggers from all over the world to swap a package filled with one book and activities to go with it.  I had a great time getting our package ready for our partner, B-Inspired Mama.  (check out this post from yesterday on what THEY got from us).
 The fun continued when we received a package from them …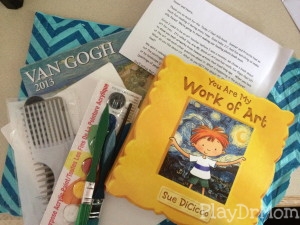 It included the book "You Are My Work of Art" by Sue DiCicco, a letter, acrylic paints, paint brushes, a package of hair combs, a canvas, and a van Gogh Calendar.
We had never encountered this book before … so it was a REAL TREAT!  The book truly is a gem (quoted from the back of the book)…
Playful and heartfelt, this adoring book expresses the endless bond between parent and child through unforgettable works of art.  Children will discover their favorite paintings paired alongside charming verse and illustrations.  With interactive lift-the-flaps, little ones can flip their way from Leonardo da Vinci to Mary Cassat in no time!
Since receiving the package we have read through the book several times … learning about the artists.  Henry can now identify several of the paintings (without reading the text!) and pair them with the correct artist.
Both Honor and Henry have picked a favorite from the book …
Henry likes The Starry Night, by Vincent van Gogh:
 Honor's favorite is Mother and Child, by Mary Cassat: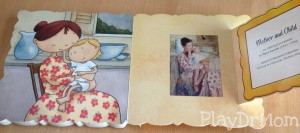 We continued our art discovery with an activity B-Inspired Mama suggested we make from the van Gogh calendar.  I tore out each of the pages of the calendar (each had a different van Gogh painting).  The kids and I talked about van Gogh's unique style of painting, the colors he used, what we saw in the paintings, and which ones we liked best.
I then instructed the kids to sort the paintings based on whether they were a still-life, landscape, or portrait.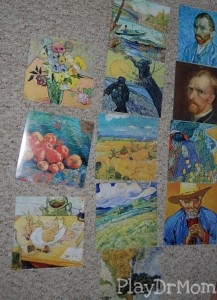 The kids also got to develop some of their own artistic skills!  I got out the canvas, acrylic paint, brushes and combs.  Before starting we examined the pages of the van Gogh calendar … we studied the style and TEXTURE.  We talked about how to use the brushes and combs to imitate the same style and texture of van Gogh.  Then … they got painting!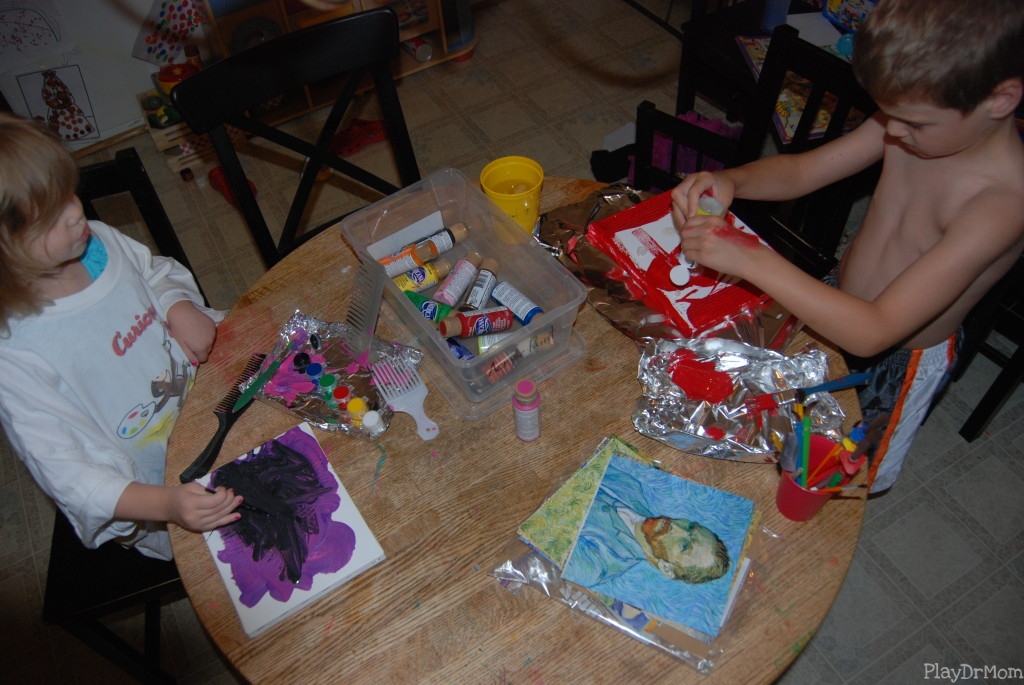 They both had a pretty good plan of what they wanted to do … so, I  just sat back and let the process unfold.
Honor's process involved lots of layers …
Henry decided to do a portrait … of Mario (of course!)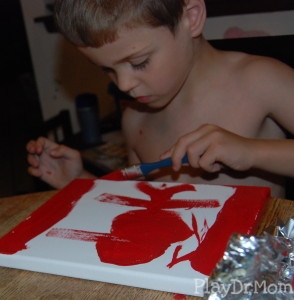 And here are the final products!
I really enjoyed participating in this event.  What a great idea to share and learn!  I also LOVED the fact that Krissy and I both chose books and activities that matched our own speciality and training!  (Krissy, aka B-inspired Mama, used to be an art teacher!)
I encourage you to check out other great posts from                                                    The Educator's Spin On It's Love Books Summer Exchange!
No Doubt Learning – Owen * Having Fun At Chelle's House – Five Little Ducks * Make Do and Friend – Biscuit Bear * Taming the Goblin – Dinosaurs Love Underpants * Growing Book by Book – Little Blue Truck * The Vincent Family – Stars and Stripes * Enchanted Homeschooling Mom – The Giving Tree * Here Come the Girls – The Worst Princess * Domestic Goddesque – Where's My Teddy? * Mommy and Me Book Club – 10 Little Rubber Ducks * Among Many Blessings – It Looked Like Split Milk * Creekside Leaning – Amelia Bedelia Goes Camping * Adventures in Reading with Kids – Officer Buckle and Gloria * I Can Do That, So Can You – Harold and the Purple Crayon * Toddler Approved – The Lady with the Alligator Purse * The Educator's Spin On It – Spoon
The following two tabs change content below.
Laura Hutchison
Laura Hutchison (aka PlayDrMom) is a chubby kid turned competitive figure skater tween turned high school pom pon girl turned MSU Spartan turned grad student turned Mrs. HutcH turned Dr. turned Mom. She adores living in the Mitten, is addicted to Diet Coke, and firmly believes that ice cream is a main food group.
Latest posts by Laura Hutchison (see all)