An Alphabet Adventure … Virtual Book Club for Kids, July 2012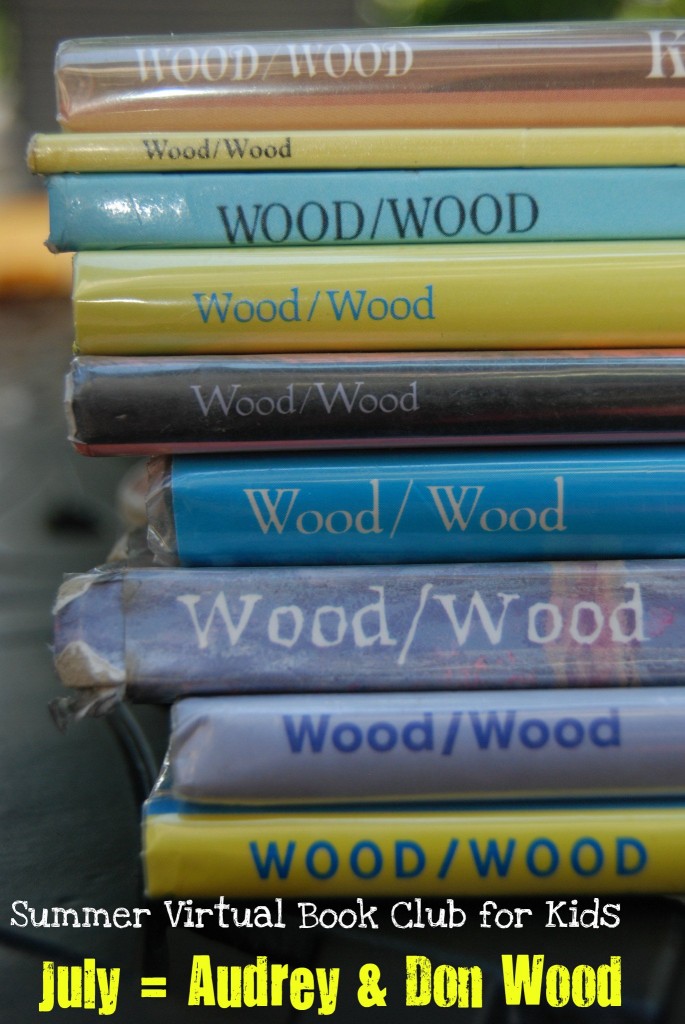 The kids and I have REALLY enjoying diving into the books for this month's feature.

Audrey Wood is an amazing children's author and illustrator … who is married to another amazing children's author and illustrator (Don Wood).  It's no wonder that the two of them produced another creative artist and illustrator … Bruce Wood.  For a complete list of all their books and more info about the arty family check out their website.
It was really hard to decide on what book we wanted to focus on for this post with SO many to choose from.


Henry (age 6) picked his favorite … Weird Parents.  Honor (age 3) picked The Princess and the Dragon.  But in the end, we went with the book that originally exposed us to the Wood's … Alphabet Adventure.  Mostly because it was a perfect excuse to work on practicing and learning our letters!!!
Inspired by the book we went on an Alphabet Adventure of our own!
Letter Match-Up Activity 
One of the things the book helps children learn about (in a very playful way) is the  difference between capital/upper case letters and lower case letters.  Here's a great activity that I planned for my 3 year old since she is just working on learning her letters.
I took a alphabet placemat that we had and I gave her the challenge of matching up capital/upper case magnet letters with the capital letters on the placemat.
Henry helped her out and placed all the lower case letters in their spots.
Alphabet Adventure Scavenger Hunt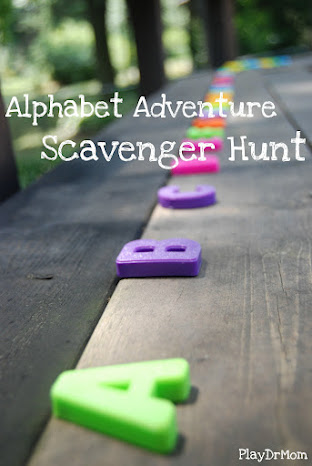 Just like in the book, we had the letters match up with items that started with that letter.  Henry and the twin 6 year old boys that live behind us got really into this activity.  Check out what they found …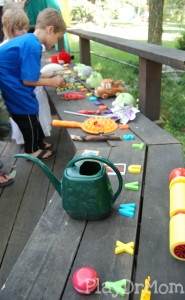 Alphabet Sticker Resist Painting
Since Honor LOVES doing sticker resist art, I figured doing one of the alphabet would be a perfect craft for our Alphabet Adventure!  All it takes is a canvas, some letter stickers, paint, and some brushes!  (for more of Honor's Sticker Resist Paintings)

Here's some previous Alphabet Adventures me & the kids have been on …
In his kindergarten, Henry had some great alphabet activities.  One was that each student brought a show-and-tell item that began or included the letter for the week. At the end of the year the teacher put together a photo book for each student of all the items A to Z.
Another activity the class did was a weekly homework assignment where each child found words and pictures that had the letter of the week in them and pasted them to a page.  I kept them all and we plan to make a book from them too!  Here's Henry's "W" page …
 When we are on the go, we use our DIY gel board to learn how to identify letters:
Check out this post that includes our Alphabet Photo Scavenger Hunt and our "While You Wait" Alphabet Scavenger Hunt.
And you could always listen to our favorite ABC music … Here Comes the ABCs by They Might Be Giants or the Sesame Street Song, ABC-DEF-GHI.
Want even MORE activities to go along with books by the Woods?  Check out and link up to the …


If you're interested in joining this month's book club, here's what you need to do…
Comment on Toddler Approve's page for July's Virtual Book Club for Kids and let us know that you are joining in!
Pick your favorite book by Don and Audrey Wood (or a new one you want to check out) and read it with your child or class.
Create an activity, project, craft, cooking project, etc. related to the book and do it.
Share it with us as part of a big Don and Audrey Wood blog hop that starts today, Monday, July 16th! The linky will be live for 3 weeks, so if you aren't ready to post on the 16th… just join in when you can!
If you want to plan ahead, we'll also be studying the following authors this summer AND more to come all throughout the year!
June- Mo Willems blog hop can be found here
August- Kevin Henkes (August 20th is the link up)
The following two tabs change content below.
Laura Hutchison
Laura Hutchison (aka PlayDrMom) is a chubby kid turned competitive figure skater tween turned high school pom pon girl turned MSU Spartan turned grad student turned Mrs. HutcH turned Dr. turned Mom. She adores living in the Mitten, is addicted to Diet Coke, and firmly believes that ice cream is a main food group.
Latest posts by Laura Hutchison (see all)