"One of the most embarrassing things I ever did was …" FTSF #2
This post is written in response to the "Finish The Sentence Friday Blog Hop (FTSF #2) hosted by Janine @ Janine's Confessions of a Mommyaholic and Kate @ Can I Get Another Bottle of Whine with My Morning Quiet Time and co-hosted by Stephanie @ Mommy, for Real and Jen @ JenJen's Soapbox of Parodies.  I participated last week (Confessions of a Mom Geek) and plan to "finish the sentence" each week for my Saturday post.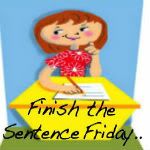 This week's prompt: "One of the most embarrassing things I ever did was …"
… throw up on my teacher's desk.
I was in third grade.  A pretty anxious kid, very self conscious.  I didn't like using the restrooms that were attached to the classroom because I knew that everyone in the class could hear everything thing you were doing in there.  So, when I began to feel ill I asked my teacher, Mrs. LaFever, if I could go to the office because I was sick and needed to go home.  She told me to wait.  My anxiety grew and I asked again telling her that I thought I might throw up.  She again told me that I would need to wait until she wasn't busy.
The next time I asked … I didn't finish the sentence.  Instead, I vomited the last night's dinner of Chinese food all over her desk that was covered in student papers.
The embarrassment was overwhelming for someone that didn't even want others to hear her functions in the restroom … to puke in front of the entire class.  It was a traumatic experience and one that caused me to be afraid to return to school for some time.
My teacher was a great teacher.  I don't blame her.  But the story does point to the importance to listening … listening with your ears and eyes and heart … to what children are saying.
When a child asks to use the restroom let them.  Don't ever deny them the ability to address their own bodily functions.  If you believe they don't really have to go … and are just doing it to get out of work or get attention.  Let them go anyway … maybe they do just need a break.  Maybe it's a way for them to self-regulate (calm down or get a change a scenery).
Think about this … as adults we do this all the time.  We walk away, zone out for a bit, chat on the phone, walk to the bathroom, get a drink … little ways we take care of our needs and return to focus on what we were doing.
If this need becomes a pattern and the pattern becomes disruptive, the issue needs to be addressed to see if there is something bothering the child … and to help the child find alternative ways to cope with the problem.  But it should never be ignored … and a child should never be shamed or told someone else knows their body's needs more than they do themselves.
The following two tabs change content below.
Laura Hutchison
Laura Hutchison (aka PlayDrMom) is a chubby kid turned competitive figure skater tween turned high school pom pon girl turned MSU Spartan turned grad student turned Mrs. HutcH turned Dr. turned Mom. She adores living in the Mitten, is addicted to Diet Coke, and firmly believes that ice cream is a main food group.
Latest posts by Laura Hutchison (see all)