A Fun Activity to go with "Charlie Cook's Favorite Book", by Julia Donaldson
This month the Virtual Book Club for Kids is featuring Julia Donaldson.  I wasn't familiar with this popular, award-winning British author … so I was very pleased to be introduced to her wonderful stories.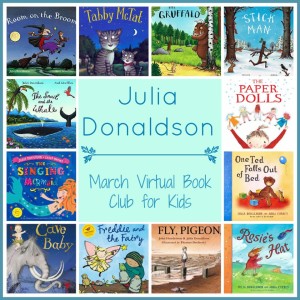 The kids enjoyed all the books by he we could find at the library, which was sadly only a small sampling of her work.  Her work is so wonderful that I was motivated to create a couple of different activities from her books … so this post is to be the first!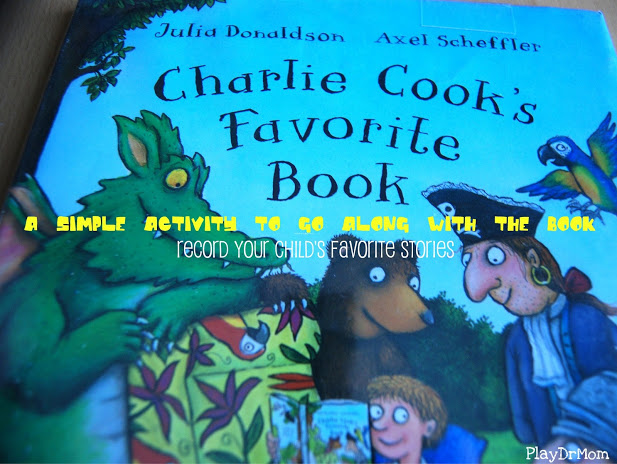 As many schools in the U.S. my son's school was celebrating Reading Month this March.  They have been doing many wonderful activities to help promote reading, such as talking about what the students' favorite books are.  After reading, "Charlie Cook's Favorite Book" I was inspired to write this story for my son in the fashion of Julia Donaldson's book.
Henry Hutchison's Favorite Book
By Laura Hutchison (aka PlayDrMom)
inspired by Julia Donaldson
There once was a boy named Henry Hutchison who loved to read his favorite book while sitting in his parents bed. He read about …
A pig named Oliva who formed a band and went to see the fireworks with her family. At night her parents read her stories about …
A magic tree house where a brother and sister traveled through time collecting books about …
Dogs that went fast in cars and raced to a party, "a big dog party" high up in a tree. One of the dogs at the party was reading a book about …
A Little Critter who wanted to help out is mom really bad, but needed a little help … especially at night to read him about …
The Cat Family from Busytown who were all quite busy with keeping up the house, buying groceries, going to school, and reading about …
A wizard named Harry who had a scar on his forehead shaped like a lightening bolt who read a story about …
A little duckbill dinosaur who hatched in a Tyrannosaurus nest but used his smarts to save herd.  Together once again they read them stories about …
A boy named Henry Hutchison who liked to read in parents' bed.
THE END
(referencing Olivia forms a Band, by Ian Falconer; The Magic Treehouse Series, by Mary Pope Osborne; Go! Dog Go!, by Dr. Seuss, Little Critter series, by Mercer Mayer; stories by Richard Scarry; Harry Potter, by J.K. Rowling; and Tyrannosaurus Drip, by Julia Donaldson)
This seems like a great way to capture our children's favorite stories at a particular moment in time.  I hope to create more of these "copycat" stories for both kids every couple months as a special way to record their literary interests.

If you create one for your kids I'd love to read it!  Please feel free to share it in the comments, my Facebook page, or email me!


Do you have a favorite Julia Donaldson book?  I'd love to have you join the blog hop!  All you have to do is…
Pick a Julia Donaldson book to read with your child!
Do any activity, craft, cooking project, or other book inspired activity that goes along with the book your chose.
Share what you did with us starting Monday, March 18th. We will have a linky up for 3 weeks where you can share any blog posts (if you are a blogger) or you can post what you did at the end of the linky post in the comments or on our Facebook wall.
I can't wait to see all of your fabulous ideas! Thanks for participating!
For more updates and to see loads of the posts by participating bloggers, head on over and "Like" our Virtual Book Club for Kids Facebook page.
This is a Blog Hop!
---
The following two tabs change content below.
Laura Hutchison
Laura Hutchison (aka PlayDrMom) is a chubby kid turned competitive figure skater tween turned high school pom pon girl turned MSU Spartan turned grad student turned Mrs. HutcH turned Dr. turned Mom. She adores living in the Mitten, is addicted to Diet Coke, and firmly believes that ice cream is a main food group.
Latest posts by Laura Hutchison (see all)