Utilizing the Books of Julia Donaldson as Parenting and Therapeutic Resources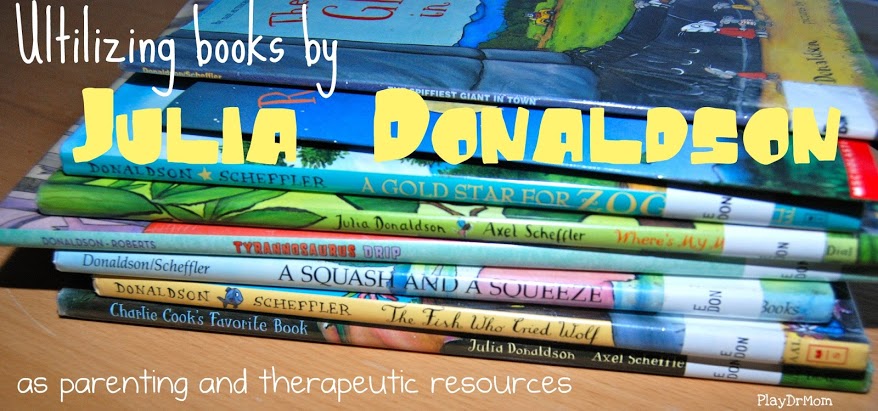 One of the things I have really enjoyed about being part of the Virtual Book Club for Kids is finding authors I haven't read before and discovering how I can incorporate sharing these books with the kids I work with in therapy.  I have shared how the works of Amy Krouse Rosenthal, Kevin Henkes, Tomie dePaola, and Ruth Krauss can be used by parents and therapists as avenues to discuss a variety of important issues with kids.  This month's author, Julia Donaldson, also provides a great collection of children's books that can be utilized therapeutically.
Room on the Broom – The friendly witch makes "room on the broom" for some friends and in the end the teamwork really pays off!  This one is great for talking about social skills such as inclusion and cooperation.
The Fish Who Cried Wolf – A little fish has quite the imagination and comes up with some great stories of why he's late … and then he has a real adventure of his own.     This one is great for talking about lying.
Where's My Mom? – A butterfly tries to help a little monkey find is mom, but has hard time.  This book is great for talking about different types of families.
The Spiffiest Giant in Town – A giant gets all dressed up and ends up giving away his spiffy clothes to help out those along the way … in return he ends up returning to the clothes he started in and being very appreciated.  This book is great for LOTS of reasons … sharing, the importance of relationships/helping others over material belongings, making wise choices, being yourself, and thanking others who help you.
Tyrannosaurus Drip – A duckbill dinosaur egg rolls into a Tyrannosaurus nest and the little duckbill is quite out of place – until he finds his way back to those who are like him.  This book is great for talking about being different and finding a place you belong.
A Squash and a Squeeze – Sometimes the only way to understand how good you have it by experience how it could be worse.  In the story the woman is instructed by a wise old man to fill her small home with animals … and in the end removing all the animals makes her realize that what she had was just fine in the first place.  This book is great for being grateful for what we have.
A Gold Star for Zog – Zog the dragon works hard trying to learn all the skills he needs and gets some help along the from a special friend.  This is a great book for discussing perseverance and creating your own life story (rather than following the stereotypical script).
The following two tabs change content below.
Laura Hutchison
Laura Hutchison (aka PlayDrMom) is a chubby kid turned competitive figure skater tween turned high school pom pon girl turned MSU Spartan turned grad student turned Mrs. HutcH turned Dr. turned Mom. She adores living in the Mitten, is addicted to Diet Coke, and firmly believes that ice cream is a main food group.
Latest posts by Laura Hutchison (see all)