Create an Alphabet Monster … letter learning fun!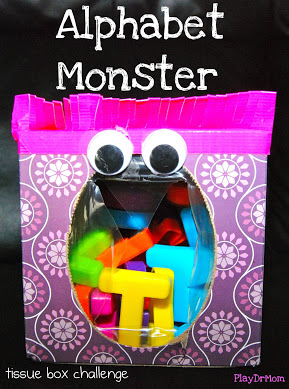 I've been realizing that my almost 4 year old needs more work on identifying the letters in the alphabet.  I saw an idea for making an Alphabet Monster Game from Little Family Fun.  So we made our own version with materials we had on hand!  Like an empty tissue box!  Which ALSO was perfect for JDaniel 4's Mom's 3rd Tissue Box Challenge!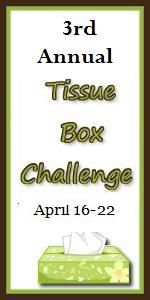 Making the Monster was SUPER simple.  All I did was attach a piece of pink duck tape to one side of the top of the box and fold it in half.  Then I used scissors to "fringe" the tape to look like hair.  I added a couple of large google eyes … and he was all set to chomp some letters.
For the letters we used the alphabet magnets we already had.  I have a set of upper case and lower case.  We started our first game with the upper case letter … I figure once she has better mastery of these we will use the lower case set.  Then, eventually, we will play with BOTH sets together.
I spread the letters on the floor and told my daughter that the monster was VERY hungry and only eats letters … BUT that he can only eat them if you say the letter's name first.  She quickly picked out the letters that she already knew and feed them to the monster saying each letter name as she put them in.  To make the game fun and playful, I made sounds for the monster … like, "Ohhhh, I'm so hungry!" and gobbling noises after she put a letter in the box.  This received lots of giggles and silly smiles!
Although we are using the box for alphabet identification, he can EASILY be changed into a number or color monster!  The monster could also be used for sight or spelling words …  the possibilities for learning fun are endless!
What would you feed the Tissue Box Monster???
The following two tabs change content below.
Laura Hutchison
Laura Hutchison (aka PlayDrMom) is a chubby kid turned competitive figure skater tween turned high school pom pon girl turned MSU Spartan turned grad student turned Mrs. HutcH turned Dr. turned Mom. She adores living in the Mitten, is addicted to Diet Coke, and firmly believes that ice cream is a main food group.
Latest posts by Laura Hutchison (see all)