This year my daughter, Honor, decided she wanted a Brave party.  And with the help of Discount Party Supply … I made it happen.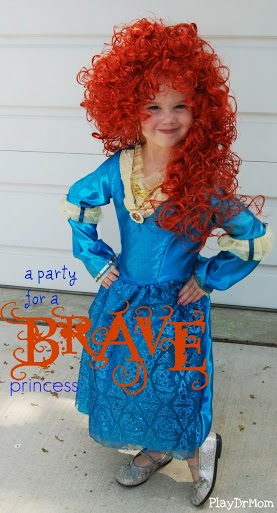 Discount Party Supply sent us the Brave Standard Party Pack with some additional invites and paper supplies for me to review here on the blog.  They were just PERFECT for the party.  The standard party pack included 8 dinner plates, 16 lunch napkins, 8 9-oz cups, 8 invitations, a 24 pack of green plasticware, lavender streamers, green streamers, 15 lavender balloons, 15 green balloons, a lavender tablecloth, and spiral birthday candles.  I also purchased the Brave banner, stickers, horse favors, green favor bags, and thank you notes in addition to the promotional package they sent me.  I was very pleased at how user-friendly their website was and ordering was very easy.
So, now for the party details!
The Invitation
The Decorations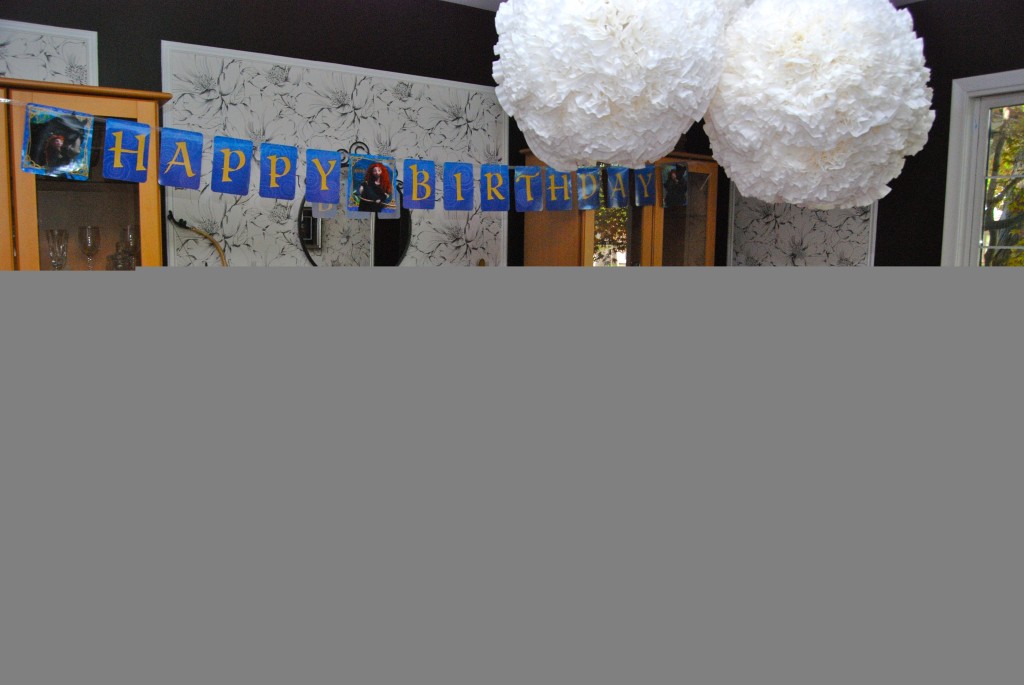 I kept the decorations pretty simple.  I hung the Brave party banner over the buffet and draped the buffet with some plaid material that my mom purchased for the party.  I used the plastic lavender tablecloth for the dining room table and placed a long strand of fake ivy along the center.  At each place setting was a plaid sash for each guest with a personalized monogramed "brooch".  (My dear friend, T.S. Lamb, created the brooches!)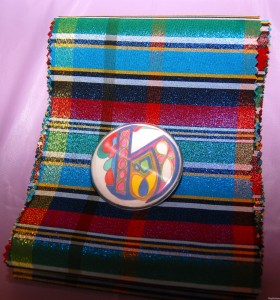 And … In our foyer I had my son's large brown bear stand-in for Queen Elinor.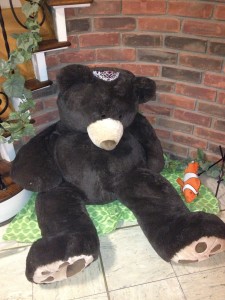 Party Activities and Games
When the girls arrived (there were 7 including Honor) I helped each of them put on their sash and brooch.  We then sat together in the living room so I could read them the story of Brave (I used the Little Golden Book version, which we already had and was perfect for this occasion!).  Honor thought this would be a really good idea since some of her friends had told her that they hadn't seen the movie or knew anything about Merida/Brave.  They all ended up being very interested in the story!
After the story, it was time for some archery.  I purchased a great Brave bow & arrow set, but it was a bit tricky for Honor to do on her own and I was pretty sure they other girls would get frustrated with it too.  So, instead of play archery … we played: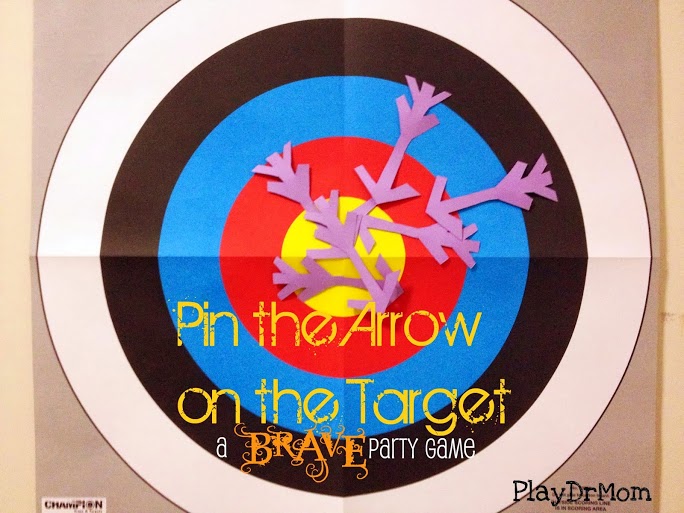 We used the target that I purchased when I bought the bow & arrow set, but then cut out arrows out of purple paper.  In hindsight I would recommend making the arrows a bit wider because it was hard for the girls to hold on to the arrows to "pin" them (especially once they were blindfolded).  I used a small roll of tape so that the arrows would adhere to the target.  I used an extra sash as the blindfold.
Once we had all chosen our own fate and successfully completed "pinning" the arrows on the target, we decided we needed to do a little fishing.  And by fishing I mean playing "Catch the Fish" – which was my Brave party rendition of Hot Potato.  I had the girls all sit in a circle and pass around a plush fish while I played music from the movie's soundtrack.  When the music stopped that meant that girl "caught the fish" and she was able to sit up on the couch and cheer on the others.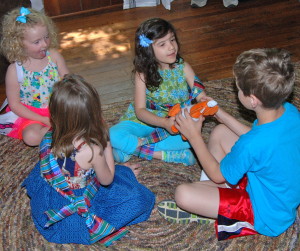 The final game we played was …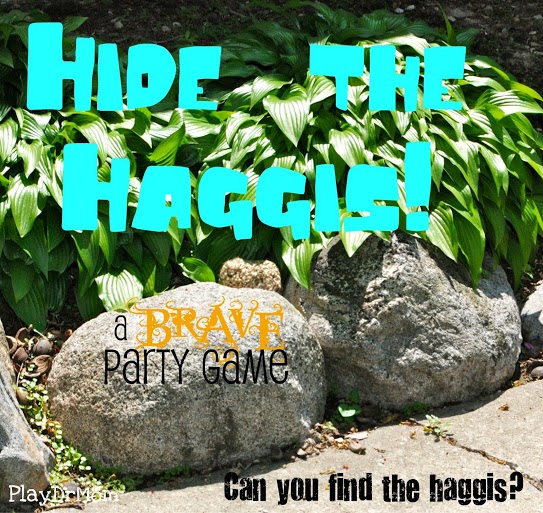 My friend (the very same one that made the personalized brooches for the party) just happened to have a knit haggis.  (I know, right?  Who on earth would have a knit haggis?!? She would!).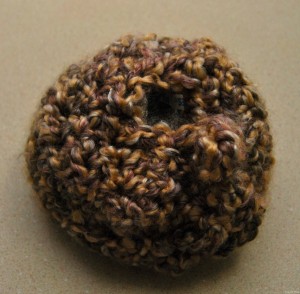 This was the easiest game and the one that the kids enjoyed the most.  I would hide the haggis in the front yard while the kids waited in the backyard (and vice versa for following games). We structured it as a group effort rather than competitive.  It was hilarious seeing the kids running around yelling, "Where's the Haggis?!?  Let's find the Haggis!"
The Food
Some of the menu ideas I got from my party "research" I did on Pinterest.  I found these super cute Bear Claw cookies, so I made my super easy version using chocolate chocolate chip "break & bake" cookies and slivered almonds.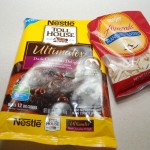 Honor picked out a beautiful custom cake at a local grocery store bakery that had an image of Merida/Brave on it.  Unfortunately they waited until the day before the party to inform me that they longer carried that cake.  (urgh!)  So, we went to another bakery and she picked out this cake.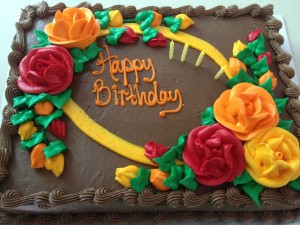 Although it wasn't a Brave cake, it was pretty and VERY yummy … so it made a pretty good stand-in for a "spell cake".  (Luckily we didn't all turn into bears!)
Along with the "spell cake" we also had some "Blue Wisp" ice cream (aka Blue Moon ice cream).  And also had a bowl of fresh strawberries for the ladies to munch on.
To wash it all down we drank some Magic Potion out of the witches caldron.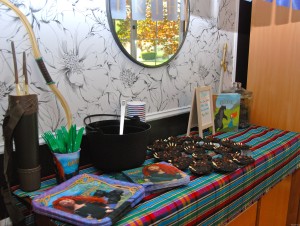 Merida's Menu ended up being a great dessert buffet for all the Brave party guests!
The Goody Bag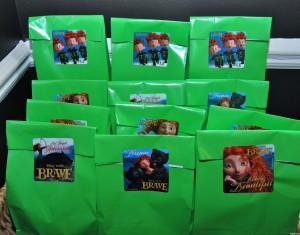 Each guest went home with a goody bag filled with a snack size baggie of chocolate teddy grahams, a snack size baggie of goldfish, and a small plastic horse favor to represent different parts of Merida's story and the party.  I used the small stickers to embellish the snack bags and the larger stickers on the outside of the green goody bag.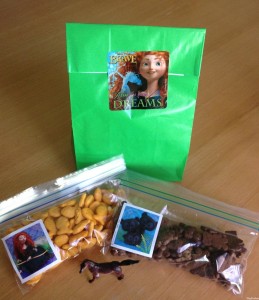 I have all of these ideas (and more) pinned to my "Brave Party Ideas" Pinterest Board.  I also highly recommend checking out Discount Party Supply on Pinterest to find party ideas of all kinds!

The following two tabs change content below.
Laura Hutchison
Laura Hutchison (aka PlayDrMom) is a chubby kid turned competitive figure skater tween turned high school pom pon girl turned MSU Spartan turned grad student turned Mrs. HutcH turned Dr. turned Mom. She adores living in the Mitten, is addicted to Diet Coke, and firmly believes that ice cream is a main food group.
Latest posts by Laura Hutchison (see all)