A family that GLOWS together, GROWS together: Together Box Review
When I opened up the complimentary package that Together Box sent us to review, I knew it would be the PERFECT set of activities to do together as a family on New Year's Eve.  The plan was that we would be going as a family to visit relatives on my husband's side of the family.  I loved that all the "ingredients" for a fun family night were packed into one convenient sized box … easy to pack with us for the trip.  Like I said, PERFECT.  Except for the fact that we didn't get to go TOGETHER as a family on this trip.  I ended up with a horrible Upper Respiratory Infection with a high fever and needed to stay home.  Our son (who will be 8 in a couple weeks) opted to stay home with me.  Our daughter (age 4) decided to go on the road trip with my hubby.
At that time I still figured I'd pull out the Together Box for my son and I as a special way to celebrate New Year's Eve … just the two of us.  But here's what happened … I brought out the Together Box and placed it on the table in front of him.  The kid, who had showed no emotion about choosing to stay home, broke down into tears … He didn't want to do the activities because we weren't TOGETHER … as a family.
So, the holidays came and went.  And in came the Polar Vortex.  Early nights after long days stuck in the house because of the chilly temps and mounting snow was when the Together Box came in handy!  The box was filled with fun, simple glow in the dark activities to do TOGETHER as a family.  This is what was included in the Glow Box:
Idea Booklet
Glowing Beach Ball
Glowing Plastic Stars with sticker adhesives
Glow in the Dark Fabric Paint
a small t-shirt
plastic cups
skinny glow sticks
Here's how we enjoyed the Glow Box:
Paint a Glow Shirt for your Teddy
My daughter had a great time using the glow in the dark fabric paint to create a one-of-a-kind t-shirt for her favorite teddy bear!
Glow Stick Hide and Seek
We took all the skinny glow sticks and took turns hiding them throughout the house with the others seeking them once they were hid.  The whole family really enjoyed this game!  (It would have been really fun to hide them outside in the snow, but we discovered that with the subzero temps we were having the glow sticks ceased to glow when outside.)
Glow Stick Bowling
I placed one skinny glow stick in each of the 6 cups and made a glowing tower for the kids to used the blow up glow ball to knock down the tower.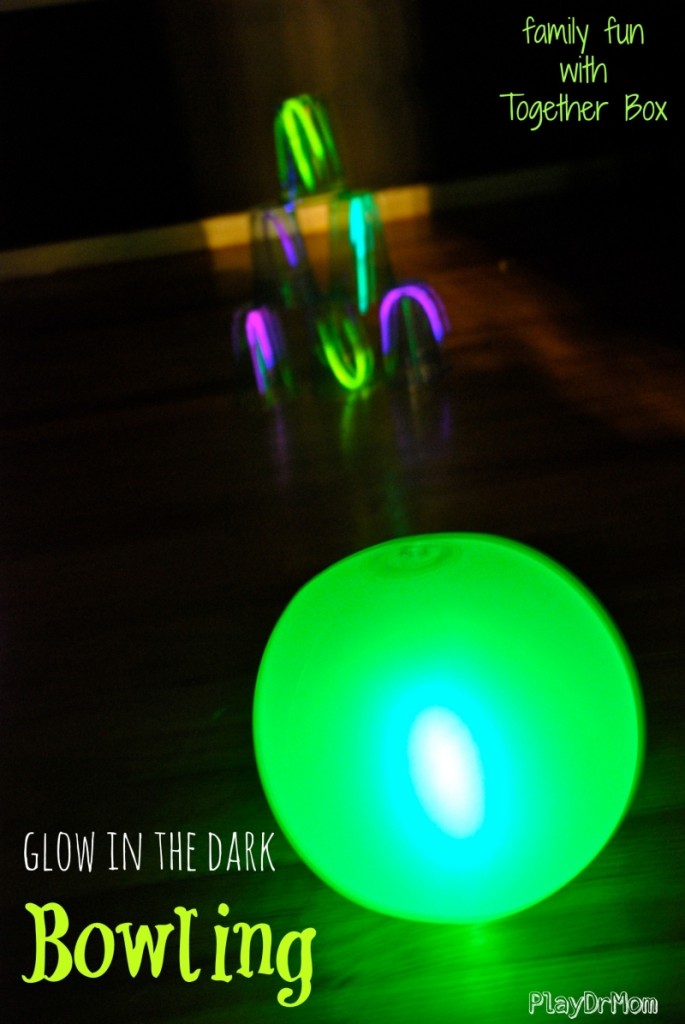 Glow in the Dark Catch
The glow in the dark beach ball was so much fun to play with we found ourselves playing an indoor game of catch in the dark!  It was a great way to burn off some energy while being cooped up in the house.  Our puppy joined in too!  This was a ton of fun … for a couple of minutes until his puppy teeth doomed the ball to an early death!  The giggles and fun we had together made it worth it though!
Glow Jar
Since the Glow in the Dark beach ball was no longer a viable option, I took the large glow stick from it and cut it open … pouring the contents into a large mason jar. (note:  always have an adult open glow sticks and handle the contents!  Glow sticks contain GLASS.)  I swirled the closed jar around to coat the sides with the glowing mixture.  My daughter then took on the task of sticking on the glowing plastic stars on the outside of the jar to make our very own glow jar.  This made a perfect nightlight for her bedroom … but would also be terrific for a camp out!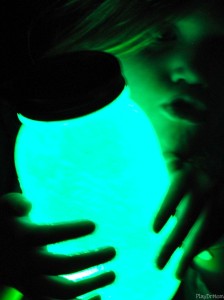 Glow Bath
One of my kids' favorite activities is to place glow sticks in the tub while taking a bath.  After all the activities were complete for the evening, each one of the kids took a nice, warm glow bath. (previous post on glow baths)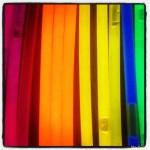 I'm really thankful that we got a chance do this Together Box review as a family!  I  think the Together Box is a great product for families with children aged 3 through 6.  And I hope that you'd like to try one out too!  The awesome people at Together Box are giving YOU a discount to try out their great product … a box filled with family fun shipped right to your house.  And if the Together Box isn't right for your family, you might want to consider getting one for a special little friend!  They would be great play dates, visits with relatives, or on a special family trip!
Anyone who signs up using the code playdrhutch will get 50% off their first box!  Also, Together Box will give the first 2 readers that sign up using the code and extra box for free!  GOOD LUCK!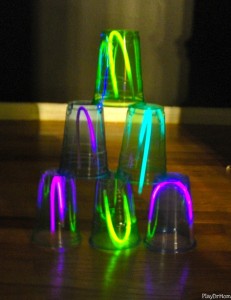 And remember the family that PLAYS (or glows) together STAYS and GROWS together!!!
Follow Laura Hutchison's board Ways to Play: Glow in the Dark on Pinterest.
The following two tabs change content below.
Laura Hutchison
Laura Hutchison (aka PlayDrMom) is a chubby kid turned competitive figure skater tween turned high school pom pon girl turned MSU Spartan turned grad student turned Mrs. HutcH turned Dr. turned Mom. She adores living in the Mitten, is addicted to Diet Coke, and firmly believes that ice cream is a main food group.
Latest posts by Laura Hutchison (see all)