Adora Dolls: GiggleTime Baby review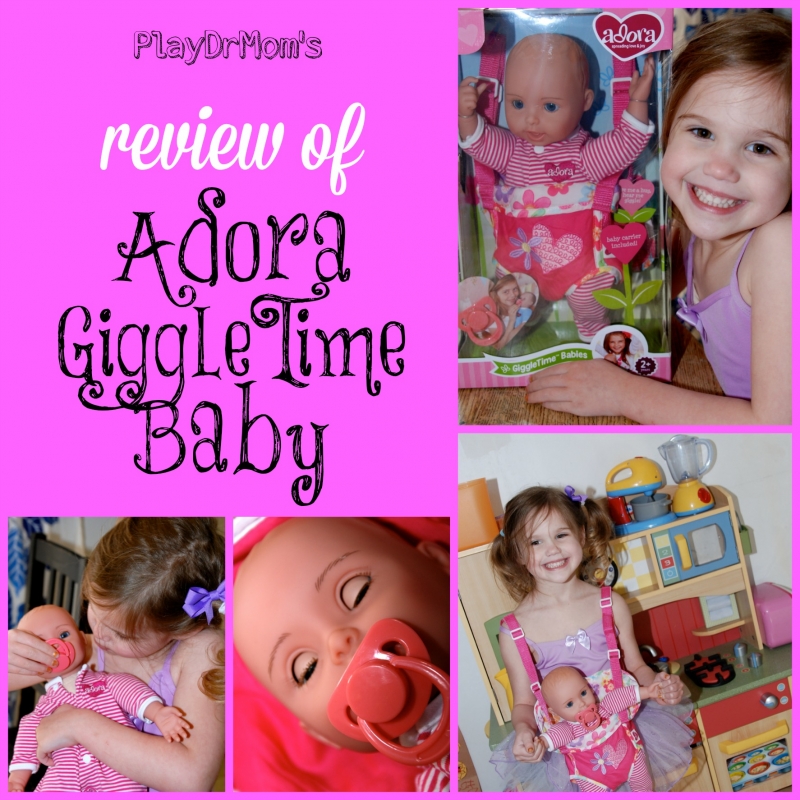 Being a blogger definitely has it's perks at times!  One of these perks is being contacted by companies to review their products.  So when Adora (a division of Paradise Galleries) contacted me to write a marketing piece on The Top 10 Reasons Kids should Play with Dolls, I was pleased to accept and delighted to receive a new baby doll for my daughter so that we could review it.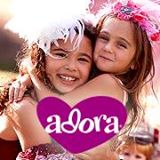 The website is very user friendly with beautiful photos of their products.  They have a wide selection of dolls separated by age category, including soft dolls for younger children, play dolls, bath dolls, and fashion play dolls (including a super cool Girl Scout line).  Adora also carries doll accessories (diaper bags, strollers, play pen, etc) … everything a "little mom" needs.
In looking through the website my daughter (age 5) quickly decided on the GiggleTime Baby in Fushia.  She really loved the fact that the doll came with her own carrier and couldn't wait for her to be delivered.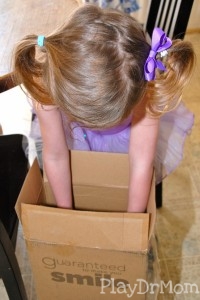 It was pretty much love at first sight when she opened the box.  We both noticed immediately the wonderful baby powder scent as we got her out of the box.  Other great features are the soft skin, open-and-shut eyes, and weighted bean bag bottom that gives a realistic feel to the doll.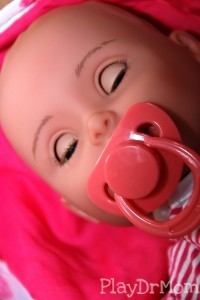 Being a"GiggleTime" Baby the doll also GIGGLES.  When you give her a squeeze she gives a sweet little baby giggle.   One thing I really liked about this feature is that you can turn off the giggle … or even remove the noise box completely.  I love this because that way I can take the noise box out at night so it won't wake up my daughter accidentally while they are cuddling.
The baby doll comes with a pacifier which holds to the doll's mouth using a magnetic.  This makes it easy for young children to utilize this feature.
And the carrier is adorable!  It is adjustable to easily fit on children (although they may need a bit of help putting it on).  We discovered it fits my daughter best when we criss-cross the straps on her back so the baby hangs a bit higher.  It's such a great way for kids to be able to model parents and practice nurturing skills.  It's also a great way for kids that like to take their dolls with them everywhere they go!
My daughter really likes "that it makes laughy noises and she smells like perfume".  She thinks that other kids will too!
Follow Laura Hutchison's board Ways to Play: Dolls on Pinterest.
The following two tabs change content below.
Laura Hutchison
Laura Hutchison (aka PlayDrMom) is a chubby kid turned competitive figure skater tween turned high school pom pon girl turned MSU Spartan turned grad student turned Mrs. HutcH turned Dr. turned Mom. She adores living in the Mitten, is addicted to Diet Coke, and firmly believes that ice cream is a main food group.
Latest posts by Laura Hutchison (see all)