Ok .. I may or may not have stumbled upon this idea while I was trying to find something for Z in my upcoming ABCs of Thanksgiving.  But either way, this is a fun activity to include for your Thanksgiving guest young and old.
Doodling has always been one of my favorite activities.  It relaxes me and helps me focus.  So when I first found out about Zentangles I was immediately in love and implemented them into my therapy practice (for more about how to use Zentangles in therapy, see this post.)
For those of you not familiar with Zentangle … the premise is simple.  It's doodling a shape, dividing the shape into smaller sections, and then creating repetitive patterns with in each of those sections … or it can turn into whatever you want it to be.  "The Zentangle Method is an easy-to-learn, relaxing, and fun way to create beautiful images by drawing structured patterns."   There aren't really any rules – it's about exploring possibilities.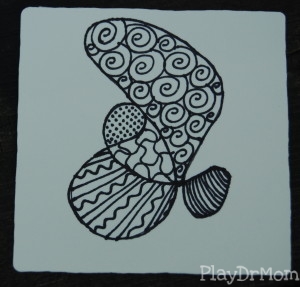 When I was looking through ideas for the upcoming holiday I found these free Thanksgiving coloring sheets from Blessed Mom, and particularly liked this Turkey.  I realized it would be PERFECT to create a Zentangle because of the open spaces within the drawing.
So, I gathered up my 2 kids a bit before bedtime and we sat at the kitchen table together and created these Zentangle Turkeys.
My kids, 5 and 8, made their own interpretation of how to do their Zentangle Turkeys.  I love how each own is so unique.
In creating my own I enjoyed the focused attention I was giving to my work.  I liked exploring the possibilities of different patterns and colors.  It helped me to feel centered and more connected.  But the best part was sharing the activity, and the moment, with my children.  We talked about the weekend … what we liked, what we didn't.  Shared feelings.  Complimented each other.  Created together.  Enjoyed each other.
So, in one way it was just doodling some silly patterns on a goofy looking turkey … but in the bigger picture it was slowing down and making time to connect.  Definitely a zen moment that I'm thankful for.
The following two tabs change content below.
Laura Hutchison
Laura Hutchison (aka PlayDrMom) is a chubby kid turned competitive figure skater tween turned high school pom pon girl turned MSU Spartan turned grad student turned Mrs. HutcH turned Dr. turned Mom. She adores living in the Mitten, is addicted to Diet Coke, and firmly believes that ice cream is a main food group.
Latest posts by Laura Hutchison (see all)