Craft Kits We Tried This Summer
I am ALL for the completely homemade crafting projects for kids.  But the buy-at-the-store kits are sometimes great.  Here are some craft kits we tried this summer:
"Power Balls" by Color Zone
The process for this project was easy and fun, but definitely needed a lot of adult supervision for my 5 year old.  You have to pour in the layers of colors into the small molds, then let the molds sit in a bath of water, let the molds sit outside the water, and then take the ball out of the mold and let it dry.  We found that the round mold worked a lot better than the other shaped mold (seemed to not congeal as well).  After you let it dry the kids can play with, but if you don't find them and put them in a airtight container they will dry out and become un-bouncy and brittle. So, fun process … not so great as a lasting toy.
"Glow Explosion Sand" by Crayola
These were an ultimate BLAST to make.  Henry & I waited until it got dark to start this project, so that the "sand" material was glowing while we worked.  The plastic containers for the sand to go in were cheap and really hard to work with, so Henry needed a lot of help and it was still SUPER messy.  We had glowing sand all over our hands, pjs, table, and carpet (but it cleaned up easy).  When we were done we brought them into his room and he fell asleep to their glow with a smile on his face.
Unfortunately the smiles were gone the next morning … the glow only last 4 hours, which we knew … but they they also don't stay together well enough to survive in our house.  (so, again, great process … not so great product!)
 FunFusion
This craft has been around for YEARS (I remember making a few of these with my sister when we were little).  Simple concept that you can create pretty much anything.  You place small plastic beads on a plastic "pegboard" to create a design.  Once the design is complete the adult irons the project to melt the beads together.

I started Henry out with a small sample set to see if he enjoyed making them.  Once I knew that he enjoyed making them we got a larger set with tons of colors and shapes.  When we got this home he wanted to make a "Captain America" shield!
I originally thought there was NO WAY Honor would be able to join in on this craft, with the beads being so tiny … but she proved me wrong.  It ended up being an excellent way to exercise her fine motor skills.  Now, she didn't create a finished product … but she did have fun!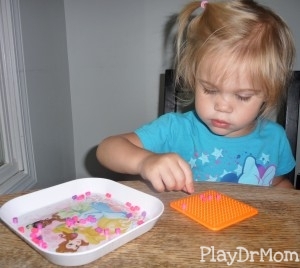 Create-Your-Own-Puzzle by Melissa & Doug
This was another good one, and the only one that will probably stand the test of time for long term use.  I had Henry pick his favorite picture and we printed it out as a 5×7, then we stuck it on the sticker paper provided, cut out the pieces, stuck the cut sticker picture pieces on the puzzle, and … DINO PUZZLE complete!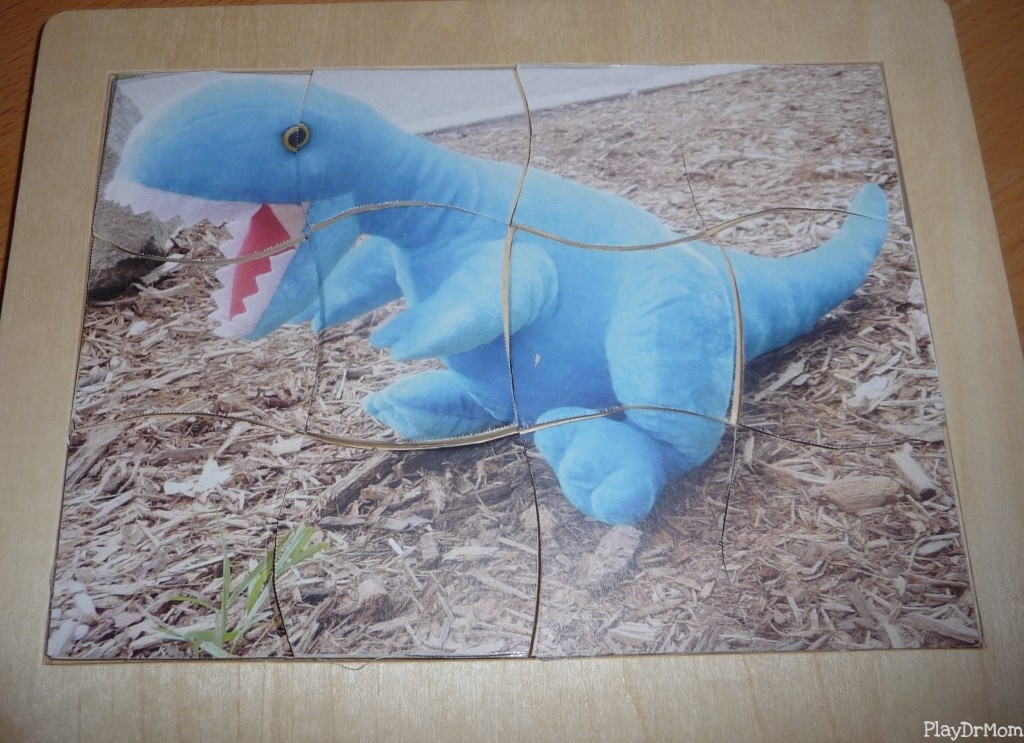 So … we had 4 great experiences with creating with store-bought craft kits … but in the end, as always, it was the PROCESS that was important!

The following two tabs change content below.
Laura Hutchison
Laura Hutchison (aka PlayDrMom) is a chubby kid turned competitive figure skater tween turned high school pom pon girl turned MSU Spartan turned grad student turned Mrs. HutcH turned Dr. turned Mom. She adores living in the Mitten, is addicted to Diet Coke, and firmly believes that ice cream is a main food group.
Latest posts by Laura Hutchison (see all)