Learning to Use Scissors: Straw Cutting Activity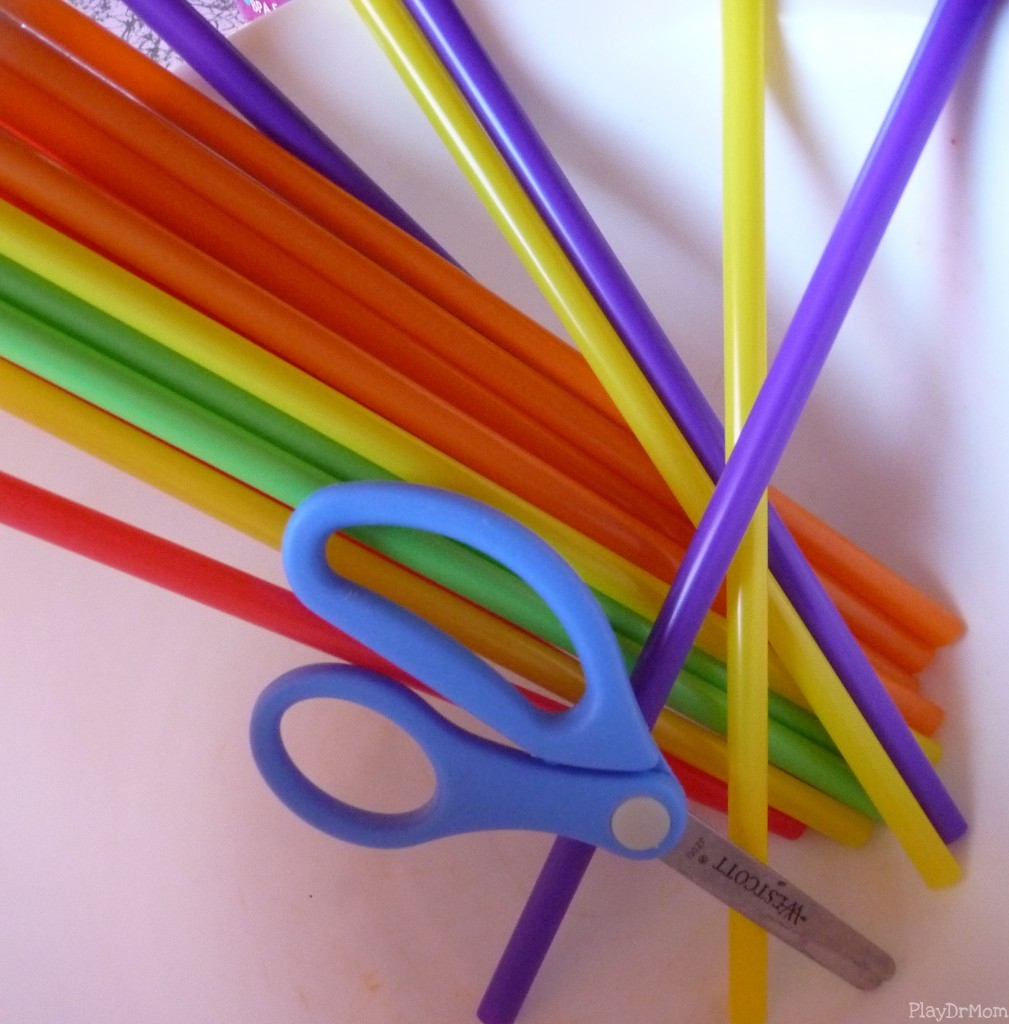 So, while we have been enjoying the last week of summer up north, I have done a couple of projects and activities with the kids.  One of them I got from Hands On: as we grow – Learning to Cut Activity.  I figured it was a perfect way to help Honor (my 2 year old) how to use scissors.  She was very excited to learn … and LOVED the activity.  She has returned to this straw cutting activity throughout the week.
First, I showed her how to hold the scissors … that her thumb goes in the top hole and her fingers in the other (bigger) hole.  Then we practiced opening and closing the scissors ("One, open. Two, close. One, open.  Two, close.") I then held the straw for her and told her to open the scissors and close them on the straw … and, SURPRISE, she cut the straw … if flew through the air like magic … and she was hooked!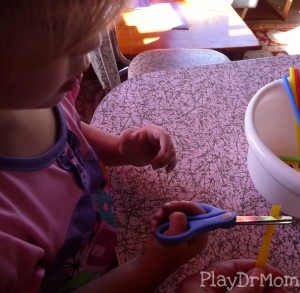 After practicing together on several straws, I showed her how to hold it the straw in the other hand … (well, ok, she kinda demanded that she do it BY HERSELF … "Honor do it!")  We changed the instructions to 3 steps, "One, open. Two, put the straw in with the other hand. Three, close."  YEAH!  In one sitting I taught my daughter how to cut with scissors!!!
With all her beautiful pieces that we created, she proudly strung her own necklace (with lots of help)!
Follow Laura Hutchison's board Playful Learning: Scissors Skills on Pinterest.
The following two tabs change content below.
Laura Hutchison
Laura Hutchison (aka PlayDrMom) is a chubby kid turned competitive figure skater tween turned high school pom pon girl turned MSU Spartan turned grad student turned Mrs. HutcH turned Dr. turned Mom. She adores living in the Mitten, is addicted to Diet Coke, and firmly believes that ice cream is a main food group.
Latest posts by Laura Hutchison (see all)