Yesterday, I posted our table decorations (Valentine Votives) for the evening family Valentine's Party for the preschool that my mom is the director of (that my son is an alum from … that my daughter is a current tot class student in).  Today, I want to share the rest of the fun we had.  There was a super turn-out, over 100 people, including infant siblings to grandparents!  So MANY great ideas came together last night and made it a really wonderful party enjoyable for parents and kids alike.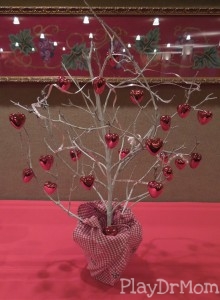 Each family attending the party were requested to bring a red or heart-shaped dish to share.  And, WOW, were there some great ideas and yummy options!!!
Here's what I brought …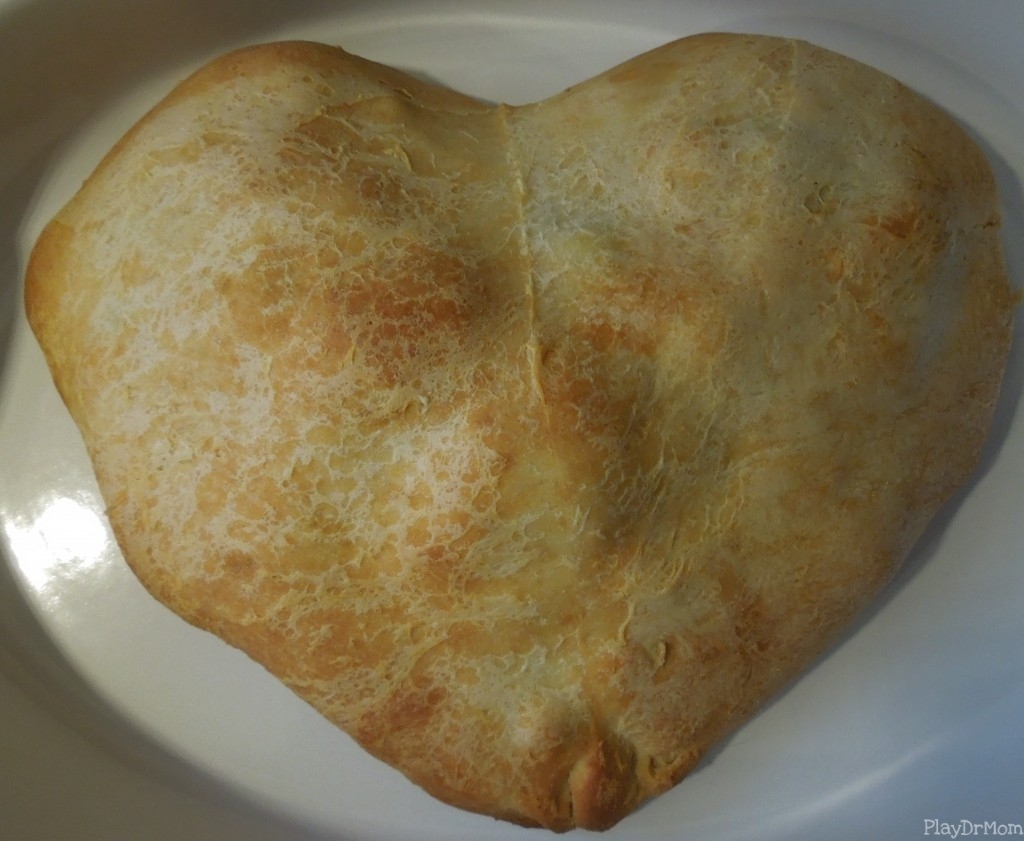 I took  one of our favorite recipes, Broccoli Cheddar Chicken Croissant Braid, and created into a heart.  I was so happy it turned out perfectly!  This is what I looked like on the inside …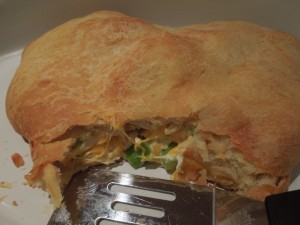 Here are some of the other HEARTy food that guest brought to share the love (hover over photos to get info) …
And, we didn't JUST eat … we played games and crafted too!  It was set up so that dining, games, and crafts were each in their own room.  Party guests could flow from one room/station to the next (and back again!) throughout the party.  Here are all of the activities:
One craft was to make heart bracelets.  It was a perfect project for little and big kids alike.  They used plastic lanyard string taped to the table to string the heart shaped beads onto.  It was easy enough for little hand to manage … but older kids enjoyed it too … making fancy patterns and such!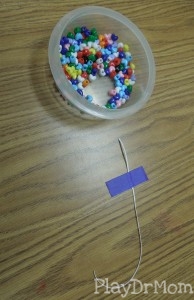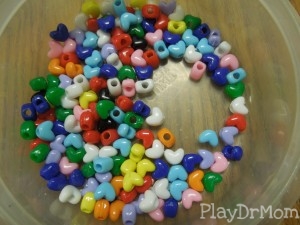 In another room,  the kids got to make their own Valentine Hat … with a strip of paper that they could decorate with markers and Valentine stickers.  Finishing touches, pipe cleaner antennae with hearts, were added once the hat was custom fitted to each child.  They all looked super cute walking around in their unique creations!
Then, the GAMES … one of the rooms had a Heart Walk.   Paper hearts were taped to the floor in the shape of a circle, but on ONE heart there was also a cupid.  The mom in charge of that room played music, when the music stopped the children were to stop on the nearest heart, and whoever stopped on the "cupid heart" won a prize!  There was a lot of fun, noise, and dancing going on in that room!
I was in charge of Valentine Bingo.  My mom had a "February Bingo" game from previous years that we re-used, but I bought conversation hearts for the bingo markers.  Prizes were given to the winner of each round.
When I didn't have enough players to start a new round, I had the kids do to a Heart Stack challenge to see if they could break the record of how many conversation hearts could be stacked before falling over (got the idea here from Simply the Sweet Life).  One young champion got ELEVEN!
I also had this game … Heart Squeeze.
My son played a version of this (Monster Squeeze) at his kindergarten Halloween party.  So, I re-invented it for Valentine's Day.  All you need is 2 hearts (or any objects) and a number line.  Here are the rules …
Heart Squeeze Game
How To Play
Player 1 says, "I'm thinking of a number between 0 and 10 (or whatever sequence of numbers you would like to use)." Player 2 guesses a number."

If Player 2's guess is too large, Player 1 says, "Your number is too big," and covers that number with a heart.

If Player 2's guess is too small, Player 1 says, "Your number is too small," and covers that number with a heart.

Player 2 continues guessing until Player 1's number is "squeezed" between the 2 hearts.

If Player 2 guesses correctly before the number is "squeezed", Player 2 wins. If the number gets "squeezed" before being before guessed, Player 1 wins.
It truly was a great mixture of food and fellowship for children and adults alike.  I was so happy to be a part of it and LOVED seeing the kids having so much fun!!!

The following two tabs change content below.
Laura Hutchison
Laura Hutchison (aka PlayDrMom) is a chubby kid turned competitive figure skater tween turned high school pom pon girl turned MSU Spartan turned grad student turned Mrs. HutcH turned Dr. turned Mom. She adores living in the Mitten, is addicted to Diet Coke, and firmly believes that ice cream is a main food group.
Latest posts by Laura Hutchison (see all)