We didn't get to celebrating Earth Day quite the way I wanted to this weekend (because my sweet son is battling a fever that's been spiking to 103), but we still tried to make the most of it and we were mindful of how much we love and care for our Earth.
 My daughter and I made this Coffee Filter Earth Day Project, inspired by these from this post from Easy Preschool Crafts for Kids.  All it took was some scribbles of blue and green markers on a coffee filter and then we painted the entire thing with water to let the colors blend together.  Once they were dried, I cut a heart out of another coffee filter that I had scribbled on with some red marker and painted with water.  We glued the hearts on our Earth and hung them in the window!
I also created a fun Earth Day activity for the kids, inspired by this Earth Day Scavenger Hunt from Kitchen Counter Chronicles.
Earth Day Activity
Hug 1 tree.
Use 2 words to report what the weather is like.
Make 3 Bark Rubbings.
Collect 4 rocks.
Find 5 different things that are green.
What are 6 ways you can help take care of the Earth?
What are 7 reasons why you should take care of the Earth?
Name 8 kinds animals that live in our neighborhood.
Make a bouquet with 9 wild flowers.
Pick up 10 pieces of trash to throw away or recycle.
Here are their answers …
1.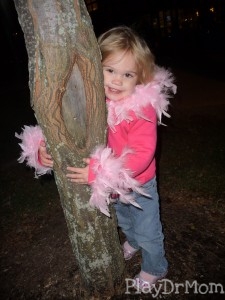 2.  "Well, the sky isn't completely filled with clouds." = Sunny & Cloudy (my kids aren't ones to be minimalists with their words … I wonder where they get that?!?)
3.
4.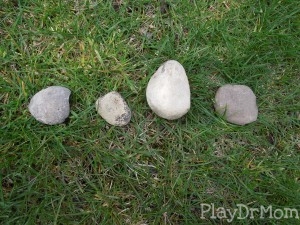 5.
6.   turn lights off that we aren't using, put garbage in the trash, recycle, compost, plant seeds, and we are kind to animals.
7.  Henry said, "so we can live on a healthy planet" … not 7 reasons, but it was such a great answer I decided to leave it at that!
8.  Together we came up with … birds, squirrels, bugs, dogs, cats, deer, and raccoons.  (although Honor REALLY wanted to add zebras, tigers, and dragons!)
9.
10.
If you are looking for some more Earth Day ideas, look no further than this AMAZING Earth Day blog hop …

The following two tabs change content below.
Laura Hutchison
Laura Hutchison (aka PlayDrMom) is a chubby kid turned competitive figure skater tween turned high school pom pon girl turned MSU Spartan turned grad student turned Mrs. HutcH turned Dr. turned Mom. She adores living in the Mitten, is addicted to Diet Coke, and firmly believes that ice cream is a main food group.
Latest posts by Laura Hutchison (see all)