Here's some playful ways we've had fun taking part of the Olympics this summer …
1.  We had a sleepover party with Nana/my mom to watch the opening ceremony and played Olympic Opening Ceremony Bingo created by Thirty Handmade Days.  It was a great way to introduce the kids to the games, talk about different countries, and discuss the spirit of the olympics.
2.  We created some Olympic art inspired by From Chalkboards to Strollers.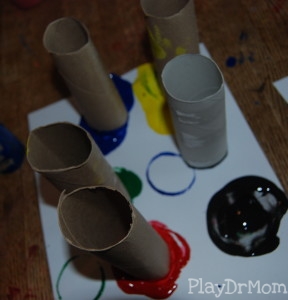 I squirted paint, the colors the Olympic rings, onto a sheet of paper and then placed empty toilet paper rolls on the paint for the kids and I to use to paint with.  Honor's painting turned very much into a process art piece!  And Henry went for the more realist approach and painted the Olympic rings on Tower Bridge.
3.  We read 2 books about the Olympics … Hour of the Olympics (Magic Tree House #16), by Mary Pope Osborne, and G is for Gold Metal, An Olympic Alphabet, by Brad Herzog.
4.  My son has been "participating" in the Olympics through playing Mario & Sonic at London 2012 Olympic Games, a game for the Wii.  He gets to choose different Mario and Sonic characters to "be" while he virtually performs many of the Olympic sports … plus dream sports that can only be played through the magic of video games.  It's been a good way for him to have interactive exposure to lots of different types of sports.
One of my favorite posts with the Olympic theme is from Cheerios and Lattes … Learning through the Olympics. It highlights MANY ways parents can use the Olympics as a teaching tool.
And if you are STILL looking for more Olympic themed activities, here's a great Blog Hop organized by Rainy Day Mum.