Our elf, Brief Houser, has been up to lots of fun this week!  For his previous adventures … Elf Adventures, 2012 week 1 and here's a round up of 2011.
Day 8: Chattin' with Mrs. Butterworth
Day 9: Taking Minnie for a Sleigh Ride
Day 10:  In a Shoe … just like how St. Nicholas left us gold coins in our shoes at church!
Day 11:  Tangled in Lights!
Day 12:  Helped Decorate for a surprise 12/12/12 birthday party we had for my dad!
Day 13: Snacking on Popcorn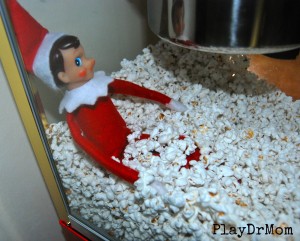 Day 14:  Just Hanging out … on the light fixture!
And let's follow up with what our friends' elf, Twin'kle has been up to as well …
having fun on the copy machine with Barbie
hanging underwear on the stocking hooks
tasting some M&M's
looking over photos of lost loved ones
taking a part in the Nativity scene
tp'ing the tree
Make sure to come back next week to see the further adventures of Brief & Twin'kle!!!