Alphabet Party for Preschoolers
Our family has the definite advantage of being able to send our kids to the amazing preschool in which my awesome mom is the director.  She has made it a tradition that on the last day of preschool each year the 3-year old class has an Alphabet party.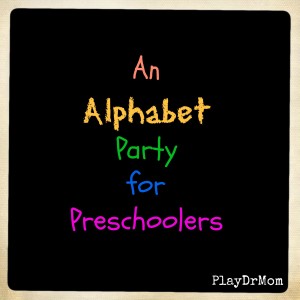 Each child gets assigned a different letter and has to bring a food to share that either begins or is in the shape of that letter.  They also receive a cardboard letter to decorate and place next to their food.  At the party all the food (A to Z) are set up at a long buffet table in the middle of the room with smaller round tables all around where the students and parents can sit to eat.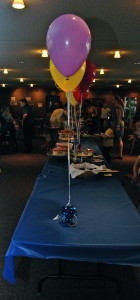 Since this will be the last time that I will have a child attend the Alphabet party (sniff!), I thought it would be a great opportunity to share this year's party … from A to Z!
A is for applesauce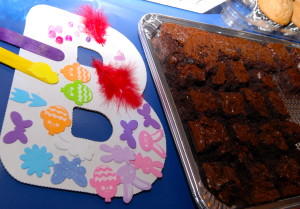 B is for Brownies
C is for Cantaloupe and Chocolate ……………………….. and Cheese and Crackers!
 D is for Donuts
E is for Egg Salad
F is for Fudge
G is for Grapes
H is for Honey Grahams
I is for Italian Ice
J is for Jello
K is for rice Krispy treats ……………………………………….. and Kabobs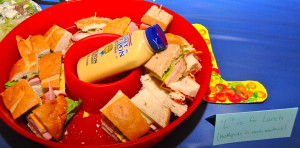 L is for Lunch
M is for Muffins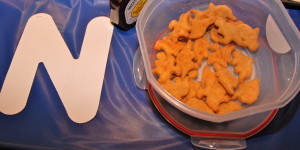 N is for Nuggets
O is for Oreos
P is for Popcorn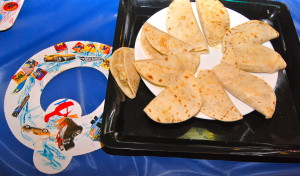 Q is Quesadilla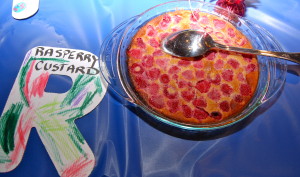 R is for Raspberry Custard
S is for Salad  ………………………………………….. and Strawberries
T is for Tomatoes
U is for U-shaped sandwiches
V is for Vegetables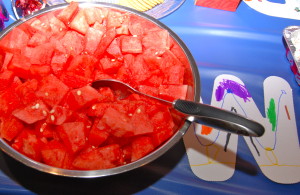 W is for Watermelon
(sorry somehow I missed getting a photo for X!)
X is for cookies in the shape of X
Y is for Yogurt
AND Z IS FOR ….
Well, for Z … that's a WHoLE 'nother post!
The following two tabs change content below.
Laura Hutchison
Laura Hutchison (aka PlayDrMom) is a chubby kid turned competitive figure skater tween turned high school pom pon girl turned MSU Spartan turned grad student turned Mrs. HutcH turned Dr. turned Mom. She adores living in the Mitten, is addicted to Diet Coke, and firmly believes that ice cream is a main food group.
Latest posts by Laura Hutchison (see all)