Learning about SPIDERS!!!: Love Books Summer Exchange
When the ladies from The Educators' Spin On It stated they would be running the "Love Books" Summer Book Exchange again, I quickly signed up. The kids I and I had a great time exchanging book and related activities last year and were very excited to have the chance to do it again.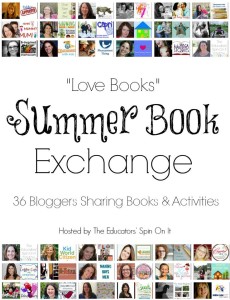 Last year we were teamed up with B. Inspired Mama.  We LOVED the book she sent us (You are My Work of Art) and had a great time with the activities.  Here's the post.  And B. Inspired Mama did an amazing job with the activities that we sent for them to do to go along with the book, "Today I Feel Silly".  Here's their post.
THIS year we were paired up with Coffee Cups and Crayons.  Here's what we found when we opened up the package she sent …
And … I'll have to admit that I wasn't too sure how my kids would take a book and activity about SPIDERS.  Especially my daughter, Honor, who is known to have terrified, screaming fits when she sees even the littlest of bugs.  But … you parents know how it is, anytime you make an assumption about how your kids are going to react they BLOW your expectations out of the water!  As soon as Henry (age 7) saw the book, he said, "OH COOL!", and started reading it.  His excitement automatically rubbed off on his little sister (age 4).  They really enjoyed learning different facts about spiders in the National Geographic KIDS book about Spiders, by Laura Marsh.  And they LOVED the jokes that are sprinkled here and there throughout the pages, like this one: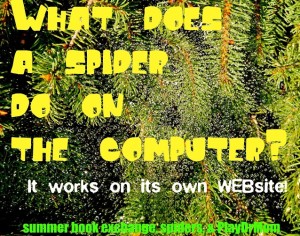 The book was a hit … and then there were the activities:
STICKY WEB
Coffee Cups and Crayons sent us some blue painters tape, small pom poms, and some dish scrubbies to create our very own sticky spider web in which we could throw (and catch) flies.  First we made the web …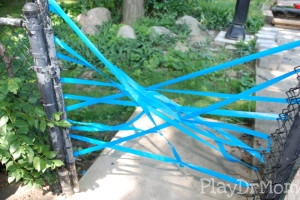 Then the kids threw poor defenseless flies (aka pom poms) at the web to see what they could make stick …
We discovered that if you could get one to stick that sometimes it would help the other ones stick better … but that the big bugs (aka dish scrubbies) were so big and heavy that they would knock the other bugs off the web.  Which made us wonder if that happens sometimes on real spider webs.
MAKING ROCK SPIDERS 
The package also included paint, google eyes, pipe cleaners, and instructions to find rocks outside to paint and decorate as spiders.  For this one we enlisted the help of our neighbors who were keen to give it a try too.
 Here's how the 8-legged friends turned out …
SPIDER OBSERVATIONS
This was a WONDERFUL part of the Spider activities.  Although Henry wasn't keen on going around with the magnifying glass and mini field journal, he yelled from the backyard more than once, "MOM!  Come and look at this spiderweb!"  He would also make comments on what type of web he believed he saw based on the information from the book.  Honor on the other hand was very interested and wanted to really investigate spiders and their webs.  It had a amazing effect on her attitude towards bugs.
We walked around the yard together and hunted for spiders and webs (there were MANY webs … not sure what that says about our outdoor housekeeping!).  Taking the time to look for and learn about spiders on her own terms helped her not be scared at their sight.  Honor had fun finding the webs, examining them through her magnifying glass, checking to see if the spider was on the web, and then "recording" her findings in her journal.
So, despite my initial reaction when I opened up the package and read, "Hopefully you like creepy crawly things …" that Honor would completely refuse anything to do with this it actually helped to understand and be curious about bugs instead of fearful.  I really think that we received the exact package we needed … and motivation to help my daughter address her fear.  Thanks, Coffee Cups and Crayons!!!
Make sure to check out what Coffee Cups and Crayons did with the package we sent them!  I think they enjoyed the book, Wherever You Are: My Love Will Find You, and the activities to go with it.  Here's the terrific post!
The following two tabs change content below.
Laura Hutchison
Laura Hutchison (aka PlayDrMom) is a chubby kid turned competitive figure skater tween turned high school pom pon girl turned MSU Spartan turned grad student turned Mrs. HutcH turned Dr. turned Mom. She adores living in the Mitten, is addicted to Diet Coke, and firmly believes that ice cream is a main food group.
Latest posts by Laura Hutchison (see all)