Halloween Party at School
Calling all Room Parents!  If you are in the same position I was last year when undertook being a room parent for the first time and searching for fun, simple, and inexpensive ideas for a Halloween Party at School, then look no further!  Here's what we did!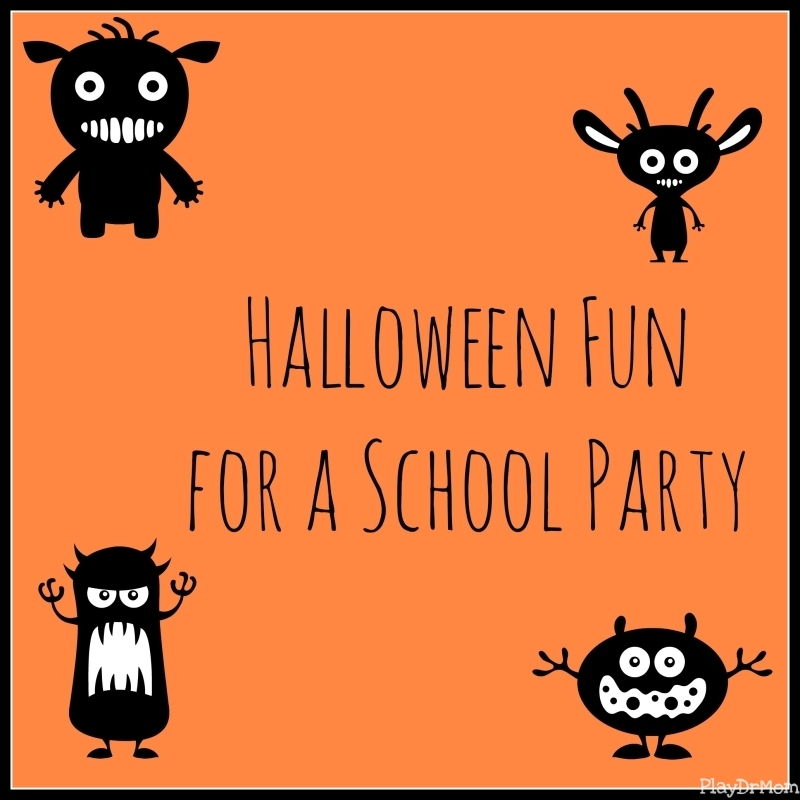 The first part was super easy … because it's the school's tradition that all the classes (teachers and staff included) participate in a Costume Parade.  Parents are invited to come watch as the students walk by to show off their costumes.  It's a super cute and fun time. After the parade, we gathered the kids back in the class room and separated them into groups of 4 or 5. Then we had groups rotate around to the different activities that we had set up throughout the classroom.  (Originally we had planned for the party to be outside, but the weather didn't cooperate!)  We had Halloween music playing from Pandora to put us all the in SPIRIT! Here are the activities … Decorate a Pumpkin Cookie – One of the mom's brought in sugar cookies in the shape of a pumpkin.  We had orange frosting and different types sprinkles for the kids to put pile on.  Yummy project AND treat.
Make a Candy Necklace – Another one of the room mom's found these Candy Necklace Kits on sale.  The kids enjoyed stringing on the candy beads … and, of course, eating them.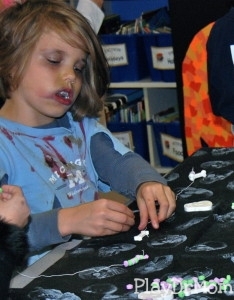 Ghostbuster Squirt Game – I got the idea for this game from Momma's Fun World's post "Halloween Stack, Count, & Squirt Game".  I used 10 white plastic cups and drew ghost faces on one side of each cup.  When it was party time, I stacked the cups in a tower (on top of a plastic tablecloth … although a towel would have been better for inside!).  I gave the kids (one at a time) a spray bottle filled with water to knock down the tower of ghosts.  GHOSTBUSTERS!
Ring-Around-the-Witches-Hat –  I brought a witch's hat from home and some glow stick necklaces.  The kids tossed the glow stick circles and tried to get them on the point of the witch's hat. (this would also be a great one for a evening party!)
Pumpkin Toss – Borrowing from ideas I had seen on Pinterest, I took a large black presentation board and drew a huge jack-o-lantern face on it.  Using an Exacto knife I cut out the eyes, nose, and mouth.  The rest of the face/pumpkin I filled in with a collage of small paper squares of different shades of oranges.  (that part took a while, but it turned out pretty cool, and I can be used for years to come).  Being that it was a presentation board it worked really well because it stands up on its' own.
For the "bean bags" I took orange balloons and filled them with play dough (just like my squishy stress balls) and drew on faces.  At the party we had the kids toss the little squishy jack-o-lanterns into the holes of the large jack-o-lantern on the board.
At each game we gave the kids a small prize … like spider rings, bracelets, and stretchy skeletons that I purchased from Oriental Trading Company.  We also had a variety of healthier snacks for them to enjoy … like cheese, crackers, and grapes.  It was a super fun party and the smiles on the kids' faces told me they had a great time!  And although this party was for first graders, I think most kids in elementary school would enjoy it!   Here are links to some other great Halloween party ideas …
The following two tabs change content below.
Laura Hutchison
Laura Hutchison (aka PlayDrMom) is a chubby kid turned competitive figure skater tween turned high school pom pon girl turned MSU Spartan turned grad student turned Mrs. HutcH turned Dr. turned Mom. She adores living in the Mitten, is addicted to Diet Coke, and firmly believes that ice cream is a main food group.
Latest posts by Laura Hutchison (see all)