A Laura Craft: My first painting (or confessions of a perfectionist)
I've never actually painted on canvas before.  I had helped the kids do a few projects on canvas, but never did one myself.  I allow myself to call myself creative, but not artistic.  To me, being artistic means you have some training, a method, and the ability to be precise.  I am not precise.  I  am messy.  So projects where I don't need to measure exactly or cut a straight line are perfect for me.
I saw an idea on Pinterest and wanted to give it a try.  Masking tape, canvas, and paint.  How cool?  Simple … and ok to be messy.  Right?
I have just moved into a new office … and my waiting room desperately needed some art.  So, I gave it a try.  I got the canvas, acrylic paint, and masking tape.  And I began ..
My inner gremlin grumbled as soon as I started taping, "Those lines aren't straight."  And, then again, when I started to paint, "I bet the paint is bleeding underneath the tape.  It's going have blobs on it."  It went on for a bit, "This is going to look horrible, there is no way you can display this at your office." "You've never painted before."  "You aren't artistic."
And then, I went into the process of creating.  I shut the gremlin up with enjoying filling in the white spaces one at a time.  It was relaxing.  It didn't really matter what it looked like; it was mine. It would be imperfect.  And that is okay.  I am imperfect.  And I am okay.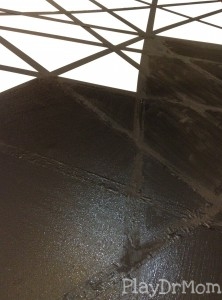 I went back to the painting whenever I had a few minutes, finishing it up over a couple of days.   The gremlin tried to return when the paint was dry and I was ready to peel off the tape.  It wanted me to worry about how it would turn out … but instead I was just excited.


I titled it, "The Paths We Cross".  Yes, the lines aren't straight.  And the paint edges aren't clean.  And it is still really cool and I am proud to say it is mine.
What does your gremlin say?  What has it stopped you from doing?  I have two great book suggestions that help you work with with quieting that inner negative voice …
The following two tabs change content below.
Laura Hutchison
Laura Hutchison (aka PlayDrMom) is a chubby kid turned competitive figure skater tween turned high school pom pon girl turned MSU Spartan turned grad student turned Mrs. HutcH turned Dr. turned Mom. She adores living in the Mitten, is addicted to Diet Coke, and firmly believes that ice cream is a main food group.
Latest posts by Laura Hutchison (see all)