DIY Red Wings Playoff Stanley (or … make your own octopus)
Maybe you know about the tradition of throwing an Octopus on the ice during Detroit Red Wing playoff games.  Maybe you've always wondered what the heck does an Octopus have to do with Detroit, the Red Wings, or hockey.  Maybe this is the first you've ever heard about it.
Well, as a very proud Red Wings fan and supporter of the city of Detroit (aka Hockeytown), I want to share the story with you ….
The octopus first made its appearance on April 15, 1952, during the Red Wings' Stanley Cup playoff run.

Two Detroit brothers, Pete and Jerry Cusimano – storeowner's in Detroit's Eastern Market – threw the eight-legged cephalopod on the ice at Olympia Stadium. Each tentacle of the octopus was symbolic of a win in the playoffs. Back then, the NHL boasted only six teams, and eight wins (two best-of-seven series) were needed to win the Stanley Cup. The Red Wings swept the series that year, and the Octopus has come to be the good luck charm ever since.
source:  The Legend of the Octopus (please follow link for the complete story!)
Our Red Wings are now battling the Nashville Predators in the first series of the Playoffs for the Stanley Cup.  I came up with a simple project for the kids and I to do while watching the game as a family.
DIY Read Wings Playoff Stanley!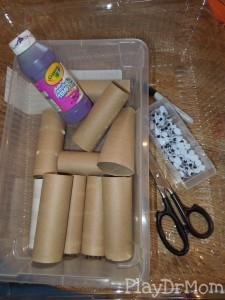 All you need to make your very own Stanley is toilet paper rolls, purple paint, google eyes, glue, scissors, and a black marker.  I also used a leftover top to a sandwich platter so the kids could do the "roll painting" inside of it.
First, I had Honor roll all the tubes in the purple paint … in order to get that authentic purple color of Stanley!  Once painted, we let them dry overnight.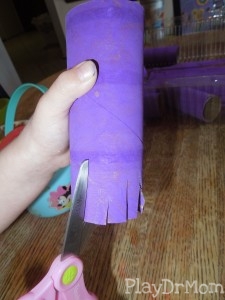 Then, it was time to cut slits in the painted paper tubes in order to make the EIGHT legs of the OCTOpus (great discussion time, learning moment, and fine-motor skill development!)
I let the kids be self-directed at this point on how they wanted to create their "Stanley".  Honor (almost 3) gave her's many very short legs.  Henry (age 6) was very precise in making sure his had eight (and only eight) legs!
Time to give them some character!  With google eyes and a marker …
We were all very happy on how all EIGHT turned out …
The following two tabs change content below.
Laura Hutchison
Laura Hutchison (aka PlayDrMom) is a chubby kid turned competitive figure skater tween turned high school pom pon girl turned MSU Spartan turned grad student turned Mrs. HutcH turned Dr. turned Mom. She adores living in the Mitten, is addicted to Diet Coke, and firmly believes that ice cream is a main food group.
Latest posts by Laura Hutchison (see all)