"The last time I went on vacation, I …" FTSF #3
This post is written in response to the "Finish The Sentence Friday Blog Hop (FTSF #3) hosted by Janine @ Janine's Confessions of a Mommyaholic and Kate @ Can I Get Another Bottle of Whine with My Morning Quiet Time.  I plan to "finish the sentence" each week for my Saturday post.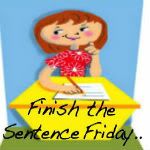 This week's prompt: "The last time I went on vacation, I …"
… stayed in my pjs all day.  This is one of my all-time favorite things to do.  Although it does have its setbacks … usually physical inactivity and lack of going out and exploring the world.
But sometimes I just need that.  Although there are so many things I want to do and explore (especially while on vacation) … Sometimes I just need to be.  Just be.  And relax.  Not do.  Just be.
The last time I was on vacation was last fall on my annual crafting group weekend with my girlfriends.  No kids.  No husbands.  Just the girls, food, wine, and craft supplies.
And if that doesn't sound heavenly already, listen to the location … an amazing custom built "cottage" nestled high in the rocky cliffs between Lake Michigan and Lake Leelanau (in the "pinky" for those of you that know Michigan mitten geography!)  The location is simply breathtaking … tons to explore, beautiful beaches to walk along … but I stayed in my pjs.
I stayed in my pjs and stared out the window … the weather was crazy that day.  Perfect pjs weather really.  Extreme "Michigan" weather, changing every few minutes … sunny, cloudy, raining, hailing, repeat.
I stayed in my pjs and crafted … these are some things I made that weekend.
I stayed in my pjs … because I could … and I needed to.  Because if I can't take care of myself … how can I help take care of anybody else?
What do you do to refuel?
The following two tabs change content below.
Laura Hutchison
Laura Hutchison (aka PlayDrMom) is a chubby kid turned competitive figure skater tween turned high school pom pon girl turned MSU Spartan turned grad student turned Mrs. HutcH turned Dr. turned Mom. She adores living in the Mitten, is addicted to Diet Coke, and firmly believes that ice cream is a main food group.
Latest posts by Laura Hutchison (see all)