Share A Smile! (Smile-a-thon closing)
If you've been flowing closely, you know that a couple of weeks ago I posted about the start of a wonderful collaborative fundraising effort for Operation Smile.  And, now … so quickly, we are at the end of the blog-style Smile-a-thon.
For this collaborative effort, bloggers joined together for a "blog style" Smile-A-Thon!  Together we photographed smileys we saw around us and uploaded them to the Spontaneous Smiley Website.  Spontaneous Smiley donates $1 to Operation Smile for every photo uploaded!
Here are a few more that me and the kids found since the first post …
Smiley Swing Shadow
Cheesy Smile #2 … funny that actually (and spontaneously) had 2 of these!!!
Starry Smile …
this one my son found one night at bedtime.  He has a "Twilight Turtle" that shines constellations onto his bedroom ceiling. (it's one of our favorite toys!)  Henry found the smile on the ceiling and said, "Mom, go get your camera!"  We tried to take the photo of the one on the ceiling, but couldn't get it to come out.  So, I took a close-up of the spot on the turtle's back where the light was shining through … and it turned out perfect!
I didn't get to as many smile searches, activities, and projects that I was hoping to during these 2 weeks … but we did manage to get one craft it.  In the style of our sticker resist paintings, Honor did a sticker resist painting with color coding dots.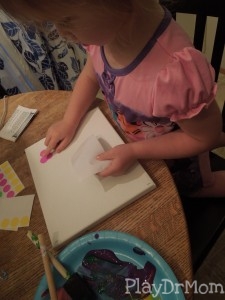 First, Honor applied the sticky dots … on the canvas …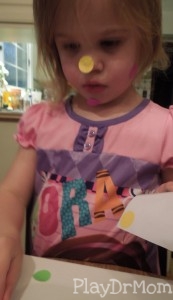 … and, then, on herself!
Once she was done with applying the stickers, she painted over the canvas (and dots!).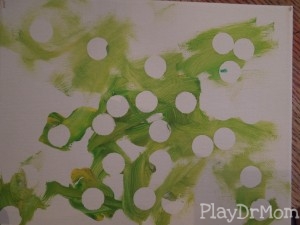 When the paint was dry, I removed the stickers.

Then, we added these finishing touches.  Honor and Henry both helped by adding stickers and using a fine-point marker to draw in some smiles on the dots.  I typed out the phrase, "SMILE … because you can" and then used Mod Podge to adhere the paper onto the canvas.  I also covered the entire canvas with Mod Podge to give it that unique decoupage look.
I hope you take a chance to smile … and find the smiles all around you.  
(Remember that you can continue to participate in uploading smiles for as long as you wish, even though the Smile-a-thon is over.)
The following two tabs change content below.
Laura Hutchison
Laura Hutchison (aka PlayDrMom) is a chubby kid turned competitive figure skater tween turned high school pom pon girl turned MSU Spartan turned grad student turned Mrs. HutcH turned Dr. turned Mom. She adores living in the Mitten, is addicted to Diet Coke, and firmly believes that ice cream is a main food group.
Latest posts by Laura Hutchison (see all)