What qualifies as "an act of kindness"?  
There are so many small things that we do each day for our kids … that we take for granted.  (of course I do that, I'm his/her mom!)  However, I think that the concept of being mindful of our acts of kindness is extremely important … for ourselves and for the children we are raising.  Recognizing our efforts can make an impact on the others around us, as well as a kind reminder to ourselves of all that we do.  
Therefore, in summary of the amazing, heartfelt 100 Acts of Kindness Project put together by Toddler Approved, here is our Kindness Summary (in no particular order) …
Fed the birds … with 5 DIY birdfeeders.
HutcH shoveled for our elderly next-door neighbors.
Honor "helped" shoveling.
Henry committed to giving 100 hugs by his 100th day of school (Feb 15th).
Honor said, "Bless you," when I sneezed.
Giving our condolences to a deceased neighbor's family.
Honor said, "Thank you," when I helped her pick up her bath toys.
Henry was a great team player in basketball.
Henry said, "Good Game," to every other player on the opposing basketball team.
Honor hugged Henry when he was crying.
We gave our phone numbers to our elderly neighbors and told them to call us ANYTIME for ANYTHING.
We made it a priority to attend a close friend's 7th birthday party.
We brought an un-birthday present to the sibling of the birthday boy.
I made sure to photo document the party (because mom & dad were busy being hosts).
We thanked the hosts of the birthday party and gave them hugs.
We stayed home when we were sick … so we wouldn't share our germs!
We made it a point to help each other and clean the house together on the weekends.
HutcH got Henry to basketball … it meant A LOT to Henry (and gave me some time to get stuff done at home).
HutcH and Honor brought me flowers.
HutcH bought me a new camera (even though he knows I go through mine pretty quickly because of little hands being around!).
Honor fed her baby cousin a bottle.
I treated my cousin and her kids to a candlelight dinner with take-out Chinese food!
Henry received a "SOAR" reward at school for self-control.
Henry and Honor each made our neighbor a get-well card when our neighbor was in the hospital.
Henry helped me unload the groceries.
Henry tried his best to hold open doors for people.
I shared information about the website needymeds.com that assists people in getting their medications for lower prices.
Honor and I left a stack of pennies at the 1¢ automated pony ride.
Honor helped me with the bottle returns.
At a store with no "cart corrals", I made it a point to take my cart back up to the store (not leaving it in the parking lot where it would be in the way of other cars.)
I made a conscious effort to be a courteous, safe driver.
I made a conscious effort to smile and be friendly to cashiers and waitstaff that I encountered.
I purchased a copy of The Heart Book for a family and left it at their doorstep as a surprise.
I picked up my husbands medications at the pharmacy.
Honor helped me sort clothes for the laundry.
Honor helped me load the laundry into the washer.
We gave my sister a HEART ATTACK.
We made the decorations for a Valentine's party.
I organized a game (Valentine Bingo) for the Valentine's party.
We did not litter.
We recycle every item that we can.
We turn off lights and appliances when we weren't using them.
I emailed my MIL immediately when the kids got their Valentine package in the mail to let her know how much the kids LOVED it.
I got Henry a Wii game that he was really wanting.
Honor made Valentine's for everyone in her tots program.
Henry made Valentine's for everyone in his class.
We participated in a blogger Valentine swap.
We made and sent Valentine's to our family and friends.
Henry hand-delievered our homemade Valentine's to our neighbors.
We took my mom out for lunch (on a school day)!
We brought over flowers to our young neighbor who had her tonsils taken out.
I helped out in Henry's class every Wednesday.
I made a conscious effort to smile at those that looked my way.
I proudly participated in and promoted The Heart Project.
I proudly donated to The Heart Project.
I hid a humorous Valentine card in my husband's work bag for him to find once he got to work.
I hosted my craft group in January … and made a yummy lunch.
We finally got a chance to exchange gifts for the winter holidays with some close friends,
The kids were outwardly thankful for gifts received.
I made sure to cite the source of the projects and activities that I posted on my blog or pinned on Pinterest.
I promoted my professional organization (Association for Play Therapy) on Facebook.
I organized a(nother) networking meeting for play therapist in southeastern Michigan.
HutcH and the kids bought me a beautiful ring (that I've been really wanting) for Valentine's Day).
HutcH picked up a friend at the airport.
HutcH drove a friend across the state so the friend could visit is ill father.
I made Honor a heart-shaped sandwich or waffle for lunch or breakfast … pretty much every day of February.
Henry was very encouraging of Honor's potty training.
HutcH took Honor to school one morning because I wasn't feeling well.
I encouraged the kids to help me bake and cook in the kitchen every day.
I told my kids, "I love being your mom."
I told my kids, "I'm so proud of you."
I told my kids, "I love you."
I kissed ouchies and boo-boos.
Honor sat down next to a school friend that had just been redirected and said, "Don't worry, I'll sit next to you."
I made fun, playful snacks for the kids.
I introduced the kids to new ways to play (fake snow, water beads, gel boards).
We called my Nana and sung her happy birthday (on her birthday!).
I made an effort to promote other bloggers projects/sites/ideas.
I created 2 Valentine's wreaths … for myself … an act of self-kindness.
Henry participated in his school's post office project by sending a thank-you note to the principal.
I sent Henry a note as part of the post office project.
I asked the kids how their day was at school every day.
I made sure that Henry did his homework and helped him with it.
HutcH helped Henry with his transportation project (they made a super cool hot air balloon).
Henry & I helped teach Honor how to play Memory.
I painted Honor's toenails.
I made an effort to spend some time each day with each of my kids doing something THEY wanted to do with me (child-directed play).
I danced and sang with my princess to her favorite song, "I know you, I walked with you Once Upon A Dream." (often!)
HutcH and I openly shared our love to each other (modeling kindness!).
I read Honor "Dora and the Unicorn King" a countless number of times.
I continued to help Henry to learn to read.
Henry kept an eye on his sister while they were playing outside.
When I was unkind in front of the kids, I made sure to apologize and discuss it.
I helped Henry plan his birthday party … letting go of the plans I had for months of an "Angry Bird" party (his previous passion) to (his new passion) Mario Kart party.
I played the Wii with Henry.
Henry taught me how to play a new game on the Wii.
I let Honor put on some of my lipstick … by herself!
Henry gave Honor a kiss on her palm, gently closed it up, and told her to hold on to it.
I love(d) my kids with all my heart for exactly who they are at any moment.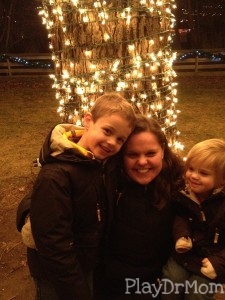 The following two tabs change content below.
Laura Hutchison
Laura Hutchison (aka PlayDrMom) is a chubby kid turned competitive figure skater tween turned high school pom pon girl turned MSU Spartan turned grad student turned Mrs. HutcH turned Dr. turned Mom. She adores living in the Mitten, is addicted to Diet Coke, and firmly believes that ice cream is a main food group.
Latest posts by Laura Hutchison (see all)